With a little salty, a little sweet and a lot of rich chocolate, these brownies decadent. Just think of it as one delicious comfort food swirled into another.
By Brittany Everett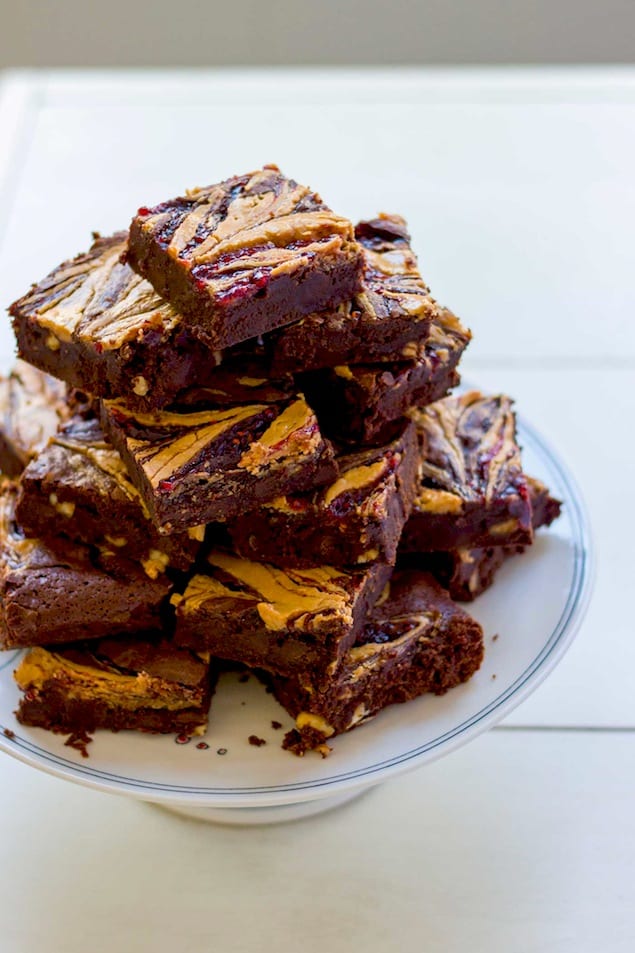 These brownies are one delicious comfort food swirled into another. Peanut Butter, you know Jelly. Now meet Brownie!
That's pretty much how this recipe goes. It starts out with the most awesomely-deliciously-decadent brownies, then all kinds of tasty ingredients show up to the party to mingle and get reeaaal close.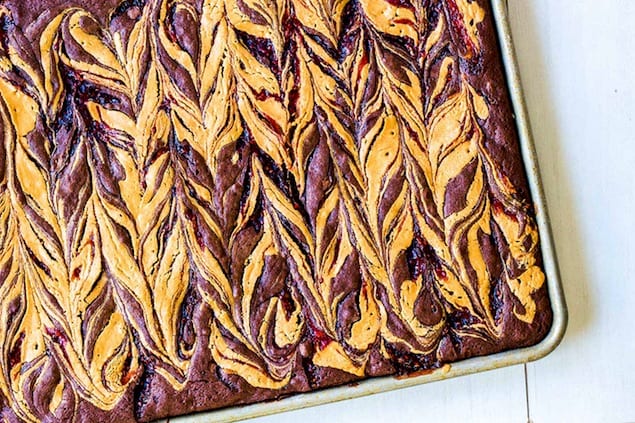 It's adapted from a Barefoot Contessa recipe, so naturally it contains a pound of butter, a couple pounds of chocolate – the usual. But it also makes an entire sheet tray of outrageous brownies! 40 of them! Ina cuts hers into 20 "large" brownies, but I think that yields an unnecessarily gut-busting treat. You can cut these babies however you want, but they're a doozy, so don't say I didn't warn you! It's salty, it's sweet, it's childhood! Maybe more desserts should get on the PB&J train! If you don't agree after making these brownies, I'll gladly eat the rest of them for you.
Print
PB&J Brownies
With a little salty, a little sweet and a lot of rich chocolate, these brownies decadent. Just think of it as one delicious comfort food swirled into another. Adapted from Ina Garten.
Author:

Brittany Everett

Prep Time:

15 mins

Cook Time:

20 mins

Total Time:

35 mins

Yield:

4

0

1

x
Category:

Baking
1

pound unsalted butter

1

pound +

8 ounces

semisweet chocolate chips, divided

6 ounces

unsweetened chocolate

8

large eggs

3 tablespoons

instant coffee granules

2 tablespoons

vanilla extract

2 cups

granulated sugar

1 1/4 cups

flour, divided

1 tablespoon

baking powder

1 teaspoon

coarse salt

1/2 cup

roughly chopped roasted salted peanuts

1 cup

smooth peanut butter

1/3 cup

raspberry jam mixed with 1 tablespoon water
Instructions
Preheat the oven to 350 degrees F. Butter and flour a 12 by 18 by 1 1/2-inch sheet pan.
Melt together the butter, 1 pound of chocolate chips, and the unsweetened chocolate in a medium bowl over simmering water. Allow to cool slightly. In a large bowl, stir (do not beat) together the eggs, coffee granules, vanilla and sugar. Stir the warm chocolate mixture into the egg mixture and allow to cool to room temperature.
In a medium bowl, sift together 1 cup of flour, the baking powder, and salt. Add to the cooled chocolate mixture. Toss the remaining 8 ounces of chocolate chips and peanuts in a medium bowl with 1/4 cup of flour, then add them to the chocolate batter. Pour into the prepared sheet pan. Spoon the peanut butter and jam mixture over the top of the chocolate mixture and using a knife, swirl it through the chocolate mixture.
Bake for 20 minutes, then rap the baking sheet against the oven shelf to force the air to escape from between the pan and the brownie dough. Bake for about 10 to 15 minutes more or until a toothpick comes out clean. Do not overbake! Allow to cool thoroughly, refrigerate*, and cut into squares.
Notes
Refrigerating the brownies isn't necessary, but it will yield much cleaner slices. Brownies can be stored at room temperature, but stay fresh much longer in the fridge.
See Also
Brittany Everett
A graphic designer by day, Brittany enjoys cooking, eating, photographing and discussing food with every other waking moment. She created Kitchenette, a food blog dedicated to making delicious comfort foods from scratch and with love.