If any dessert represents summer, it's definitely Pavlova. Named after Russian ballerina Ana Pavlova, this cake really resembles ballerina's dress: it's fluffy and ligh, delicate and beautiful.
By Tamara Novacoviç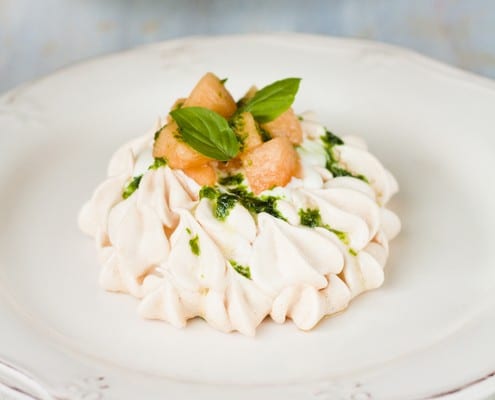 Pavlova is made of meringue: egg whites mixed with sugar. However, we also add a bit of cornstarch and vinegar to it, which keeps the outer part crusty and the inside gooey. There are several things to keep in mind while making it:
Mix egg whites in a completely clean bowl, to achieve full volume.
 Add sugar gradually and mix it until it dissolves completely. Don't over mix, as it will collapse during baking.
Draw a circle on parchment paper and fill it with meringue. Use piping bag to make it easier. You can use decorative star tip to make it pretty. You can pipe out one large or several smaller circles.
Leave meringue in turned off oven to cool completely, to avoid possible cracking.
Fill it with cream and fruit just before serving, otherwise it will soften and become a mess.
The other part of Pavlova is beautiful cream filling. Most often we use whipped cream with some vanilla. But you can use chocolate ganache, cooked fillings, fruit curds and cream cheese fillings as well. Use you imagination and you can't go wrong with this part.
See Also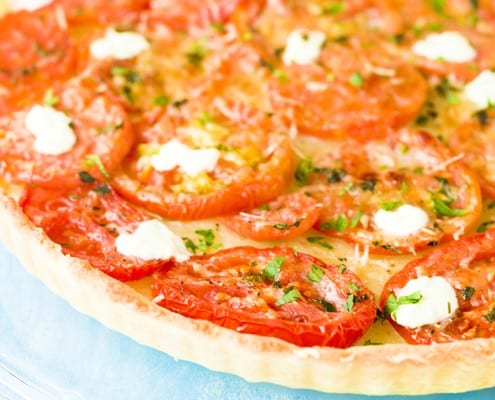 On top of the filling we add fruit. Most often we can see raspberries and similar fruit. This time I decided to use melons. I paired it with basil coulis and it was a surprisingly good combination!

Pavlova cake with melon and basil coulis
Pavlova is a beautiful summertime cake. Try pairing it with fruit like melon. Basil works great with fruit and adds depth to the flavor.
Ingredients
3 egg whites
5.8 oz (165 g) sugar
1 tsp cornstarch
½ tsp vinegar
0.84 cups (200 ml) whipping cream
1 tsp vanilla extract
melon
a handful of fresh basil
0.4 cups (100 ml) agave nectar or honey
Instructions
In a clean bowl, whisk egg whites until stiff peaks form. Gradually mix in sugar until it dissolves completely and you get smooth meringue. In the end, mix in cornstarch and vinegar.
Place parchment paper onto baking sheet and draw several smaller circles. Use piping bag to pipe out meringue mixture and fill the circles. You can leave a slight indentation in the middle, where the filling goes.
Preheat oven to 212 F (100 C). Bake for 1 hour. Turn off oven, leave it to cool completely.
Mix whipping cream with vanilla.
Cube melon.
Soak basil in boiling water for 1 minutes. Rinse under cold water, drain. Pulse it with agave nectar or honey.
Fill Pavlova with whipped cream. Place melon cubes on top. Pour basil coulis over it and serve immediately.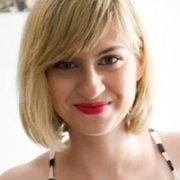 Tamara Novakoviç
Tamara Novakovic is a passionate self-taught cook, food blogger, freelance food writer and photographer behind bite-my-cake.blogspot.com. Her life journey has led her through Faculty of Humanities in Zagreb, Croatia to discovering passion for making cakes. She is currently a weekly food columnist for Croatian newspaper V magazine and food magazine Repete.