Rocket pairs very well with slow roasted duck. Here it's served with a simple, but delicious pasta.
By Sarah Khanna
I grew up with gargeer as a regular in our household, a segment of our salad, a healthy green with a sharp zing that burns your tongue like a scalding soup. Peppery and overpowering, Egyptian gargeer, washed under a stream of cold water then plopped down on a plate to chomp on, was one of the first greens I looked for while living abroad. I never knew it as anything else and often wondered what it was called in English. After all, I had never paid much attention to it and had only ever seen it in Egyptian homes with mothers asking their daughters to get the gargeer from the kitchen while they spread white cheese into sandwich bread.
I wasn't one to eat gebna beida (Egyptian white cheese) and so would never get the opportunity to stuff the leaves into my sandwich like my sister, allowing it to add some crunch into a rather boring ingestible. Instead, I'd eat it as a side,  allowing it to sting my tongue.
Growing a little older, I began to notice the same leaf take its place comfortably in my eating habits albeit under different names that I had now learned: rocket, arugula, gargeer, or rucola. There were arugula pizzas, rucola salads and rocket-packed sandwiches. The possibilities were endless; I could not understand why we Egyptians reserved it to eat with cheese or as an accompanying side that laid on a plate spattered with water droplets and nothing else. I also wonder why we use the Indian name for this leaf.
Last month, I visited a more traditional restaurant with my husband who shared with me a beef knuckle soup, a fatta with rice mixed together with whole wheat bread and a big bowl of molokheyya, a stretchy green soup. Yes, we like soup.  Being the only ones at the restaurant, the waiter decided to treat us to a little surprise – a plate of fresh gargeer placed right in front of my husband. Confused, I asked why he would give us gargeer.
It turns out that the kind man was trying to do us a favor; he was offering a well-known aphrodisiac that I had not been aware was such. It was his way of saying, "You're a nice couple. Stay together."
Only recently did I decide to cook rocket, serving it as a side dish and incorporating it into other dishes. I've found that I prefer it wilted quickly and cooked simply. Paring it with duck has also been one of my favorites, making me use the combination in a variety of dishes: in pastas, in sandwiches, in salads. Use this leaf, filled with vitamin C and potassium. It's good stuff.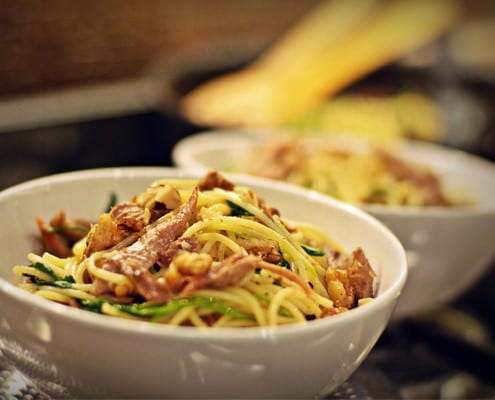 Print
Pasta with Slow-roasted Duck and Wilted Rocket
Pasta with slow-roasted duck and wilted rocket
For the duck, you'll need:

3

duck legs, shredded
Extra salt

½ cup

of melted ghee
Salt and pepper to taste
For the pasta:
200 grams

of pasta, cooked al dente

2

handfuls of rocket

1

–

2

tablespoons of duck fat (from the duck legs)

1 tablespoon

of butter

4

clove of garlic, finely minced
Salt and pepper to taste

½ cup

of walnuts, roughly chopped
Instructions
Dry the raw duck with a hairdryer.
Prick the duck skin with a needle at an angle to avoid piercing the flesh.
This allows the duck fat to seep out and crisps the skin.
Salt the duck all over using more salt than usual and let it rest for an hour.
In a small baking dish small enough to hold them snugly, pour the ghee then place the duck legs skin side up.
Pop in the oven and turn the temperature to 140 degrees Celsius.
Cook the duck gently for 2 hours.
After 1½ hours, the duck should be submerged in melted fat and the skin should begin to crisp.
When this happens, turn up your heat to 190 degrees Celsius and leave to crisp until a golden brown.
This should take 15 minutes. Remove from the oven and let it rest for 10 minutes before eating whole or shredding for pasta.
In a large pan, melt the duck fat and butter then add the garlic.
Cook on medium heat for a minute until garlic is fragrant then add the walnuts and stir.
Add the rocket and cook for 2-3 minutes until wilted.
Add the shredded duck, season with pepper liberally and salt minimally. Cook for 2 more minutes then add the cooked pasta and toss.
Let the flavors meld for 2-3 minutes and serve up individually.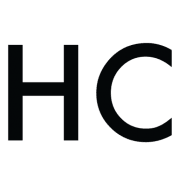 Sarah Khanna
Sarah Khanna is the half-Egyptian, half-Indian author behind Buttered-up.com who quit her Cairene career in advertising to become a full time cook, writer and photographer in Kuala Lumpur. She is also a weekly food columnist for the Daily News Egypt where she critiques Arab food culture. Raised as a hotel brat, Sarah has moved frequently but considers Egypt to be her real home. She loves butter and knives and shudders at the sight of canned tuna.