In just a few minutes, use authentic Italian ingredients to transport you to Capri with this flavorful pasta salad.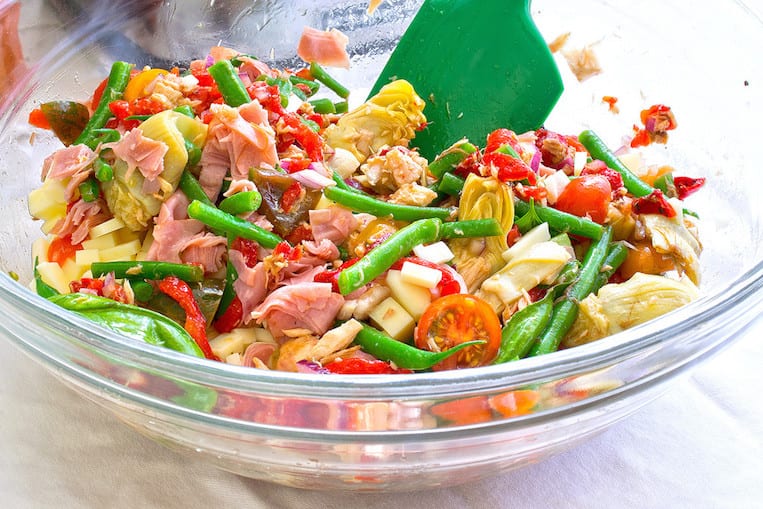 I recently posted a pasta dish from Sicily for the Mazzoni Wines blog and today I was in the island hopping mood, so this one is all about Capri in the summertime! Caprese Salad is probably the most famous export from this amazing island off of Napoli, but I wanted to make a summer pasta salad that I remember having on one of my trips there.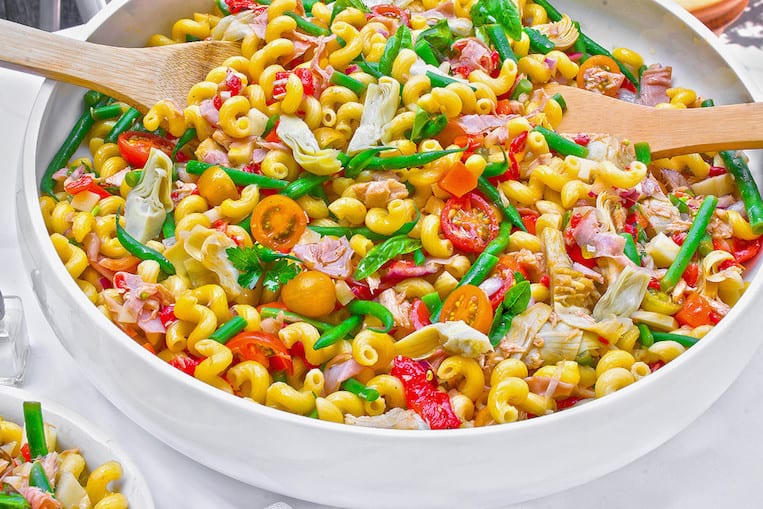 This recipe is all about freshness, flavor combinations and vivid colors. I used ingredients that were imported from Italy…roasted peppers, marinated artichoke hearts, ham, Italian tuna and the very best extra-virgin olive oil. The island cuisine uses what is fresh and grown or caught in the area—tomatoes, fresh fish, fresh herbs and olive oil are staples of most Caprese recipes. This is a great dish to make for the summer, because it only takes a few minutes and it can be transported to the beach or any of your summer parties, and everyone will love it!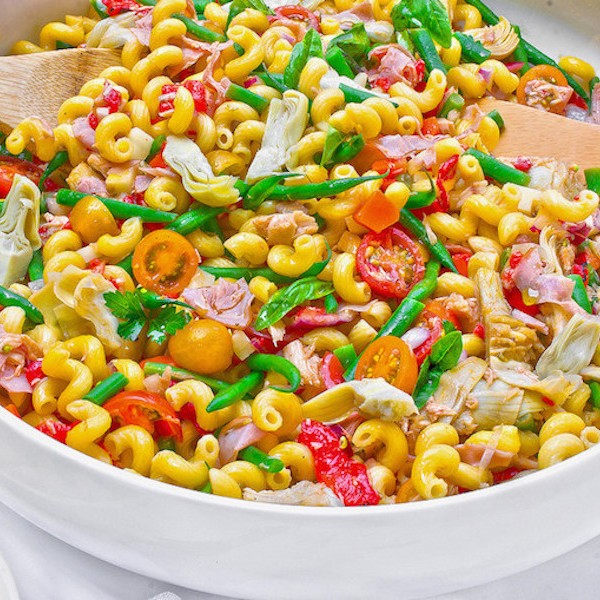 Francesco Romano
Ingredients
1

pound

Cellentani Pasta

2 4

oz.

cans Italian tuna

packed in oil, drained

8

oz.

sliced ham

diced into 1/2 inch pieces

1 12

oz.

package heirloom cherry tomatoes

halved

8

oz.

provolone cheese

diced into 1/2 inch pieces

1/2

cup

freshly grated Parmigiano-Reggiano

1 12

oz.

jar marinated artichoke hearts

1 12

oz.

jar fire roasted bel peppers

diced into 1/2 inch pieces

3/4

pound

fresh green beens

blanched and cut into 1-inch pieces

1

carrot

blanched and diced into 1/4 inch pieces
FOR THE VINAIGRETTE
1/3

cup

extra-virgin olive oil

plus 2 tablespoons to coat the pasta

1/2

red onion diced

1

tablespoon

balsamic vinegar

3

teaspoons

white balsamic vinegar

2

teaspoons

salt

1

teaspoon

freshly ground pepper
Instructions
Bring a large pot of generously salted water to a boil, add the pasta and cook for 2 minutes less than the cooking time on the package; drain, coat with 2 tablespoons of olive oil stir to toss, cover with plastic wrap, set aside and let it cool.

In a medium bowl combine all the ingredients for the vinaigrette and whisk together. Adjust the salt if necessary and set aside.

In a very large bowl add bell peppers, cherry tomatoes, provolone, artichoke hearts, ham, green beans and carrots. Add the vinaigrette, cover with plastic wrap and let it marinate of 10 minutes in the refrigerator.

Before serving, remove from the refrigerator for 1 hour to bring to room temperature. Toss all the ingredients together with the vinaigrette and serve.
Francesco Romano
Francesco Romano was born in Italy and has been living in America for 25 years. As he was growing up, he didn't realize how spoiled he was! He had two of the best chefs under one roof, his Grandmother Nonna Sara and his Mama Francesca, who made every meal from scratch and with love. As a kid, he would sit in the kitchen for hours while these women were hard at work, enjoying the smells, tasting when he was allowed to, and later being put to work to help make fresh pasta. It wasn't until he was a grown up, moved away from home, and later to America, that he understood how much of his heritage and family centered on food. It was always made from fresh seasonal ingredients and was a way of bringing the family together to savor, to bond and to enjoy. On his site you WILL find mouth-watering food that is fresh, easy and authentic Italian, straight from my Mama's kitchen to yours.