These bacon, leek and cheddar mini quiches are a snap to make, and taste delicious.
By Taylor Kadlec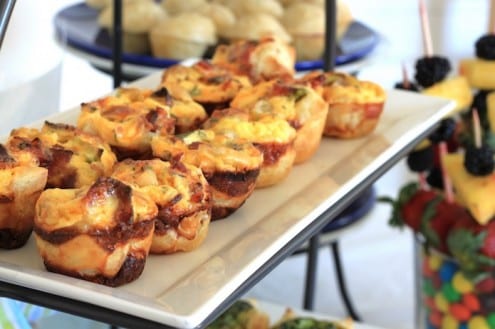 These are usually gone before I know it (except that one lonely last mini quiche that no one ever wants to snag) and my only regret is always that I didn't make more. They are a snap to make in the morning, as I make the egg mixture the day before, then all I have to do the day of is cut out the puff pastry, fill, and bake.
Party Food - Bacon, Leek and Cheddar Mini Quiches
These delicious bacon leek and cheddar mini quiches are a snap to make.
Ingredients
¾ lb cooked bacon, diced
3 leeks, washed, drained, and white and light green parts sliced
2 cups half and half
1 cup grated Sharp cheddar
4 large eggs
3 large egg yolks
2 tbsp fresh thyme, chopped
1 tsp kosher salt
½ tsp freshly ground black pepper
¼ tsp nutmeg
2 sheets
Instructions
Preheat oven to 400 degrees F. Spray mini muffin tin with cooking spray. Set aside.
Cook bacon in a skillet over medium-high heat until crispy, or in the oven at 400 degrees for about 18-20 minutes. Transfer bacon to a paper towel lined plate. Reserve 1 tbsp of bacon fat.
In same skillet (or new one if you did oven baked bacon), add 1 tbsp of bacon fat over medium heat. Add the leaks and cook, stirring occasionally, until softened, about 5-7 minutes. Let cool.
In large bowl, combine half-and-half, cheese, eggs, egg yolks, thyme, salt, pepper, and nutmeg. Add the cooled leeks and bacon and stir to combine.
To make the mini muffins, roll out one sheet of thawed puff pastry onto floured surface. Cut roughly 2" squares of puff pastry and press into the mini muffin tins.
Fill each one right to the top of the dough. Bake in preheated oven about 20-25 minutes, until the filling is puffed and the crust is golden brown. Enjoy!
Taylor Kadlec
Taylor Kadlec is a lover of all things food including baking, cooking, and of course, eating. She is a self-taught baker and cook, and she shares her kitchen adventures on her blog Greens & Chocolate, where healthy cooking meets sinful indulgence.