For all you root eaters out there, enjoy this awesome parsnip gratin recipe.
By Julia Mueller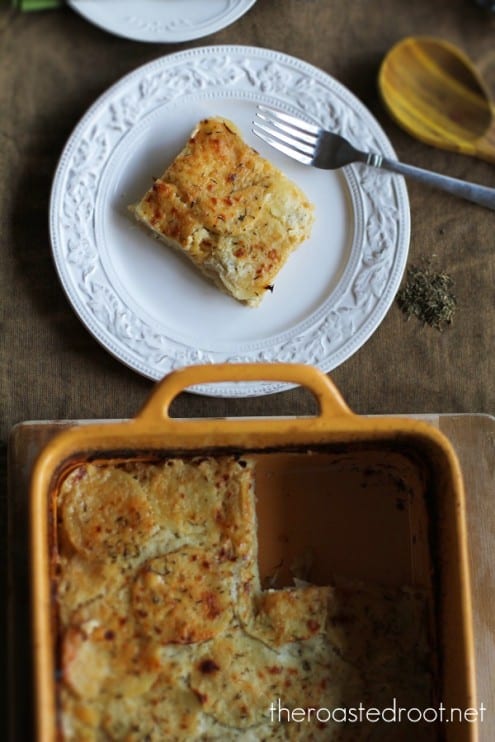 This dish encourages you to slow down and slip into the fuzziest socks you own and enjoy the process of connecting with real ingredients. It is happy to join you while the sun descends and won't get bent out of shape if you share a bottle of wine and light hearted chatter with it over some calm tunes. If you have not tried parsnips before, I would recommend starting with a simpler and less time intensive recipe before taking the plunge. If you're a seasoned root eater, you're welcome!

For all you root eaters out there, enjoy this awesome parsnip gratin recipe.
Author:
Julia Mueller, adapted from Feast at Home
Ingredients
2-1/2 pounds parsnips, peeled and very thinly sliced (1/8" thin or thinner)
1 large yellow onion, sliced
2 teaspoons olive oil
½ head cauliflower (2-1/2 cups cauliflower florets)
2 cups 2% milk
1 tablespoon brown rice flour (or all-purpose flour)
1-1/2 teaspoons salt
Ground black pepper
¼ teaspoon ground nutmeg
1 tablespoon dried thyme leaves
1 egg
7 ounces aged white cheddar (or gruyere or other good quality cheese), shredded
½ tablespoon butter for greasing a casserole dish
Instructions
Steam half a head of cauliflower until soft when poked with a fork (about 10 minutes).
Peel the parsnips and slice them thinly using a mandolin slicer or simply slice them very thinly (and carefully)with a knife.
Over medium heat, sauté the sliced onion in a couple teaspoons of oil just until fragrant and beginning to turn translucent, about 7 minutes.
Combine the cauliflower, milk, flour, salt, nutmeg and thyme in a blender. Blend until combined
Crack the egg into the cauliflower/milk mixture and blend just enough to combine (this should make just over 3 cups worth of mixture).
Grate the cheese.
Preheat the oven to 400 degrees.
In a well buttered 9" x 13" casserole dish, lay down slices of parsnip, completely covering the bottom (it's okay to overlap slices). Layer a third of the onion on top and sprinkle some cheese. Repeat this so that you have four layers (with only a parsnip layer on top).
Pour the cauliflower/milk mixture evenly over the layers then sprinkle remaining cheese on top.
Cover the casserole dish with foil and bake for 50 minutes. Remove the casserole dish from the oven, discard the foil.
Put the casserole dish back in the oven (uncovered) and bake an additional 15 to 20 minutes or until golden brown. Allow the dish to sit 10 minutes so before you serve.
Julia Mueller
As a fitness and nutrition enthusiast, Julia writes a food blog called The Roasted Root, where she share recipes that are mostly vegetable and meat based along with stories of her travels and day-to-day activities. Julia loves enjoying fresh home cooked meals with her friends and family, and the process of developing recipes, photographing, and sharing them.