This delicious autumn pumpkin recipe takes a while to prepare, but it is definitely worth the wait.
By Simone Van Den Berg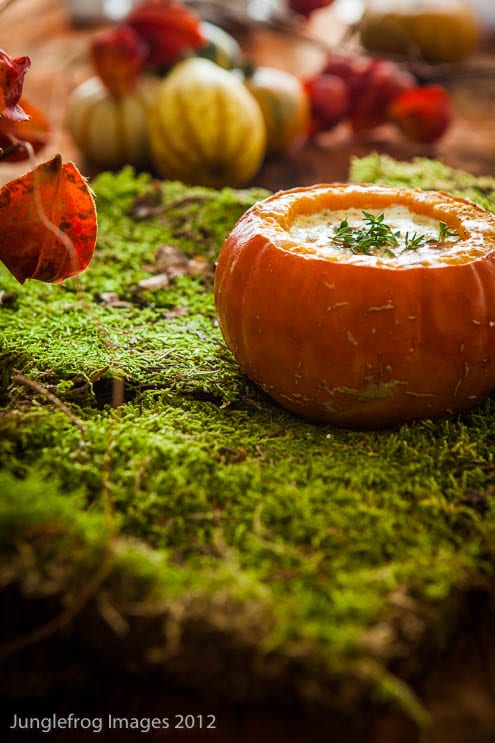 For me autumn is only fully starting once I see those gorgeous pumpkins in the stores. Of course I also miss the summer bounty of plentiful and beautiful fruits, but autumn has it's own little perks – starting with pumpkins. This dish takes a while to prepare and it is really rich and creamy, but so very good. It's perfect to use as a little starter if you make it in small individual pumpkins as I did here, or if you are more of the 'share-around-the-table' kind of person you can use a larger pumpkin. Keep in mind that the times it needs to roast in the oven will vary widely depending on the size of the pumpkin. Mine was fairly small and still took about 75 minutes for roasting. Worth the wait.
Author:
Recipe by BBC Good Food
Ingredients
1½ kg pumpkins
300ml pot double cream
150ml milk
3 garlic cloves , crushed
2 tsp thyme leaves
85g grated Parmesan (or vegetarian alternative)
Instructions
Heat oven to 150C/130C fan/gas 2. Cut lid off pumpkin and scoop out seeds and strands. Put the pumpkin on a baking tray. Meanwhile, heat the cream, milk, garlic and most of the thyme, with plenty of seasoning. When hot, pour into the pumpkin and stir in 50g of the Parmesan. Put on the lid.
Bake for 1½ hrs, take from the oven, then turn up the heat to 200C/180C fan/ gas 6. Remove the lid, sprinkle with pepper and the rest of the cheese, then bake for 15 mins more until golden. Scatter over the remaining thyme leaves. Scoop the pumpkin flesh into bowls with the cheesy cream and serve with crusty bread as a starter.
Simone Van Den Berg
Simone van den Berg is a Netherlands based freelance food photographer and food blogger. She has a passion for cooking, food and travel, which she shares on her blog Simone's Kitchen and of course right here on Honest Cooking.