Beets are not one's typical aphrodisiac fare, but in this pasta they are worth a good long swoon.
By Sarah Schiffman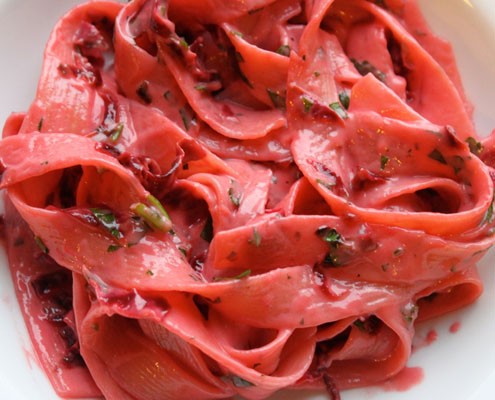 The other day, when I went to make my go-to weeknight pasta, I must have been feeling a little frisky, because instead of reaching for the lemons, I decided to try beets instead.
I'm now looking back at that last sentence and realizing that I just associated 'feeling frisky' with substituting beets into my hardwired routine. It's an exciting life I live, but I'm not ashamed. The pasta was nothing short of dreamy, and besides, it's spring: hearts are fluttering, love is in the air, and our CSA box was filled with a seductive pile of beets just waiting to shimmy themselves up against a smooth pile of pappardelle.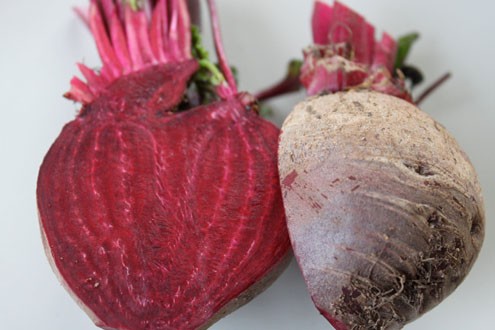 Okay, I know that beets are not one's typical aphrodisiac fare, but in this pasta they are worth a good long swoon. With a little oil, butter, and heat, the beets softly sweeten, loosing some of their earthy undertones in the process. When combined, in sultry unification, with the cool parsley and fiery edge of fresh garlic, the separate components melt tenderly into each other: mingling, melding, and unfolding amidst coils of pasta. The smooth and flat surface of the pappardelle unites the rich flavors with the milky tang of crème fraiche, binding them together in a blush-inducing bowl of pasta that will have most anyone feeling a little frisky.

Pappardelle with Shredded Beets, Crème Fraiche, and Parsley
When shredding the beets, I found it easiest to slice them in half, leaving part of the stem attached so that you have some leverage when trying to grip the beet. Peel away the tough outer skin and then slice along the edges of the beet to create thin shredded strips.
Author:
Adapted from Bon Appetit, April 2004
Ingredients
1 Tablespoon butter
2 Tablespoons olive oil
2 garlic cloves, minced
3 large peeled uncooked beets, coarsely grated (see note above)
½ Teaspoon cayenne pepper
2 Tablespoons fresh lemon juice
12 ounces pappardelle pasta
8 ounces (225g) creme fraiche
6 Tablespoons chopped fresh Italian parsley, divided
Instructions
Melt butter with olive oil in a large nonstick skillet over medium heat. Add garlic and stir until it turns a pale golden color (about 1 minute). Add beets and cayenne and reduce heat to medium-low. Saute until beets are tender, about 15 minutes. Stir in lemon juice.
Meanwhile, cook pasta in a large pot of boiling salted water until it reaches desired tenderness. Drain pasta and return to pot. Stir in creme fraiche and 4 tablespoons of the parsley then stir in beet mixture. Season to taste with salt and pepper. Transfer pasta to serving bowls and sprinkle with remaining parsley.