Pappa al Pomodoro – Tuscan Tomato and Bread Soup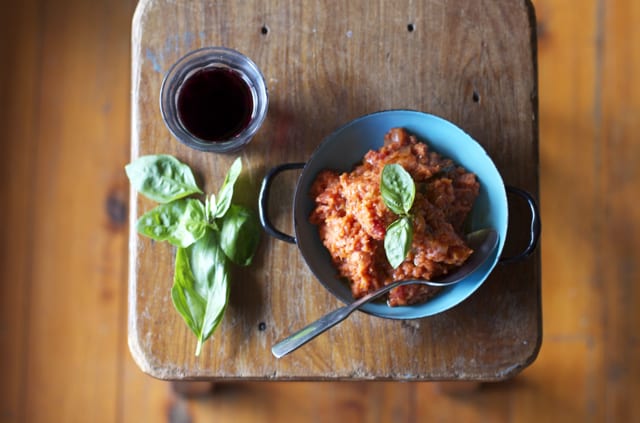 In English this dish is called a "soup" but soupy is the last word one would describe the texture with, which is thick with bread and can be eaten with a fork.
By Emiko Davies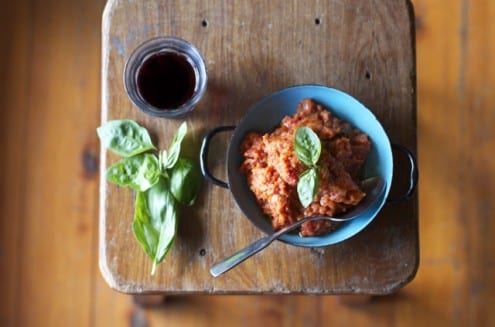 This recipe comes from Honest Cooking contributor, Giulia Scarpaleggia's new cookbook, I Love Toscana. It is a lovely cookbook, and you can get it here.
Pappa al Pomodoro - Tuscan Tomato and Bread Soup
In English this dish is called a "soup" but soupy is the last word one would describe the texture with, which is thick with bread and can be eaten with a fork.
Author:
From Honest Cooking contributor, Giulia Scarpaleggia's new cookbook, I Love Toscana.
Ingredients
250 gr stale Tuscan bread (if you can't get this – i.e. if you live outside of Tuscany – go for a good ciabatta or casalinga bread from your local Italian deli or artisan baker)
extra virgin olive oil
½ carrot
½ stalk of celery
½ red onion
750 gr tomato puree (passata)
1 clove of garlic, crushed
salt
freshly ground black pepper
basil
Instructions
Cut the bread in thick slices (I like to cut the crusts off) and soak in water by running the slices under the tap for a moment and setting them aside to seep.
Meanwhile, finely chop the carrot, celery and onion and saute them gently with some olive oil in a large pot. When the vegetables have softened and the onion has become translucent and slightly golden, pour in the tomato puree and allow the whole thing to simmer gently for 15 minutes.
Squeeze any excess moisture from the bread and add to the pot, cooking for an extra 10 minutes. Add a crushed clove of garlic (for those who want their garlic more mellow, you could cook it with the vegetables at the beginning), season with salt and pepper and allow the pappa to sit for at least an hour before serving.
Serve with basil leaves and a generous drizzle of some very good extra virgin olive oil over the top.
Emiko Davies
Emiko Davies is a food writer, photographer and illustrator who Amanda Hesser calls the "Renaissance Woman for the Internet Era". She lived in Florence, Italy, for seven years where she nurtured her love of regional Italian cuisine and now calls Australia's food capital, Melbourne, her home.