Sasha Gora discovers savory Panki Chatni pancakes in a corner of Mumbai that tastes like the Gujarat region.
By Sasha Gora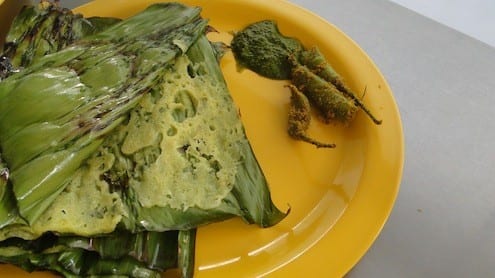 Mumbai is one giant of a city. On a rather skinny collection of islands that are now joint by reclaimed land, the metropolis sprawls and sprawls. The amount of time required to travel from the south of the city to the north is easily longer than a flight to Goa or sometimes even to Delhi. Needless to say, exploring this city is an extensive task. Each neighbourhood houses hole-in-the-wall restaurants, street-food-stalls, as well as chic restaurants where Bollywood stars dine. In addition, one finds food from all over India and from most parts of the world as well. From Goan fish curry to South Indian idlis, from Rajasthani thalis to Mangalorean seafood and from Parsi omelettes to the city's own Bombay duck, one requires a lot of time and an above-average appetite to take full advantage of Mumbai's culinary offerings. That said, a culinary pilgrimage across the city is usually well worth it.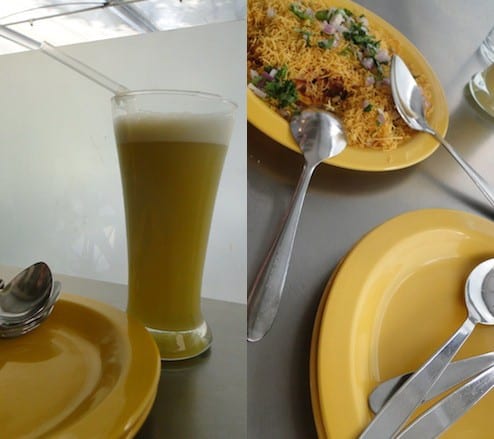 Swati Snacks is the type of place that makes Mumbai feel intimate and cozy. It looks like a cafeteria, yet it is more stylish than the type you may remember from school lunch days due to its minimal décor. Every time I have made the commute, I have found each bench full with people feasting on contemporary, yet authentic Gujarati food. It is the type of food that one normally only finds via a dinner invitation offered by a local. Well, one of my co-workers described it as home cooking; whereas, the first time I went there I was chatting with a man who said that it involves a bit more effort than the home cook is usually willing to exert. Either way, this family-run restaurant which is over 45 years old will leave a lasting impression of what Gujarati home-cooked food can taste like.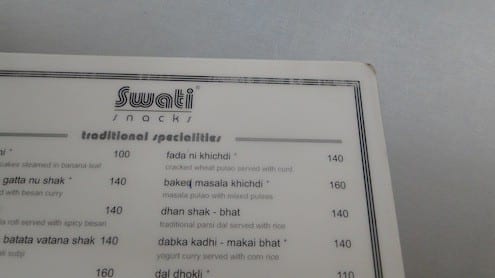 Gujarati food is predominantly vegetarian which is exactly what Swati Snacks serves. However, even the biggest carnivores won't miss the meat as Swati sure knows how to pile on flavours and interesting textures. A signature dish on the menu is panki chatni – a savory pancake made from rice that is steamed in a banana leaf and served with spicy, green chutney and green peppers. The texture of the pancake is much softer than anything that I have encountered before with the same name. Steam and banana leaves certainly can do wonders. Satpadi roti – gatta nu shak is another signature dish. It is more stick-to-your-ribs than panki chatni. Multigrain roti – an Indian flatbread – is served with chickpea curry and it certainly won't leave you hungry.
Swati Snacks also serves classic Mumbai street food such as sev puri, bhel puri and pani puri. Puri is unleavened bread and in chaat – the Hindi word for savory snack – small cracker-like puri are used. All of these dishes are more than the sum of their parts. Sev puri is a mountain of ingredients – boiled potatoes, red onion, several chutneys, some sweet and some spicy, fresh lime juice and coriander – piled on crispy puri and then topped with sey – crisp vermicelli that is made from gram flour. Bhel puri is made with puffed rice, veggies and a very generous serving of a tamarind sauce, plus some sey to top. Pani puri uses crisp, hollow puri that are filled with tamarind water and various veggies or pulses (such as potato or chickpeas) and spices. The best place to eat street-food is arguably on the street, but rumour has it that Swati Snacks has the best pani puri in town.
The restaurant's home is Mumbai, but in 2003 the family opened a second location in Gujarat's largest city: Ahmedabad. Prices range from 50 to 170 Rs a dish (about $1 – $3.50); although, for thin-crust pizza you'll pay a little bit more, but why order pizza when you can have panki chatni instead?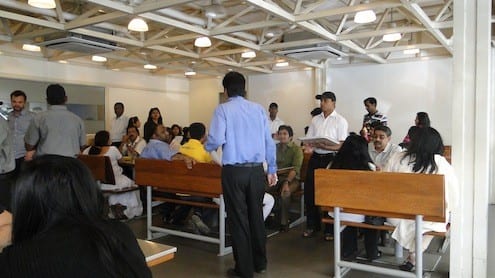 No matter where you find yourself in Mumbai, make the commute to Swati Snacks. It lies somewhere between south and north which means you really don't have an excuse not to. Don't be intimidated by the line that hides the entrance; it moves quickly. However, if you are willing to join someone else's table (which often ends with shared conversation and good recommendations of what to order) you probably won't have to wait at all. There is also a take-out window for those on the run. The panki chatni is waiting for you. And you might as well order a fresh sugarcane juice as well.
Swati Snack

Karai Estate, Opp Bhatia Hospital, Tardeo Road, Mumbai
Law Garden, Near Thakorbhai Hall, Ahmedabad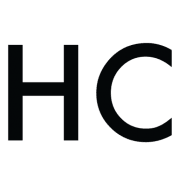 Sasha Gora
By day Sasha works in art and by night she beats up her pans by baking too much, or over-packs her suitcase with edible souvenirs. She takes breakfast very seriously and rarely turns down the opportunity to add maple syrup to a recipe. She is from Canada, but has lived in France, Denmark and Sweden. She is currently based in Munich. Sasha writes the food and inspiration blog Paper Doll Parade.