Reminiscent of a mattar paneer, these mini stuffed peppers are a delicious two-bite appetizer. Enjoy them warm out of the oven.
By Chitra Agrawal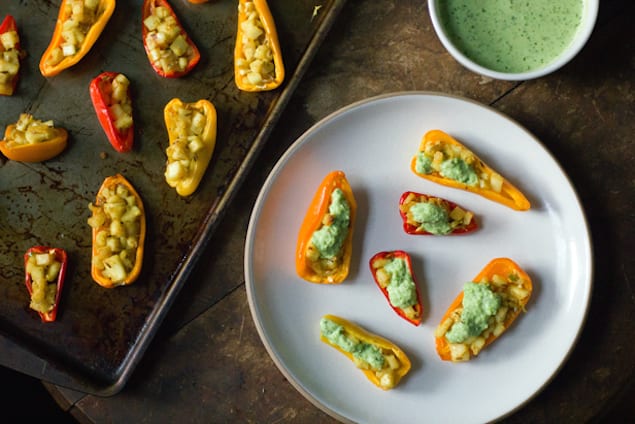 Without even realizing it, I kind of created a deconstructed mattar paneer (North Indian peas and cheese curry). I made a paneer stir-fry flavored with shallot, garlic, ginger and green chilies that I stuffed into the sweet peppers for baking.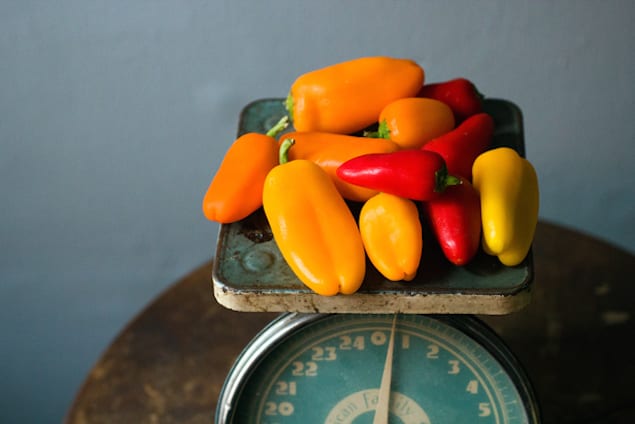 Then I blended up the easiest chutney in the world from green peas, cilantro, yogurt and lemon. It was a nice sweet complement to the spicy paneer curry.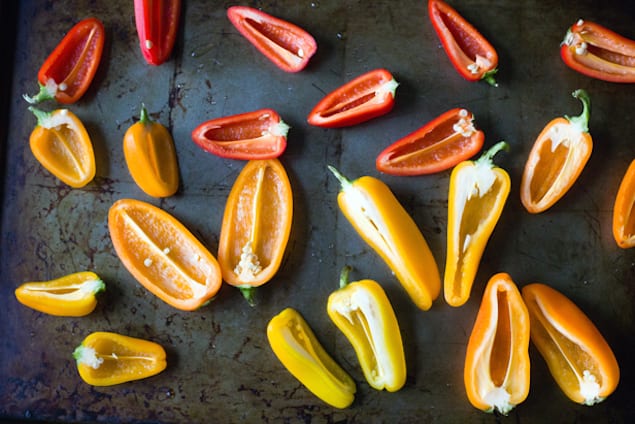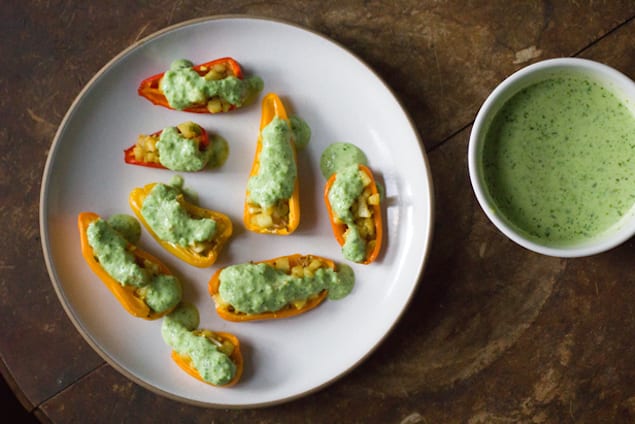 Paneer Stuffed Peppers with Pea Chutney
Reminiscent of a mattar paneer, these mini stuffed peppers are a delicious two-bite appetizer. Enjoy them warm out of the oven.
Ingredients
½ pound mini sweet peppers, stems removed, halved
Paneer Stir-Fry
4 oz. paneer cheese, crumbled or cubed small
1 tablespoon oil
1 small shallot, minced
1 inch ginger piece, peeled and grated
3 garlic cloves, minced
2 Indian green chills (can sub in Serranos or jalapeño)
½ teaspoon cumin seeds
1 teaspoon coriander powder
⅓ teaspoon turmeric powder
¼ teaspoon garam masala
salt to taste
Green Pea Chutney
⅓ cup blanched green peas or thawed out frozen peas
3 tablespoons yogurt
3 tablespoons cilantro leaves
squeeze of lemon
salt to taste
Instructions
Preheat oven to 350 degrees Fahrenheit. Lightly grease a cookie sheet pan.
In a pan under medium-high heat, place 1 tablespoon of oil. When hot add in cumin seeds. When seeds start to brown after a few seconds, add in shallot. Turn the heat to medium and cook until translucent, a few minutes. Then add the garlic, green chili and ginger. Fry for 30 seconds, mixing about until fragrant. Add in the coriander powder, turmeric, garam masala and mix well. Fry for a few seconds. If pan is getting dry, can add in a few drops of water. Add in the paneer cheese and mix well. Sauté paneer for few minutes. Add salt to taste and turn off heat.
Layer the halved sweet mini peppers on a greased cookie sheet pan. With a teaspoon, fill the pepper halves with paneer stir-fry. Place in the oven to bake for 15 minutes, until peppers are soft and drying out a little on top.
Meanwhile, in a food processor or blender, add in the peas, cilantro and yogurt. Puree and transfer to a bowl. Add squeeze of lemon and salt to taste.
Line a plate with the baked peppers and drizzle the green peas chutney on top. Serve immediately.
Chitra Agrawal
Chitra writes the food blog, The ABCD's of Cooking, which chronicles her adventures cooking American Born Confused Desi recipes. When she is not recipe blogging, Chitra can be found hosting her online cooking show and a supper club featuring Indian-inspired, vegetarian cuisine. She also teaches cooking classes and sells Indian street foods (sometimes yummy Indian tacos!) at events and artisanal markets in Brooklyn. Her cooking has appeared in the New York Times Dining Journal and she is a contributor to The Huffington Post, Gojee, The Daily Meal and Brooklyn Based.