Whether you prefer to call them hotcakes, griddlecakes, or flapjacks, there's one simple fact we can all agree on: pancakes are delicious. Here are our favorite chef creations.
By Jennifer M. Wood
This article has been posted with permission and originally appeared as 20 Best Pancakes in America on Relish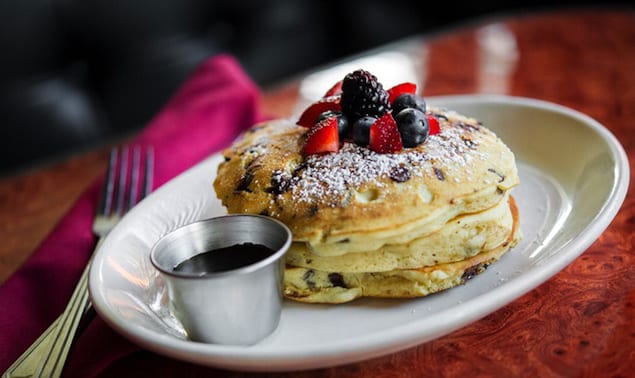 Whether you prefer to call them hotcakes, griddlecakes, or flapjacks, there's one simple fact we can all agree on: pancakes are delicious. And while we've got no problem with those purists who prefer a simple buttermilk cake topped with butter and maple syrup, we're also regularly intrigued by more elaborate pancake concoctions. Fortunately, there are dozens of chefs around the country who have plenty to offer on that latter account. From sugar-dusted to savory takes, here are 20 of our favorite coast-to-coast pancake dishes.
Griddle Cakes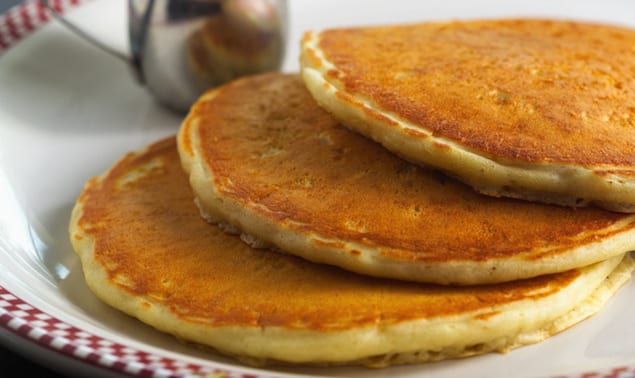 Where: City Limits Diner
Locations: White Plains, NY & Stamford, CT
Though you can find a pancake at just about any type of restaurant—from a fast food behemoth with golden arches to the country's finest dining facilities—a stack of pancakes is standard fare at any diner worth its salt shaker. At City Limits Diner, executive chef Peter Assue puts fresh spins on his made-from-scratch breakfast dishes, including his lineup of pancakes, which come in buttermilk and whole wheat varieties with a choice of fresh fruit and sweet toppings.
Lemon Pancakes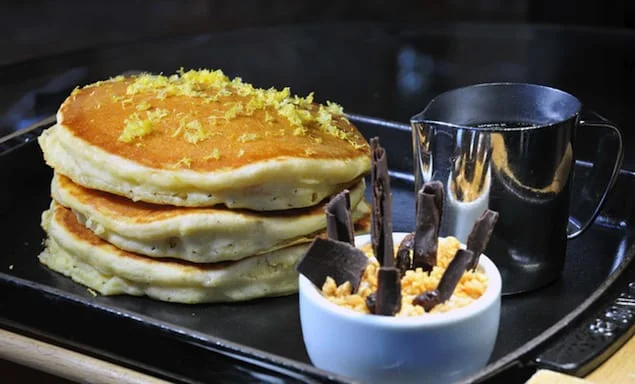 Where: The Water Club at Borgata
Location: Atlantic City, NJ
Atlantic City's swankiest digs deserve a pancake fit for a high roller. Enter in these Lemon Pancakes with Whipped Almond Ricotta and Spiced Syrup—available both on the room service menu at The Water Club at Borgata Hotel Casino & Spa as well as at The Sunroom, the hotel's open-to-the-public lobby lounge and tapas eatery. Both menus are curated by The Water Club's Culinary Lifestyle Consultant, Iron Chef Geoffrey Zakarian.
Fig and Walnut Pancakes
Michael Gardner
Where: Fig & Olive
Location: Various locations in New York, NY & Los Angeles, CA areas
Given the restaurant's name, a fig pancake on executive chef Pascal Lorange's brunch menu only seems appropriate. In his version, two fluff pancakes are topped with sliced figs and walnuts, then lightly drizzled with a house-made whipped cream and a fig-infused maple syrup.
Bologna Pony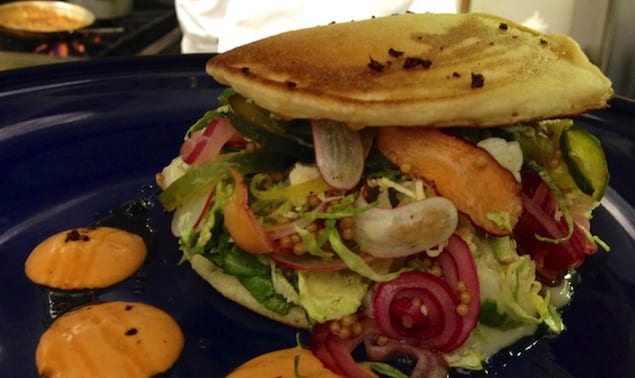 Where: Farmstead, Inc.
Location: Providence, RI
This pancake-sandwich hybrid is the brainchild of Farmstead, Inc. chef-owner Matthew Jennings, and features two buttermilk pancakes as the foundation for a fried mortadella sandwich, which is topped with cave-aged taleggio cheese, pickles, chili mayo and—yes—maple syrup. The dish is served only on the first Sunday of every month, at the restaurant's hip-hop themed Biggie & Brunch.
Buttermilk Pancakes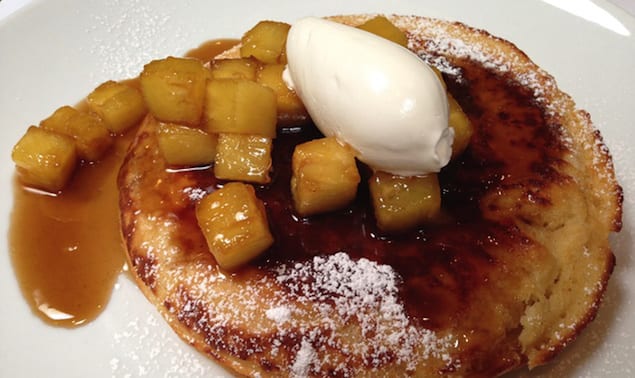 Where: Comme Ça
Location: Los Angeles, CA
Don't let the simplicity of the name fool you. At the Los Angeles branch of chef David Myers' French brasserie (there's also a Las Vegas outpost), the brunch menu includes a plate of buttermilk pancakes topped with roasted pineapple and clove Chantilly.
Pancakes at The Smith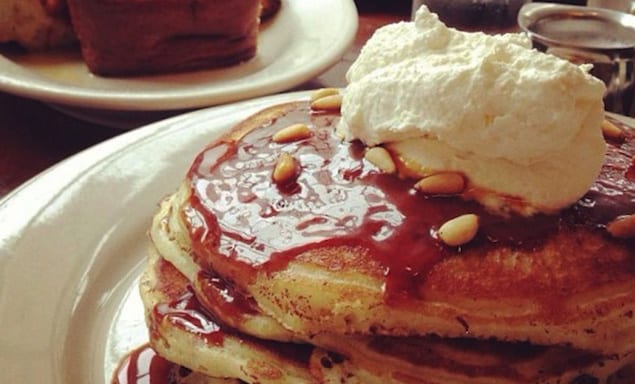 Where: The Smith
Location: Various locations in New York, NY
Chef-owner Glenn Harris and co-owner Jeyrey Lefcourt's The Smith has become one of New York City's hottest restaurants because of its deliciously innovative—and locally sourced—takes on comfort food staples. Case in point: their signature pancakes, which are served at breakfast and brunch, made even more indulgent with fresh whipped ricotta, toasted pecans and salted caramel sauce.
Graceland Pancakes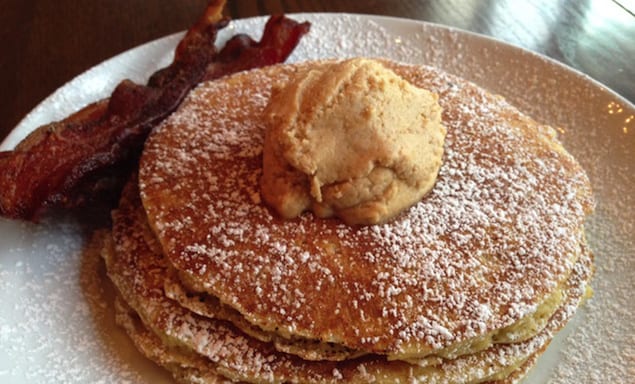 Where: Second Home Kitchen + Bar
Location: Denver, CO
Graceland may be in Memphis, but chef Jason Brumm is giving Elvis Presley a shoutout during brunch with his always-popular Graceland Pancakes, banana pancakes topped with peanut butter whipped cream and served up with a side of bacon. The King would approve!
Manchego Pancakes
Tina Wong
Where: Mercadito
Locations: New York, NY & Chicago, IL
Mercadito outposts in New York City and Chicago showcase pancakes' savory side during brunch with their Mexican-style version, served with Manchego cheese, strawberries, cinnamon butter, and maple syrup.
Fresh Berry Cakes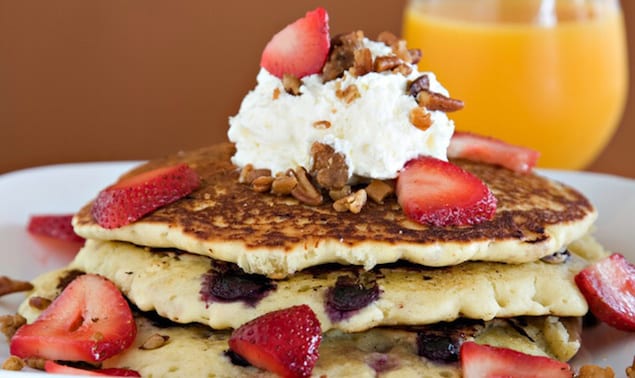 Where: GG's
Location: New Orleans, LA
It doesn't get much more "N'awlins" than GG's chef-co-owner Dave Gotter's Fresh Berry Cakes, two gigantic (and perfectly cooked) pancakes, served with strawberries, blueberries, homemade whipped cream, and "praline" style candied pecans.
Huggy Bearcakes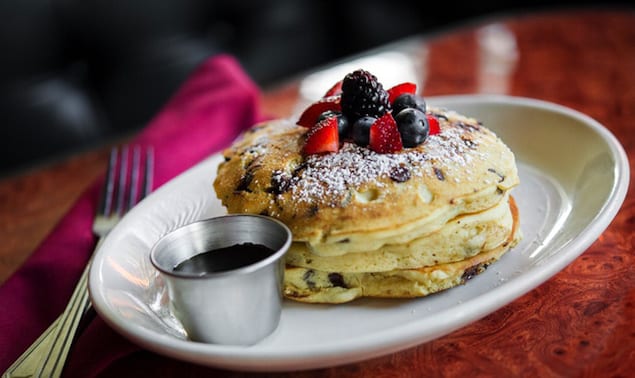 Where: Golden Cadillac Food + Drink
Location: New York, NY
Miguel Trinidad, executive chef at Golden Cadillac Food + Drink, pays tribute to the gluttonous 1970s with these chocolate chip-filled pancakes, which come with loads of honey butter and are named after the iconic Starsky & Hutch TV character, Huggy Bear.
Breakfast Cake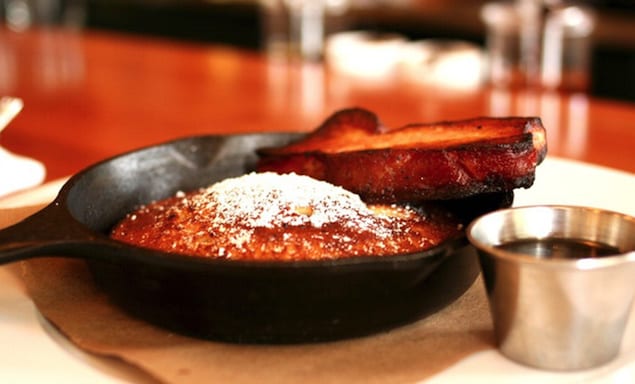 Greg Rannells
Where: Pastaria
Location: Clayton, MO
It's no mystery why Pastaria chef Gerard Craz has been nominated as a James Beard Best Chef: Midwest four times now—the guy can cook! At Pastaria, his innovative-yetapproachable Italian concept, he proves that from breakfast to dinner. One of his most popular brunch dishes is the Breakfast Cake, a German-style pancake that is served in a cast iron skillet (fresh from Pastaria's wood oven) with a side of seasonal fruit. Savory-seekers can even add a side of pork belly.
Bacon 3-Way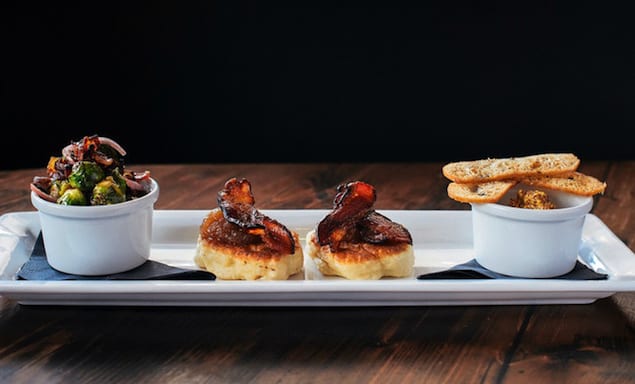 Studio Atticus
Where: PARK
Location: Cambridge, MA
Sourdough flapjacks aren't a delicacy you want to see go to waste. So at Boston'sPARK, they're served up two ways: at brunch, you'll find them in "The Collegiate," an aptly named dish that features two sourdough flapjacks, one stuffed with sausage and
the other stuffed with bacon and then at dinner, the flapjacks pop up in miniature form, as part of the Bacon 3-Way, where they're topped with house-made apple butter and smoked bacon.
Mancakes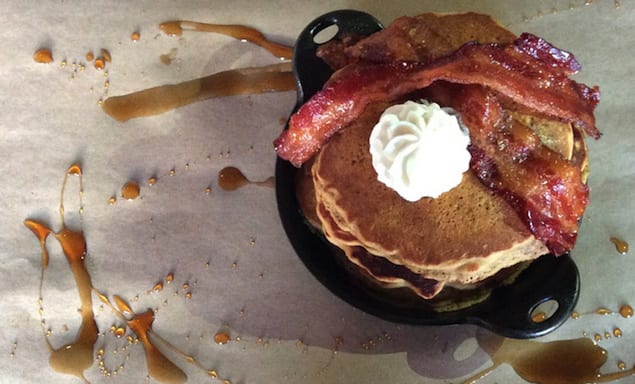 Where: Plan Check Kitchen + Bar
Location: Los Angeles, CA
At Los Angeles' Plan Check Kitchen + Bar, executive chef-partner Ernesto Uchimura is on a mission: to pair up modern takes on American comfort food with premium whiskeys, craft beers, and specialty cocktails. And he clearly thinks it's never too early
in the day to make it happen. Case in point: Mancakes, Uchimura's beer and bacon pancakes which come with pure maple syrup that's made with The Dudes Grandma's Pecan Brown Ale, pig candy, and whipped butter.
Buckwheat Pancakes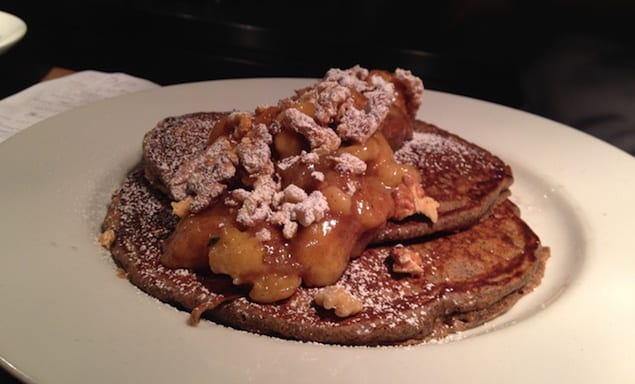 Where: Hearth
Location: New York, NY
Despite the various condiments that have graced a pancake at one time or another,getting a plate of flapjacks that are at once hearty and light and fluff in texture is no easy task. But with their sautéed banana and walnut topping, the Buckwheat Pancakes at Hearth in New York City's East Village are up to the challenge.
Olive Oil Mini Pancakes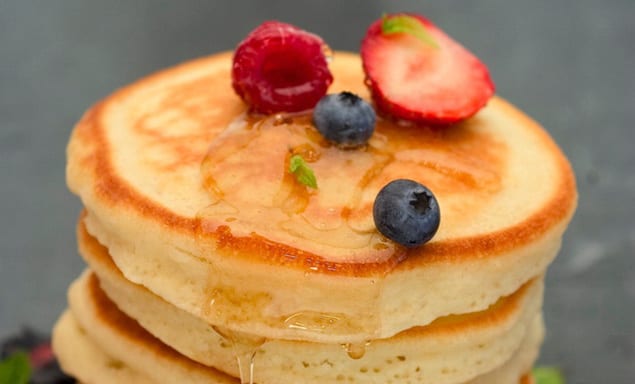 Darko Zagar
Where: Tres by José Andrés
Location: Los Angeles, CA
With an empire of celebrated restaurants around the world, chef José Andrés' reputation as a chef with an experimental side precedes him. And it's on full view at his Los Angeles restaurant Tres, where the culinary whiz kid oyers a sophisticated take on a childhood favorite: miniature olive oil pancakes that come served with your choice of honey or maple syrup and a seasonal mix of berries.
Whole Wheat Peanut Butter Pancake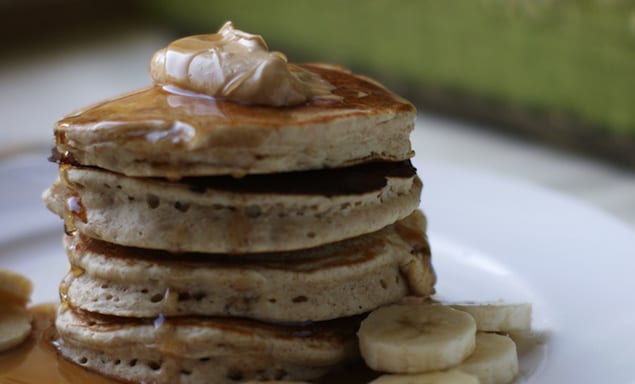 Where: Lacroix
Location: Philadelphia, PA
The pancakes at Lacroix—the award-winning restaurant at The Rittenhouse Hotel in Philadelphia—are some of the nuttiest you'll ever taste. You can thank executive chef Jon Cichon for that, who mixes a whole wheat flour base with a rich and creamy peanut butter to create an intensely nutty flavor, which he finishes off with a banana to up the flavor factor.
Snooze Pineapple Upside Down Pancakes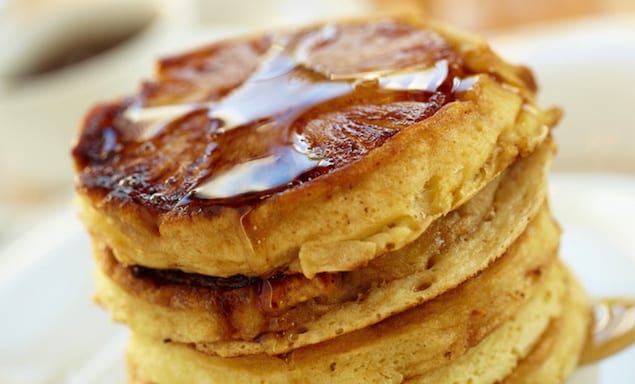 Where: Moderne Barn
Location: Armonk, NY
An hour outside of New York City, executive chef Ethan Kostbar oyers a fun take on the standard pancake with his Snooze Pineapple Upside Down Pancakes, which channels the Caribbean with fresh pineapples and cinnamon rum butter.
Minnesota Wild Rice Pancakes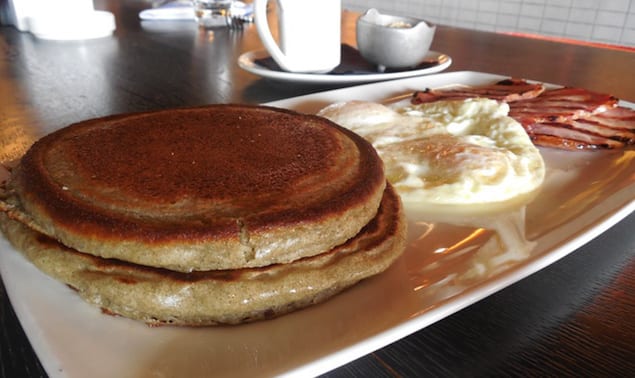 Where: FireLake Grill House
Location: Bloomington, MN
Paul Lynch, executive chef at FireLake Grill House & Cocktail Bar, looks to his immediate surroundings for inspiration, and his Minnesota Wild Rice Pancakes are a great example of that. Lynch's light and fluff pancakes get an added dose of depth, thanks to the wild rice, and come with Minnesota back bacon and chokecherry syrup, a local delicacy.
Oreo Cookie Pancakes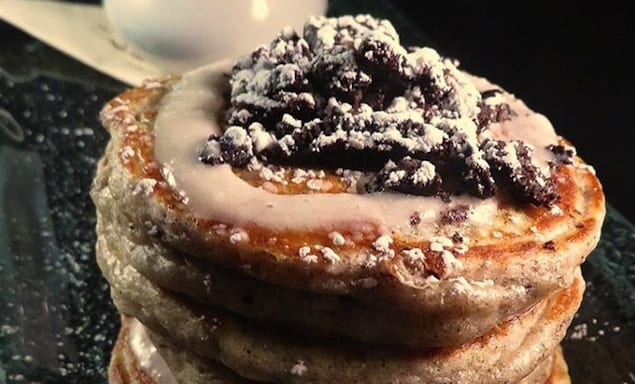 Where: The Stanton Social
Location: New York, NY
If you've ever seen Chris Santos judge an episode of Chopped and wondered what kind of food the chef himself cooks up in his own kitchen, here's your answer: Oreo Cookie Pancakes. Which are a new addition to the menu at his popular downtown Manhattan eatery—and quickly turning customers into loyalists.
Tropical Pancakes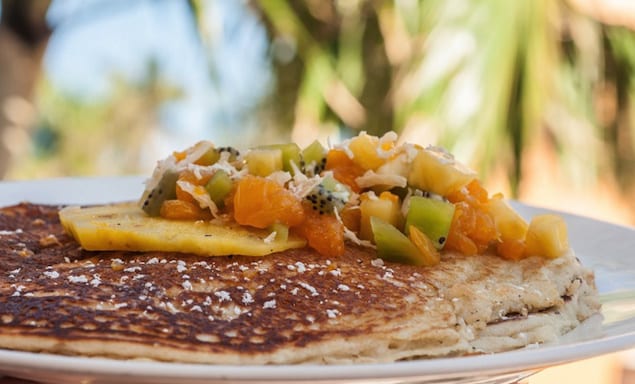 Where: Atlantic Grille
Location: Delray Beach, FL
If the gorgeous location and warm weather at The Seagate Hotel & Spa don't lull you into a tropical state of bliss, the Tropical Pancakes at the hotel's signature Atlantic Grille will. Served during brunch every Saturday and Sunday, the pancakes get a topping of only the freshest fruits (think orange, pineapple, kiwi, and mango) and are completed with coconut compote.
#mc_embed_signup{background:#fff; border: 3px double black; clear:left; font:14px Georgia,serif;  width:635px;}
/* Add your own MailChimp form style overrides in your site stylesheet or in this style block.
  We recommend moving this block and the preceding CSS link to the HEAD of your HTML file. */