Chili powder adds an customizable level of heat to these crunchy potato wedges.
By Siri Pulipaka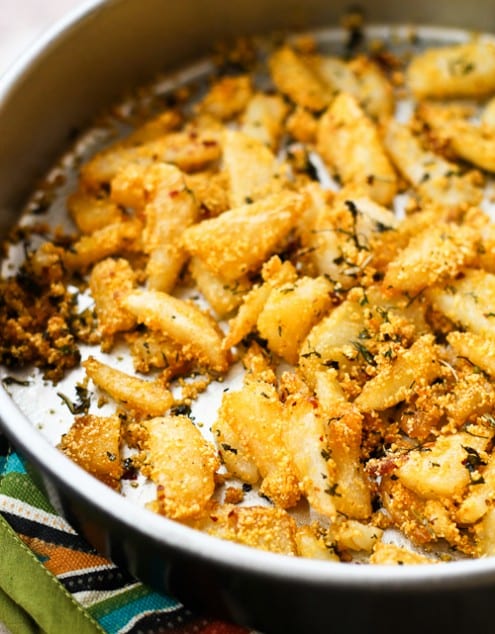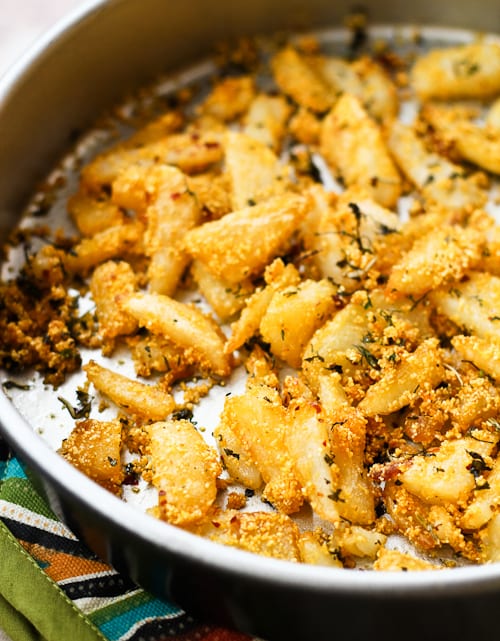 Pan-Fried Cornmeal Crusted Potatoes
Chili powder adds an customizable level of heat to these crunchy potato wedges.
Author:
Siri Pulipaka, Adapted from Simple Bites
Ingredients
4 medium sized potatoes, peeled
1-2 tbsp fine cornmeal (or polenta)
salt - to taste (~ 1 tsp)
¼ tsp black pepper powder
½ tsp red chilli powder
½ cup olive oil
3 garlic cloves, minced
¼ cup fresh cilantro leaves, chopped
Instructions
Cut potatoes into long wedges and boil for 10 mins. Turn off heat and drain in a colander. Keep aside.
In a bowl, mix together - cornmeal, salt, black pepper powder and chilli powder. Gently toss the boiled potatoes in the cornmeal mixture.
Preheat oven to 220 C or 425 F.
Heat a pan (oven-proof or cast iron skillet if you have one) and add a thin layer of olive oil. Add garlic. Let it sizzle for about 30 seconds and add seasoned potatoes in one single layer.
Transfer the contents onto a baking pan and roast for about 30 mins, turning them for every 10 mins. You can skip this step and directly place into the oven, if using an oven-proof skillet or cast iron skillet.
Make sure you roast them until they are crunchy from out side.
Serve them with any dip and ketchup.