Classic French pastry with a delicious latin spin from Carolyng Gomes.
By Carolyng Gomes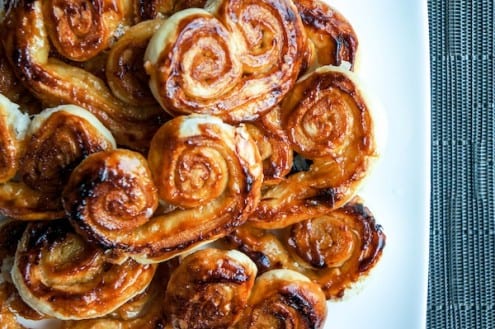 Who doesn't love sweets? There is something about a sweet treat baking in the oven, the aroma of sugar and spice stretching towards the farthest corners of your home and that uncontrollable anticipation for a homemade baked good. Whether it is Natas Caseiras or Baked Pumpkin Churro Bites, there is just something special about enjoying a treat that you made and transformed in the oven into a delicious, delectable, crispy, sugary, buttery treat. What I was describing sounds as delicious as it is, because this treat is none other than Palemeritas de Papelón. Papelón, or panela, is simply evaporated cane juice. It is a hard, brown block that you can usually find in the international section of your super market. It tastes a bit like brown sugar, though that taste of molasses is much stronger, more present, in papelón. That sweetness coupled with a deep molasses flavor lends this ingredients to a lot of dishes both sweet and savory. It is this flavor that takes the well known petite palmier and takes it to the next level.
Petite palmiers, really cute elephant ears I used to call them, are most attributed to France and classic french pastry. However, I had my first giant palmerita in Venezuela the first time I visited at the tender age of 5. I turned 6 while I was there and let me tell you, I went a little crazy on the baked goods. Thankfully I was young, had an incredible metabolism and oh yeah, I was a kid! That is what kids do, they eat delicious food and not worry about it. In that respect, I feel I am still very much a child at heart.
Moving on, I have come to see that I create dishes that I love and put a latin spin on them. When I make pizza I add chorizo, pasta always has a variety of ground chiles in the sauce, my turnovers are always made with empanada dough and to me nothing smells better than a pernil roasting in the oven, and I am vegetarian! When it came to desserts I changed the ingredients. Pastries had mango, sorbets were made with passion fruit and coconut was found in abundance.
See Also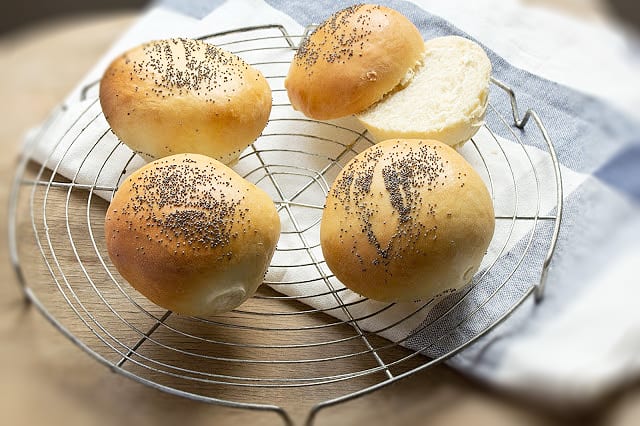 When it came to this perfectly crisp, with layers upon layers of buttery goodness and sweet caramelized sugar, I knew that I had to somehow put my own spin on the french classic. With a ridiculous amount of panela at home, I thought why not switch out the cane sugar for grated papelón? The results were as delicious as they look, and they didn't last long.
Do yourself a favor and make these crispy, crunchy, sweet and deeply flavored Palmeritas de Papelón. A special treat that is just minutes away, what are you waiting for?
Print
Palmeritas de Papelón Recipe
Craving something crispy, flaky, buttery and sweet? Palmeritas con Papelón are petite palmiers rolled with grated panela for a bright molasses flavor that caramelizes to perfection making it impossible to have just one.
Author:

Carolyng Gomes

Prep Time:

15 mins

Cook Time:

8 mins

Total Time:

23 minutes

Yield:

4

1

x
1

17.3 oz package puff pastry, thawed

3/4 cup

grated panela

1/4 cup

granulated sugar
Instructions
Preheat oven to 400 F. Lightly spray baking sheet.
Roll puff pastry on a lightly floured surface to 1/8 inch thickness.
Using a pastry brush moisten dough with water.
Evenly spread panela and sugar up to 1/8 of an inch from edge of dough.
Remoisten edges of dough with water.
Roll dough tightly from the left to the center. Repeat from right to center of dough.
Using a serrated knife cut 1/4 inch slices to create palmeritas.
Place palmeritas on cookie sheet spaced 1/2 inch apart and bake for 6-8 minutes until golden, bubbling and crisp.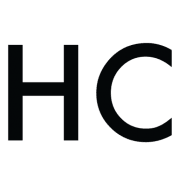 Carolyng Gomes
Carolyng loves to eat, loves to cook and loves to eat more. To her a recipe is more a list of suggestions, saving time doesn't mean sacrificing on flavor and when in doubt, a splash or two (well, a nice pour) of wine never hurts. Welcome to her Cocina Latina, where South American and Latin fusion dishes are always on the menu.