The palak parathas can be had with lemon or mango pickle or even with curd or white butter.
By Dassana Amit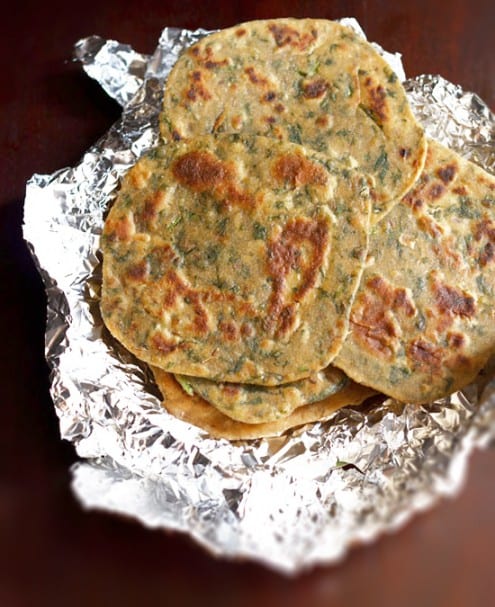 When making parathas, its good to follow the rolling and folding technique. while rolling the dough, apply some oil or ghee and then fold the dough. this way you get layered parathas with a soft texture inside.
Palak Paratha - Spinach Flatbread
The palak parathas can be had with lemon or mango pickle or even with curd or white butter.
Ingredients
2 cups whole wheat flour/atta
200- 250 grams spinach
1 or 2 green chilies, finely chopped
¼ tsp carom seeds/ajwain
2 tsp oil or ghee
a pinch of asafoetida/hing (optional)
salt as required
oil or ghee for frying the parathas
Instructions
rinse the spinach leaves very well in water.
drain them.
heat water and boil the spinach leaves in hot water for 5 to 7 minutes.
strain and keep some of the stock in which we have boiled the spinach leaves.
puree the spinach in a blender.
in a large bowl mix the whole wheat flour with salt, carom seeds, green chili and asafoetida.
add the spinach puree and 2 tsp oil. mix well.
add required amount of stock or water and make a smooth dough.
take a medium size ball from the dough.
roll the dough ball into a small circle.
spread some oil or ghee on the top of the rolled dough.
fold one side, apply the oil or ghee on the folded side.
again bring the edges together and fold.
you will get a triangular shape.
roll into a medium sized parathas.
on a hot tava cooked the paratha with some oil or ghee.
till they are crisp and brown from both side.
make all parathas this way.
serve the palak paratha hot with yogurt or pickle.
you can also stack the parathas in a roti basket or casserole and serve then warm later.
Dassana Amit
Dassana never intended to start a food blog. She never ever thought about blogging in her wildest of dreams. Her only passion in her life was meditation. As she went deeper in meditation, she realized that her inborn gift of cooking delicious & healthy food needs some creative expression. So she started her blog " Veg Recipes of India " as an outcome of creative flowing energy. Now she has also combined her another gift i.e photography with cooking. When not blogging & food photographing - she works as a web developer and seo expert.