Spanish Shrimp and Brown Rice Skillet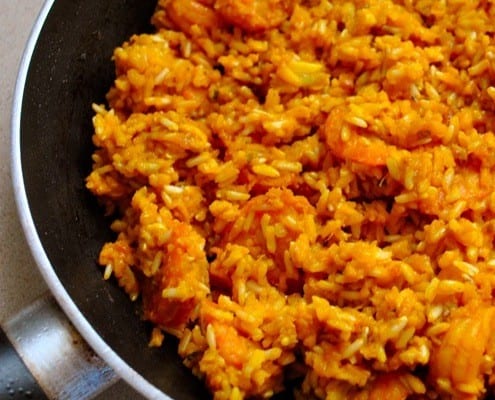 This is a simple and light alternative to paella, without olive oil or spending hours in the kitchen.
By Nicole Medgenberg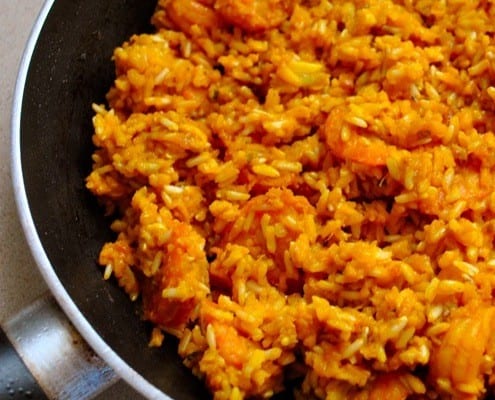 De-li-cioso! The recipe for this dish was given to me by a Spanish friend. She described the flavors and textures with such passion that I had to try and do it myself the other night. It is a simple and light alternative to paella, without all the time in the kitchen or olive oil. I can perfectly imagine that it could go great with some nice black olives or chorizo pieces… what ever you have on hand. My version is made with brown rice, so it is light and ideal for dinner.
Spanish Shrimp and Brown Rice Skillet Recipe
This is a simple and light alternative to paella, without olive oil or spending hours in the kitchen.
Author:
Nicole Medgenberg
Ingredients
- 1 Tbsp olive oil
- 1 onion, chopped
- 2 tomatoes, chopped
- 1 green pepper, chopped
- 2 garlic cloves, chopped
- 1 cup brown rice
- ½ kilo shrimp, peeled and cleaned
- 1 shrimp bouillon cube
- 1 Tbsp saffron substitute (you can find it in most supermarkets)
- 2 cups water
- salt and pepper
Instructions
Rinse rice with cold water for about 3 minutes, until water comes out clear.
In a saucepan, add the two cups of water at room temperature, add the rice and shrimp bouillon cube. Do not stir or disturb the rice. Turn on high heat and when it comes to a boil, lower the heat to minimum and cover.
In a skillet with the olive oil, add the onion, tomatoes, peppers and garlic and let soften for about 2 minutes.
Blend these ingredients for 20 seconds.
Pour the blended mixture to rice, add the powdered saffron and shrimp. Again, do not mix or move. Leave uncovered over low heat for about 35 minutes, until the rice is done and most of the water has evaporated. Done!
Nicole Medgenberg
Nicole Medgenberg is a German-Mexican food, travel and lifestyle journalist based in Mexico City. She writes for several Latin American publications including National Geographic Traveler and Cosmopolitan Magazine. She has a passion for traveling, eating local food, cooking and writing about it all in her food blog La Cocinera con Prisa.