A Chinese-inspired dish from Thailand and Laos, this recipe is quick, easy, and totally delicious. Be ready for a kick of awesome spice.
By Kathleen Kiebler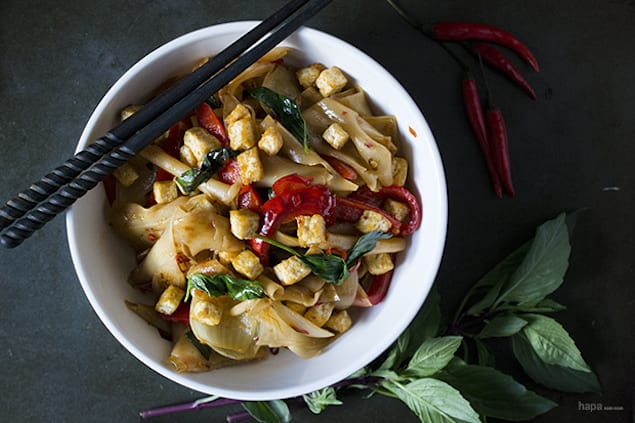 Drunken Noodles, or pad kee mao, is a Chinese-inspired dish served in Thailand and Laos.  There are several theories about how this dish was named.  Some say that you have to be drunk to tolerate the heat.  Others say it's because it's one of the only street foods available to late night partygoers.  However, the story I grew up hearing was that the dish is so hot, that you get drunk trying to temper the heat by the consumption of alcohol.
In this Drunken Noodle recipe I used tofu as the protein, though feel free to use an animal protein such as chicken, beef, or shrimp.   So let's talk about the name-sake ingredient, the noodles.  I have seen this dish prepared with one of two rice noodle varieties.  One is made with wide rice noodles that resemble the width of something like fettuccine.  The other, (and the one that I prefer) is to use rice flakes – par boiled rice grains that are rolled and shaped into sheets.  Once dried, they are cut into squares, rectangles, or triangles – and can be found at most Asian grocery stores.  Unfortunately, rice noodles don't have a European equivalent – so if you don't have an Asian grocery store near by, try online.  In a pinch, I've used Udon noodles and they've worked well.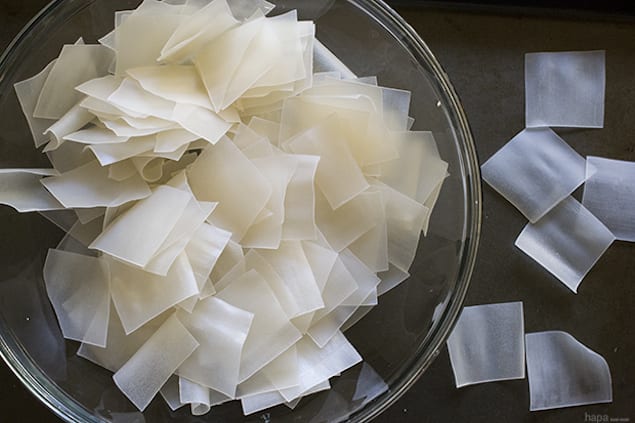 When you're preparing the rice noodles/flakes, do not boil them.  You want to soak them in warm water.  This way the noodles will soften slightly, allowing the them to soak up all of that wonderful spicy liquid from the stir-fry.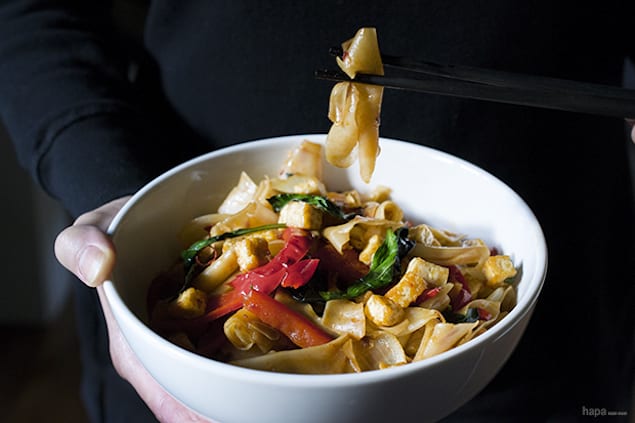 Drunken Noodles
Spicy Drunken Noodles - A Chinese-inspired dish from Thailand and Laos, this recipe is quick, easy, and totally delicious!
Ingredients
8 ounce rice flakes or other wide rice noodle
14 ounces firm tofu, cubed and dried
vegetable oil
⅓ cup chicken stock
1 tablespoon sugar
1 tablespoon soy sauce
¼ teaspoon molasses
1 tablespoon oyster sauce
1 tablespoon fish sauce
2 teaspoons sambal oelek
1 teaspoon sriracha
1 small onion, quartered and layers pulled apart
1 red pepper, seeded and sliced
6-8 red Thai chilies, seeded and sliced (more or less to adjust the heat)
2 cloves garlic, thinly sliced
1 cup Thai basil
Instructions
In a large bowl, soak the rice flakes or rice noodles in warm water for 40 minutes. Drain in a colander.
Line a large plate with paper towels. Fill a large sauté pan with ¼ of vegetable oil. Add the tofu and heat over medium-high heat (you want to add the tofu to a cold pan because if you add it to a hot pan, any excess moisture in the tofu will cause the oil to pop and spatter). Cook for 10 minutes, or until lightly brown. Using a slotted spoon, remove the tofu and allow to cool on the plate lined with paper towels. (Save 2 tablespoons of the oil to cook the vegetables).
In a small bowl, combine the chicken stock, sugar, soy sauce, molasses, oyster sauce, fish sauce, sambal oelek, and sriracha. Set aside.
In a large sauté pan or wok over high-heat, warm 2 tablespoons of the reserved vegetable oil. Add the onions, bell peppers, Thai chilies, and garlic. Tossing/stirring constantly for 2 minutes.
Add the drained rice flakes to the pan and cook for 4 minutes, tossing/stirring frequently.
Lower the heat to medium-high and add the sauce. Stir to coat and cook for another 2 minutes, or until all of the liquid has been absorbed. Turn off the heat, add fold in the tofu and Thai basil.
Serve and Enjoy!
See Also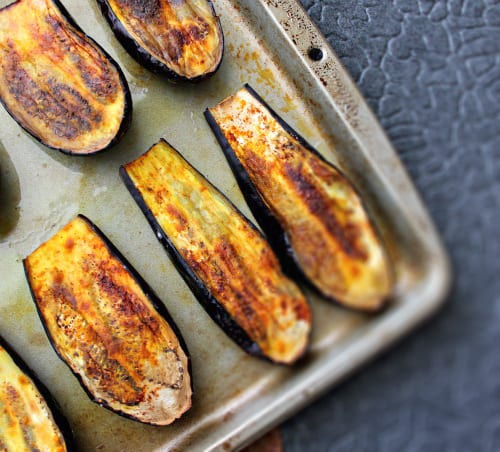 Kathleen Kiebler
Hi there, I'm Kathleen. I am a Hapa (a person of mixed ethnic heritage) who grew up in a family that loves to cook and loves to eat! My food is a reflection of me and I am a reflection of my food. My mixed background has given me multiple perspectives throughout my life. Those perspectives have left me open to not just exploring the beauty of my own cultural backgrounds, but others as well – and at the heart and soul of them, is food. Hapa Nom Nom creates a culinary environment where foods from multiple cultures are integrated into recipes that can be shared and enjoyed by everyone.