PARTNER POST — The holiday season is here and it is time to add some Italian flair to your menu with authentic ingredients from Colavita and Perugina's rich Italian chocolate.
Slow braised oxtail osso bucco served over cheesy polenta is an easy and delicious winter dish. End the meal with a rich, chocolate trifle made with orange and olive oil for a spectacular finish.
By Tina Putzing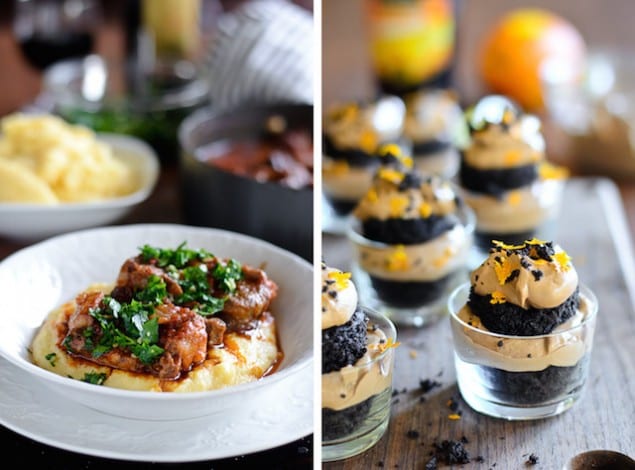 Happy November, everyone! Soon enough, it'll be Thanksgiving, and then Christmas will be here in a flash.
Mmmm, comfort foods. Like tender, fall-off-the bone osso buco, for example. And creamy parmesan polenta. And cake, because no meal is complete without dessert.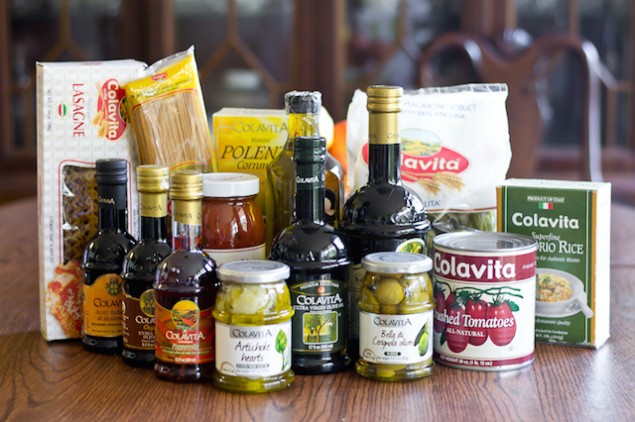 I came up with two different Italian-style recipes for the holidays (one savory, one sweet) using Colavita's and Perugina's authentic Italian ingredients. With ingredients this good, how could I not be inspired?
For the main dish recipe, I opted to go with oxtail osso buco, for a number of reasons: (1) I've wanted to try osso bucco since I saw someone cook it on a TV show, (2) it's a hearty Italian classic that just screams "fall comfort food", (3) braising is easy and low-fuss, so it would be a great recipe for holiday/dinner parties, and (4) my grocery store had oxtails but no veal shanks.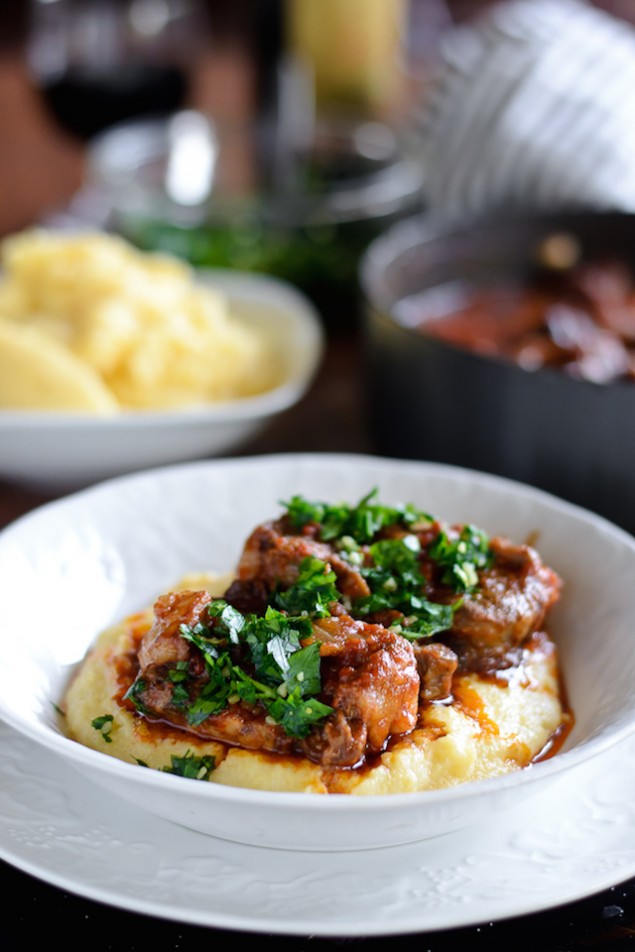 The great thing about braising meats is that while it takes a while, you don't have to be tied to the stove the entire time. So while the recipe may look sort of taxing because it has multiple components (oxtail + polenta + gremolata), all of it can be done in the same 2-hour cooking period. And, if you're serving this at a holiday party and don't want to feel super rushed on the day-of, you can cook your osso bucco a few days in advance to save yourself the hassle.
Your guests will be sure to thank you for this delicious meal. The meat, which simmers for hours in the most delicious tomato-y sauce, is fall-off-the-bone-tender and absolutely packed with flavor. When you serve it with luscious Parmesan polenta and bright, citrus-y gremolata, you get a dish that soothes your soul but excites your tastebuds.
For dessert, I made mini trifles. Everything is better in miniature, and individual servings can be a lot of fun for parties.
Trifles are a great party dessert because they're so low fuss. All you need to do is bake a cake, break it up into pieces by hand, and layer the pieces with whipped cream or frosting in a glass serving bowl. The end result is both eye catching and delicious, and unlike layer cakes or other fancier treats requires only minimal effort. Admittedly, by going the mini-trifle route I created a little more work for myself…but it really wasn't too bad. Still a million times easier than frosting/decorating a cake!
And the cakes turned out very good. Using olive oil instead of butter in my cake batter produced an denser cake than usual, with a much darker, earthier taste. And, by soaking my mini cakes in a bit of orange liqueur, I was able to really punch up the orange flavor. Combined with the dark chocolate orangello whipped cream filling and grated orange zest, the trifles were bursting with orange and chocolate flavor. The end result was sort of like those orange-shaped chocolates you get at Christmas, but in cake-form! Definitely delicious, and definitely a welcome part of my holiday recipe repertoire.
Italian Holiday Table: Oxtail Osso Bucco and Polenta
Braised oxtail osso bucco with cheesy polenta is an easy, delicious winter dish. End with orange and olive oil chocolate trifles for a spectacular finish.
Cuisine:
Italian Inspired
Ingredients
Osso Bucco:
1 large oxtail, cut into 1-1/2 inch slices (the butcher can do this for you)
¼ cup flour
Salt and pepper
2 tbsp butter
1 large onion, chopped
2 medium carrots, chopped
½ bottle (375 ml) dry white wine
1-3/4 cups Colavita Crushed Tomatoes
2 garlic cloves, chopped
1 cup beef stock
Zest of 1 orange
Gremolata:
3 or 4 garlic cloves
bunch of flat-leaf parsley
Zest of 1 lemon
Parmesan Polenta
Instructions
Heat the oven to 350°F.
In a shallow plate/dish, combine flour, salt and pepper (to taste, but I recommend using a generous amount).
Dredge your slices of oxtail in the flour, gently shaking to remove the excess.
Place the oil and butter in a large high-sided oven-safe sauté pan, sauce pan, or frying pan (big enough for all the veal slices to touch the bottom). Set stove to high heat.
When oil/butter mixture starts forming tiny bubbles, start putting your oxtail into the pan to brown.
Add half the slices first, and cook them 2 to 3 minutes on each side. Remove browned slices to a plate. Brown the remaining slices and remove them also.
Lower the heat to medium, and add the chopped onion and carrot to the pan. Sauté until golden, about 5.
Pour your wine into the pan and boil until reduced by half, stirring frequently to dissolve the pan juices.
Stir in the crushed tomatoes, garlic, orange zest, beef stock.
To cook your osso bucco:
Season sauce with salt and pepper to taste.
Immerse your browned oxtail slices in this sauce — the liquid should come at least halfway up the sides. Cover the pan and bring mixture to a boil.
Place covered pan into the oven and braise oxtail for about 2 hours, until the meat is very tender and falling off the bone. Stir sauce from time to time, and gently flip/turn the slices. (If the pan seems dry, add more stock).
At the end of cooking, taste and adjust seasoning of the sauce.
To make your gremolata (while your osso bucco is cooking):
Pull parsley leaves from the stems.
Chop parsley leaves together with garlic cloves.
Pile mixture into a bowl, and stir in the grated lemon zest.
Set aside.
To make your parmesan polenta (while your osso bucco is cooking):
Bring water to a boil in a medium sized pot.
Carefully add Polenta mix to the boiling pot, stirring constantly to avoid clumping.
Cook polenta for 3-5 minutes (stirring constantly), until desired consistency is reached.
Stir in grated parmesan until smooth.
Season with salt/pepper to taste.
To serve:
Scoop a mound of polenta into a bowl or plate.
Top polenta with two or three slices of cooked osso bucco.
Spoon some sauce on top of the osso bucco.
Top everything with a few spoonfuls of gremolata (if desired).
Enjoy!
Notes
Osso buco can be cooked ahead and stored up to 3 days in the refrigerator, or frozen. Keep it in the pan ready to be reheated on top of the stove.
Dark Chocolate Olive Oil Trifles
Braised oxtail osso bucco with cheesy polenta is an easy, delicious winter dish. End with orange and olive oil chocolate trifles for a spectacular finish.
Ingredients
Olive Oil Cake:
1 cup all purpose flour
½ cup unsweetened Dutch-processed cocoa powder
2 tbsp baking powder
½ tsp salt
¾ cup granulated sugar
¾ cup plain nonfat Greek yogurt
3 large eggs
1 tsp vanilla extract
1 tsp chocolate extract (optional)
Orange-Chocolate Whipped Cream
1 cup heavy whipping cream + up to 4 tbsp as necessary
2 tbsp powdered sugar (optional)
Orange liqueur
Orange zest
Instructions
To make your cake:
Preheat oven to 350ºF.
Grease a 9-inch round or square baking pan.
In a medium bowl whisk together the flour, cocoa powder, baking powder, and salt. Set aside.
In a large bowl, combine the sugar, yogurt, eggs, extracts, and olive oil and whisk until combined.
Slowly stir the dry mixture into the wet mixture.
Pour the cake batter into the prepared pan.
Bake for 40 to 45 minutes or until a toothpick inserted into the center comes out clean.
Cool the cake in the pan for 15 minutes in a rack; then gently run a knife along the side of the cake.
Carefully invert the cake onto a plate and then invert again onto a cooling rack to cool completely.
To make your whipped cream:
Break chocolate bar into pieces and place in a microwave-safe bowl or mug.
Zap bowl/mug in the microwave in 30-second increments, stirring after each, until chocolate is melted. (If you notice chocolate getting clumpy, add heavy cream 1 tbsp at a time between microwave sessions, and stir vigorously until chocolate smooths out.)
Set chocolate aside to cool slightly.
Pour heavy whipping cream into a medium bowl. Using an electric mixer, beat cream until soft peaks form.
Spoon slightly cooled melted chocolate into your whipped cream bowl. Continue beating until stiff peaks form.
Refrigerate until ready to use.
To assemble:
Using a biscuit cutter, cut out little rounds of chocolate cake. (Keep any leftover cake and crumble it so that you can use it as a topping.)
Slice each round in half horizontally (as though you were making tiny layer cakes).
Place one half into the bottom of a small serving glass (I used these).
Drizzle 1 tsp orange liqueur over the cake.
Scoop a generous spoonful of whipped cream over the cake.
Top with the other half of your mini cake. Drizzle with another tsp of orange liqueur.
Scoop another spoonful of whipped cream on top of your second cake layer.
Sprinkle cake crumbs on top and garnish with orange zest.
Repeat until all your little cakes/cream are used.
Serve immediately.