Oven Roasted Pork Tenderloin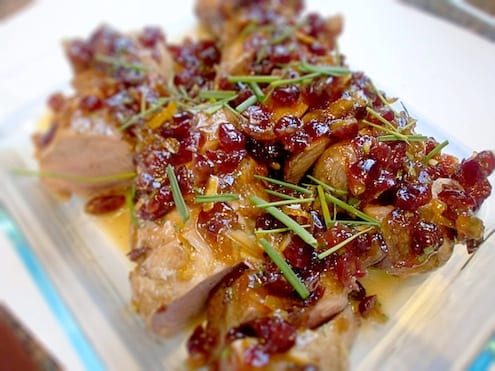 Pork almost always pairs extremely well with fruits and berries. This, is no exception.
By Amy Casey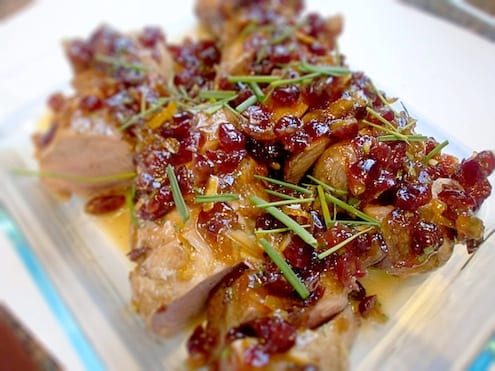 Pork has a natural affinity for fruit. It pairs well with apples, cranberries, oranges, apricots, and pears. The richness of the meat is complimented by the sweetness of the fruits. I like to have a combination of fruits when I make a dish such as Roasted Pork Tenderloin with Cranberry Orange Relish. Along with a sweet fruit (oranges) I like to add a tart fruit (cranberries) so the the sauce has a range of flavors. A few tablespoons of chives adds some bright green color and a bit of onion flavor.
The pork gets a quick saute to brown the outside and then is roasted in the oven. While the pork roasts, The relish is made.
Oven Roasted Pork Tenderloin
Oven roasted pork pairs extremely well with this cranberry orange relish.
Ingredients
2 pork tenderloins, about 2 pounds total weight
olive oil
salt
pepper
dried sage
¾ cup dried cranberries
½ cup orange marmade
½ cup orange juice
½ teaspoon dried sage
2 tablespoons fresh chives, chopped
Instructions
Preheat oven to 400 degrees.
Rub tenderloins with olive oil and sprinkle with salt, pepper, and sage. Heat a large, ovenproof saute pan to medium high and drizzle with olive oil. Brown tenderloins on all sides. Roast tenderloins in the oven for about 15 – 20 minutes or until the internal temperature reaches 135 degrees. Remove tenderloins from oven and tent with foil.
Meanwhile, in a small spaucepan over medium high heat add cranberries, oranage marmalade, orange juice, and sage. Bring to a boil then reduce heat to medium and heat mixture until thick and glossy, about 8 – 10 minutes. Stir occasionally as the mixture cooks. Remove from the heat and add the chives and sesaon to taste with salt and pepper.
Slice pork tenderloins in medallions and spoon relish over the top.
Amy Casey
Amy Casey, of northern New Jersey, is a food columnist for the New Jersey Herald and cookbook author. She has developed a wealth of recipes as a personal chef and also while cooking for her own family of five. See more of her recipes in her just published cookbook for e-readers Dinner for a Year – 52 Easy and Delicious Recipes to Spice Up Your Family Menu Planning.