Oven-Baked Leek Frittata is a wonderful dish to use up leftover leeks. Add plenty of cheese and bake or pan fry for a filling meal anytime of day.
By Zerrin Gunaydin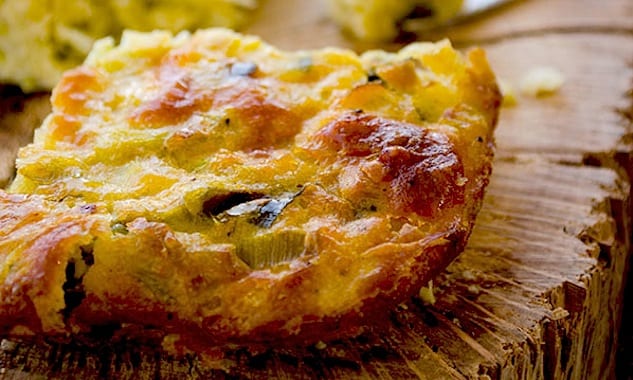 Leek is mostly used to make Leek with Olive oil in Turkish cuisine, which is generally served cold. It's one of the most popular dish in winter and it's made almost every week in Turkish kitchens. If you have feta and kasar or mozarella, you don't need any magic to create a mouthwatering recipe! As a big fan of cheese, I can eat anything based on cheese and love to use it in lots of ways. Personally I think cheese is a must in fritters or frittatas and in savory pies. So I recommend you to be really generous when adding cheese in these dishes. The best thing about frittata is that you can serve it in slices, just like a pie or Turkish borek. This makes it a great food for picnics, parties or lunch boxes! You can keep these in an airtight container for 2 days and it's still great when cold, but you can heat it in oven before eating if you like.

Oven-Baked Frittata
A tasty combination of cheese and leek in an oven-baked frittata.
Ingredients
500g leek, finely chopped
1 tsp salt
1 tsp ground black pepper
2 potatoes, boiled
3 eggs, at room temperature
½ cup feta, crumbled
1 cup kasar or mozarella, grated
¼ cup milk
¼ cup olive oil
3 tbsp flour
½ tsp baking powder
Instructions
Preheat oven at 180C. (350F)
Saute chopped leak in a large skillet, season it with salt and black pepper and let it cold.
Whisk eggs well.
Add milk, feta, kasar, olive oil, flour and baking powder. Mix well with a spatula.
Mash potatoes and add it into the mixture.
Brush a baking pan with olive oil and transfer the mixture into the pan.
Bake it for about 45 minutes or until golden.
Serve warm or cold.
Zerrin Gunaydin
Zerrin Gunaydin is a food blogger living in Turkey. She loves to share recipes mainly from Turkish cuisine on her blog Give Recipe. Zerrin is trying to inform people around the world about Turkish cuisine, which has a very large repertoire with its various kind of dishes.