All-You-Can-Eat? Really, Honest Cooking? We know what you're thinking, but just like every other food lover, the thought of unlimited or bottomless food or drinks can be quite enticing. We have found our favorite. Especially for meat lovers, Fogo de Chão, takes the cake as our favorite all-you-can-eat restaurant. Plus, the food is actually good, unlike some buffets…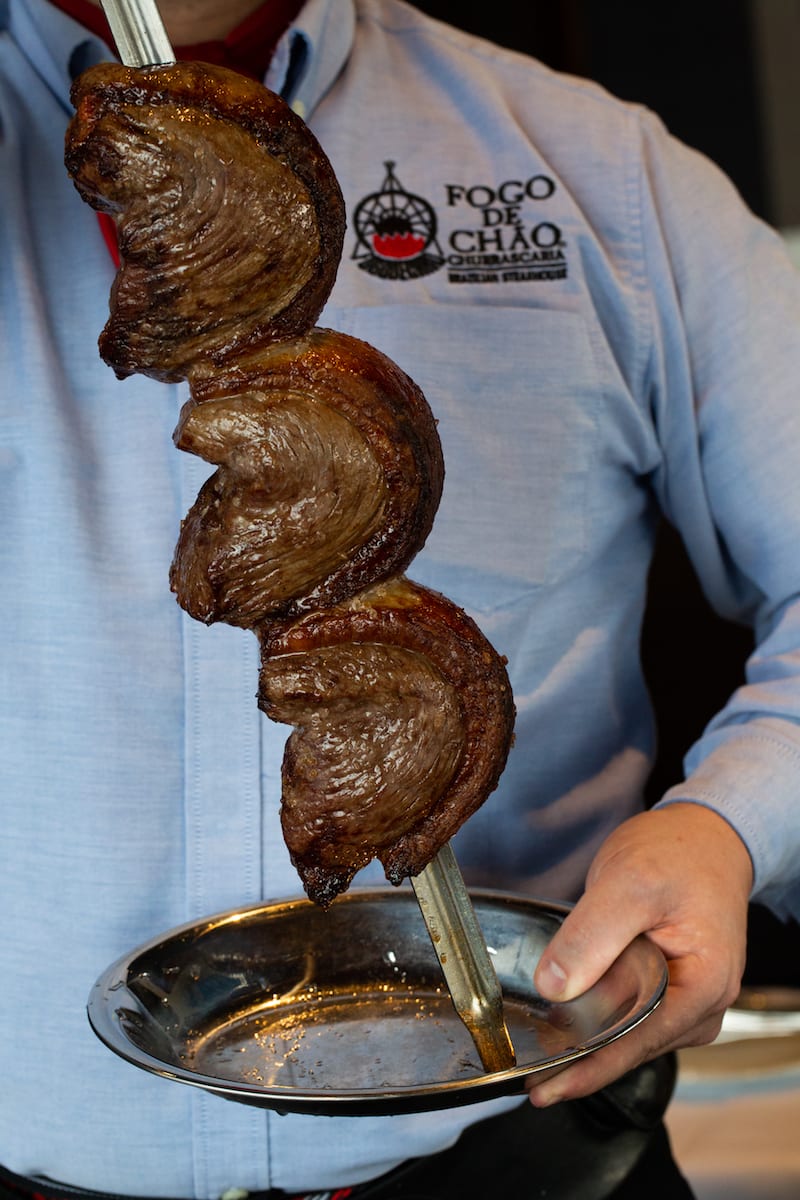 photos provided by Fogo de Chão
We had the opportunity to try Fogo de Chão at their newest Greater Denver area location in Lone Tree. It's
a big, bright, buzzing place with two levels and patio to soak up the Colorado sunshine with a view of the mountains. What is Fogo de Chão? To simplify it is, it's a steakhouse. But that would be an oversimplification that doesn't do it enough justice. So let's get specific. Technically, it's a Brazilian steakhouse featuring Southern Brazilian cooking techniques. This technique is called churrasco and entails the roasting high-quality cuts of meats over an open flame, with a service model known as "espeto corrido" (Portuguese for "continuous service").
You can find premium chicken, lamb, pork and beef being cooked over these open flames and served by their gauchos. Gaucho chefs personally butcher all of the meats in-house, roasting them over an open fire, and then carving each piece tableside. Our mouths are watering just thinking back to the smell of the meats wafting through the restaurant.
We were surprised the the price of the Full Churrasco Experience (aka All-You-Can-Eat experience) was the same as what we would pay at a Denver steakhouse. Except this time, everything was unlimited.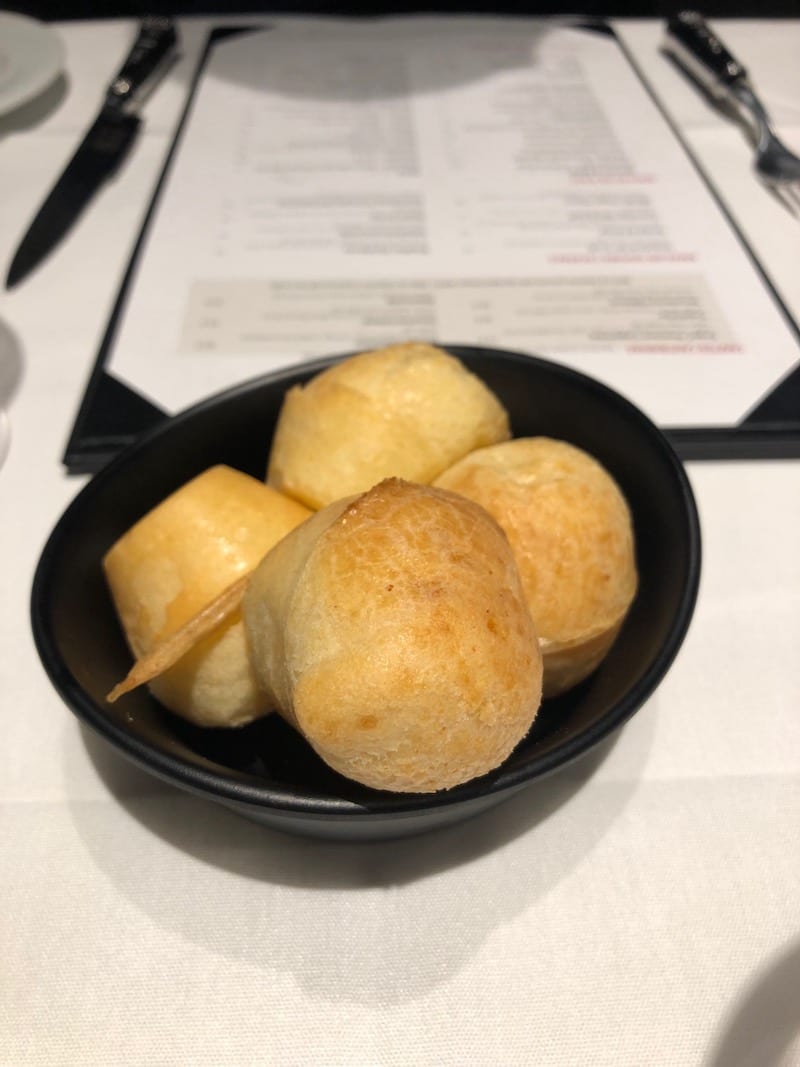 The meal started with a basket of Pão de Queijo, a Brazilian cheese bread. If the meal had ended here, we would have be so satisfied. These are GOOD. And if you thought you loved Olive Garden's breadsticks, you are about to have a new favorite. Their Pão de Queijo are made with yuca flour, so they are totally gluten free.
Next, we ordered some drinks from their extensive cocktail menu and wine list and headed to, what is called, the Market Table. It's more than a salad bar and would rival any European breakfast spread. (If you've ever experienced a five-start hotel breakfast in Europe, you know exactly what we are talking about.) The table is laden with a slew of authentic, imported cheeses, meats, smoked salmon and fresh fruit and vegetables. Not to mention marinated peppers, artichokes, olives and more. We also loved the feijoada, a Brazilian bean stew, to warm us up on the winter night. Our waitress let us know that the centerpiece of Brazilian eating is a colorful palate of natural, fresh and flavorful ingredients from South America and the Market Table was an expression of this. We were honestly quite surprised by all of the fresh vegetables and vegetable dishes available. It was the perfect way to gear up for the meat… first, load up on veggies.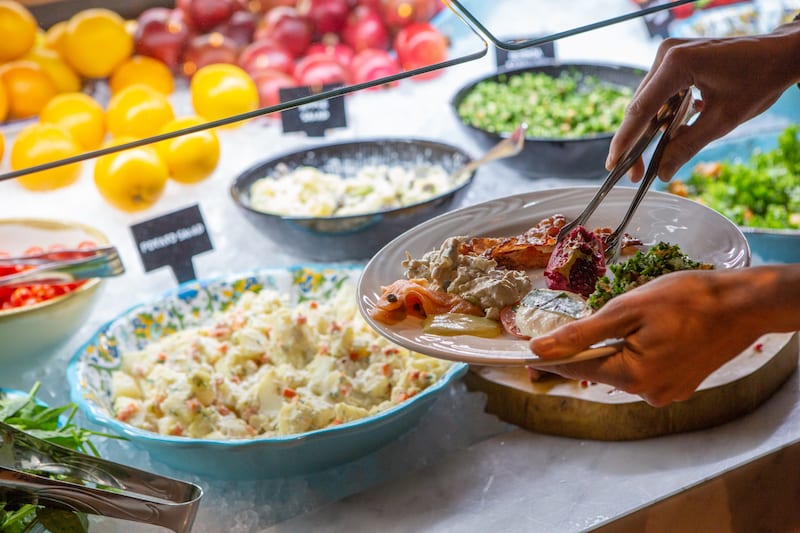 We headed back to our table and were greeted with an array of sauces for all of the meats to come, (Shout out to the Chimichurri for being our favorite!), crispy polenta fries, and caramelized bananas. That last one threw us for a loop, but once the meat started coming, it was just the sweet bite we needed to break up the savory.
To be honest, once we flipped out green card saying we were ready for the gaucho chefs to start visiting our table with meat, it all became a blur. A delicious blur. But! We do remember our favorites, taking first place for us was the garlic sirloin, followed closely behind by the pork ribs or tender leg of lamb. The gauchos were great about cutting the piece that was to our flavor preference and even looping back with our favorites.
Sit there enjoy the parade of fine meats, head back to the Market Table for a vegetable bread, or even ask your serve for more Pão de Queijo, she won't say no! Now you see why this our favorite All-You-Can-Eat restaurant?!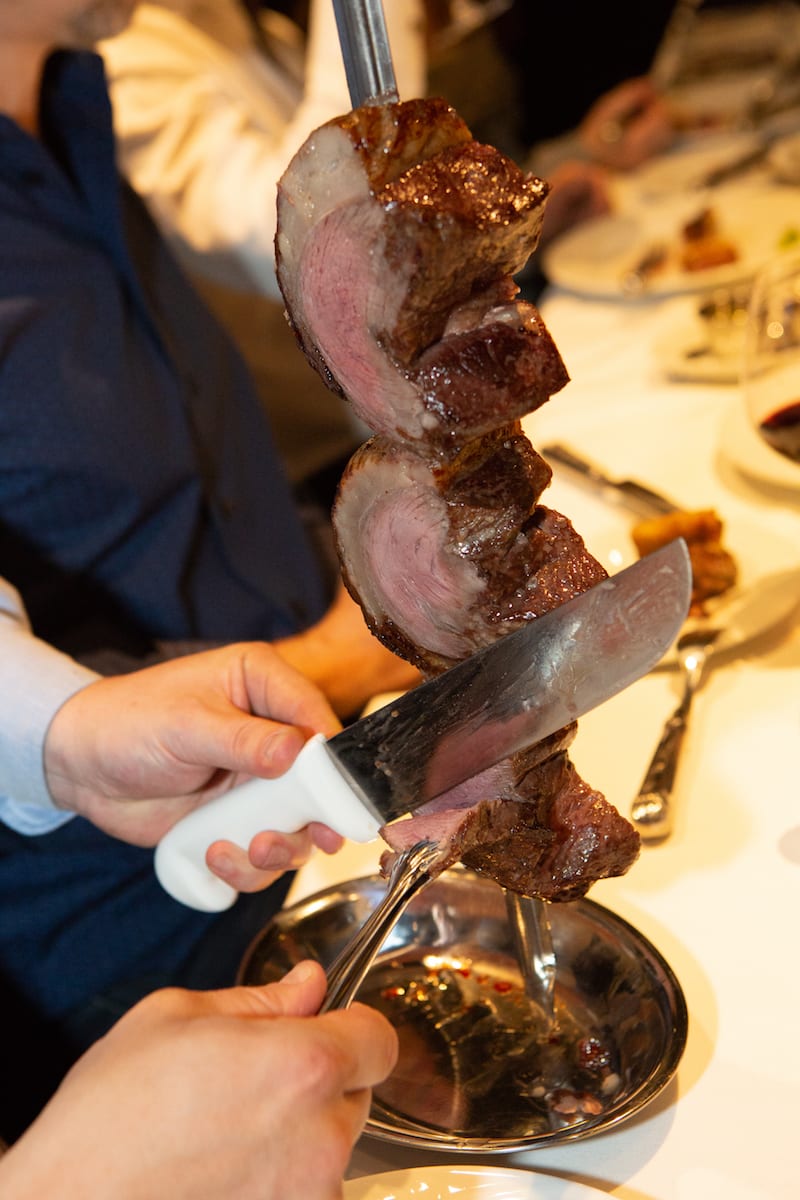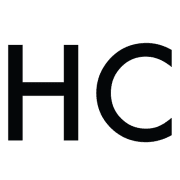 Honest Cooking
The Honest Cooking editorial team handpicks inspiring culinary stories to share with you that we think are beautiful. We strive to create an inspiring place for culinary exploration, salivating recipes, interesting personalities and stories.