Roasted Pumpkin and slightly caramelized onions provide sweetness that is offset by a generous helping of balsamic vinegar.
By Pallavi Gupta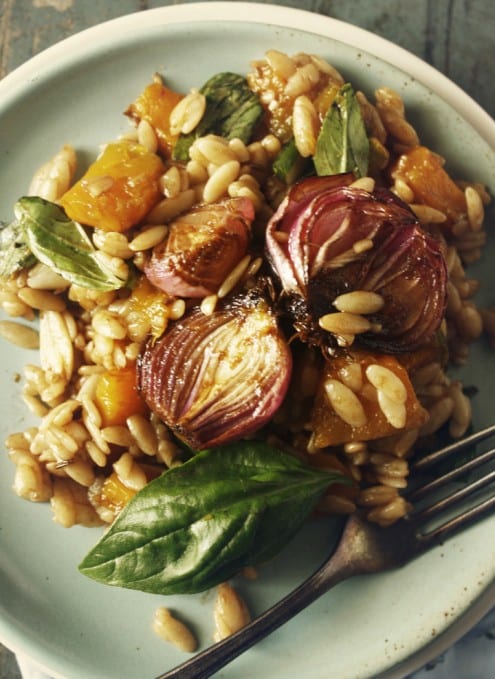 Orzo with Roasted Pumpkin and Onions
Roasted Pumpkin and slightly caramelized onions provide sweetness that is offset by a generous helping of balsamic vinegar.
Ingredients
1 small pumpkin, peeled and diced into bite size pieces
3 to 4 small red onions, peeled and cut into halves
1 cup orzo (uncooked)
a large bunch of basil
a few cloves of garlic
olive oil
a good glug of balsamic vinegar
fennel seeds
1 tsp sugar
salt
Instructions
Preheat the oven to 450F.
In a baking dish or tray add the diced pumpkin and garlic. Drizzle some olive oil, sprinkle some salt and mix well using you hands – make sure all the pumpkin pieces are coated well with the oil.
In a separate baking bowl add halved onions and drizzle with some olive oil and balsamic vinegar. You want the vinegar to coat the onions and collect a little at the bottom of the baking dish. Sprinkle salt, sugar and fennel seeds.
Bake both pumpkin and onions in the oven for about 30 to 40 minutes or till they both are cooked through. The onions should be slightly charred on the edges.
Cook orzo (just like pasta).
Tear the basil leaves into bite size pieces.
In a large mixing bowl add all your ingredients and toss well till everything is coated well in the balsamic vinegar. Serve right away.
Pallavi Gupta
Pallavi is a vegetarian globetrotter, who currently lives in the southern part of India. Past ten years of her life includes living in six cities in three different countries. It has added to her vast exposure of cuisines from different parts of the world which is now reflected in her cooking. She shares her knowledge of vegetarian and vegan recipe from around the world via her blog Veggie Zest. When not cooking or photographing, she does graphic design.