Trying to find a way to realize a sweet salad, Giulia Scarpaleggia has a sudden flash of inspiration: a sweet and fruity couscous salad, with something crunchy inside and a subtle and tantalizing scent.
By Giulia Scarpaleggia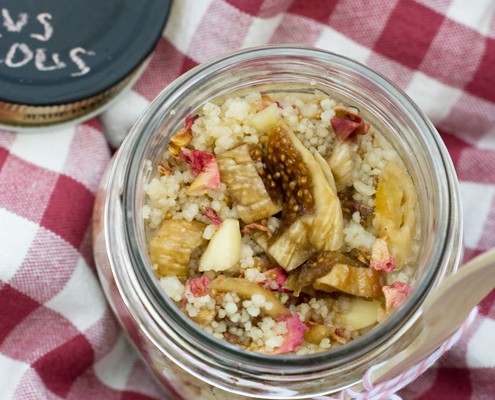 I saw her. She was running after a lonely firefly, wandering in a field of wheat in the point of turning from green to golden-yellow. She was smelling the wet earth after a sudden thundery shower. She was lying on the white table, back in the garden from now till October. She was playing hide and seek in the silent hedgerows along my country road. I saw her, Summer has arrived!
As soon as summer comes along, I give new birth to all the rituals I've kept dormant for many months in a drawer. At the first sunny days that drawer begins to quiver, my summer habits push to gain life and freedom, to stretch their legs and enjoy the season, as lazy lizards on a stone wall. These are my rituals to welcome the summer season, I'd be curious to know if you have some rituals as well!
Swap on my night table: no more wintry body cream, the nutrient, rich, full-bodied one, the one that resembles parquet glue. Welcome back light, fresh and fruity body lotion, the one that soothes my sunburned skin, relaxes my legs after a day outdoors and scents my nights with mint.
Let's change the music! I update my mp3 player with a new hit list. Goodbye great winter storytellers, such as John Legend, who warm you more than a pashmina blanket with their voices: my summer adventures will be put in music by Kid Rock, Sheryl Crow, Jason Mraz and Jack Johnson.
No more make up: during the summer season my office becomes a glass house, so my mascara gets running and blends with my blush, making my face the modern edition of Munch's Scream. As soon as I begin to sunbathe and the suntan colours my skin with a warmer and golden appeal, I allow myself just a touch of fruity lip gloss during the evening.
I really love fresh cereal salads during summer: usually barley, spelt and quinoa are the protagonists along with rice. Trying to find a way to realize a sweet salad, I spotted a half-opened couscous bag leaning next to a package of pulpy dried figs, and I had a sudden flash of inspiration: a sweet and fruity couscous salad, with something crunchy inside and a subtle and tantalizing scent.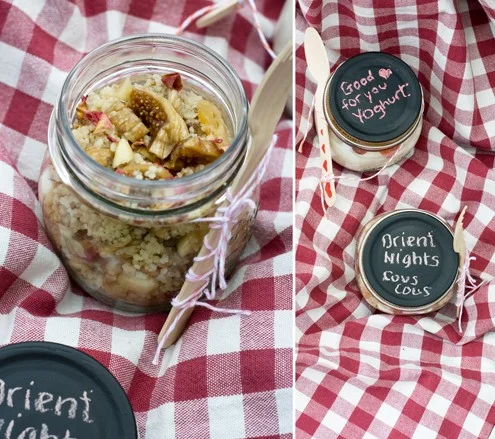 ORIENT NIGHT SWEET COUSCOUS SALAD
It has a Middle-Eastern fairy-tale appeal, thanks to the presence of two of my favorite spices – cinnamon and cardamom – and the sweet dried figs from Turkey. The final touch is given by a tablespoon of dried rose petals: soaked in vinsanto (Tuscan sweet dessert wine) they get fleshy and intense and bring you on a flying carpet in the starry nights of Baghdad (how many times have I seen Disney's Aladdin? I do not count them anymore…)
Author:
Giulia Scarpaleggia
Ingredients
½ cup (175 g) precooked couscous
2 tablespoons granulated sugar
1 tablespoon extra virgin olive oil
1 teaspoon ground cinnamon
4 dried figs
5 cardamom pods, crushed
1 tablespoon dried rose petals
½ cup (125 ml) of vinsanto
1 tablespoon almonds, coarsely chopped
Instructions
Make the couscous according to this recipe.
Chop the dried figs and soak them in vinsanto along with the crushed cardamom pods and the rose petals, for at least 30 minutes.
Squeeze the figs and the rose petals and stir them gently into the couscous, along with the chopped almonds. Sprinkle with ground cinnamon.
Taste the couscous and if it's not sweet enough add 1 up to 2 tablespoons of sugar.
Divide the couscous into individual jars.
Giulia Scarpaleggia
Giulia Scarpaleggia, Juls to friends and readers, is a Tuscany based and world oriented food blogger, writer and photographer. Her first passion was English and foreign countries: now she has deeply fallen in love with the vision that foreigners have of Tuscany. Simple and sunny, she has an insane passion for cooking.