SPONSORED: We get excited about good food and great ingredients, so we've teamed up with Divine Flavor to bring you delicious recipes for each season made with their fresh produce.
This easy, warm sauce made of roasted eggplant and red peppers comes with a little spice, a little acid, and a little fat. The bell peppers give it the perfect amount of pop. Serve it over chickpeas, polenta, or topped with a fried egg.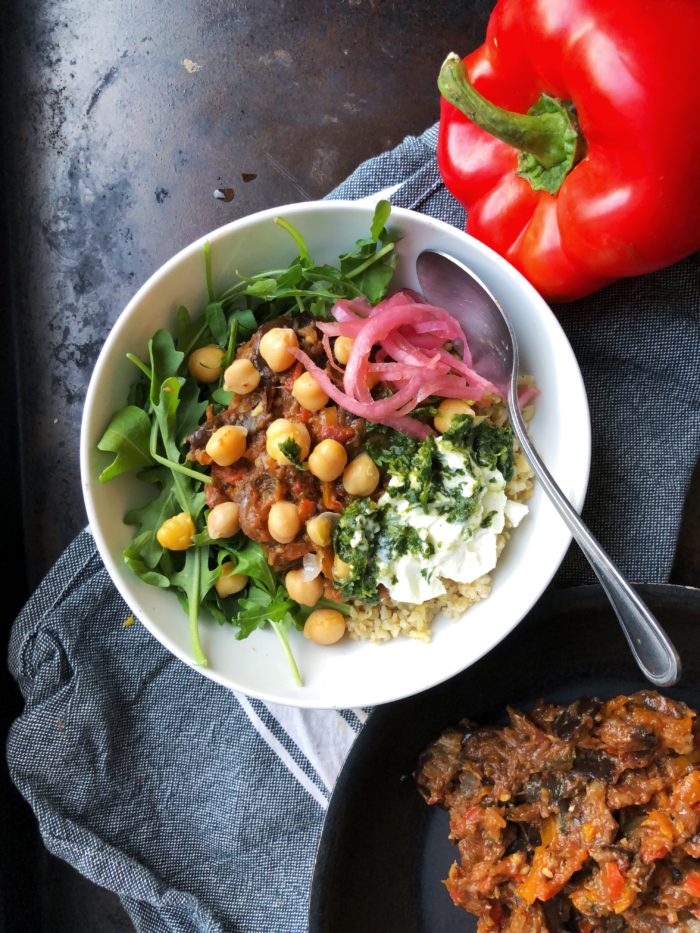 Spring is just around the corner… and dear God, why isn't it here yet???
Just this week, the temperature PLUMMETED. And here I am again wearing sweaters and drinking tea and hoping for a margarita. And with the extra daylight, my body is really confused about why and how it is so cold outside.
Yeah, this whole thing really makes no sense.
So I know that spring is still a couple of weeks off, but as you can probably guess I am very excited for it…and so ready. I know I just ranted a ton about the spring weather. But it's not so much that I'm ready for the spring weather, but more the spring eats.
While the spring weather will be nice, I am much more excited about the spring foods. As much as I love sweet potatoes, I am pretty much ready to be done with all of that ish. I abstain from all root veggies as a solid form of protest with winter and all.
One can only eat beets in so many ways.
With spring comes the arrival of new vegetables, like artichokes and asparagus, and fruits, like sweet strawberries and rhubarb. Basically just new things for me to play with in the kitchen, and that's always, always a very good thing. Y'all know how much I love experimenting with new fruits and veggies. I have the attention span of a 7 year old, so I tend to get bored really easily.
So here we are, with this little burst of spring. This simple sauce is freaking KILLER, y'all. All it is a bunch of roasted eggplant, a little spice, a little acid, and a little fat. My favorite part of this sauce, in particular, are the Divine Flavor bell peppers. They just give the sauce such a POP! Once you have all the roasted veggies, this sauce takes almost no time to prepare. Simply pulse and top. Could not be easier.
Now you might be wondering what you can use this sauce for. Honestly, my favorite way to eat this is with a ton of chickpeas. But honestly, I could eat chickpeas with anything, so that might not be the best example. It is also good piled on toast, topped with a fried egg, or spooned over polenta. You are going to love how versatile it is…. well and love that it will make you feel like spring is already here.
Organic Red Pepper and Eggplant Sauce
Ingredients
1 tablespoon olive oil
1 medium eggplant
2 Divine Flavor bell peppers
3 cloves garlic, minced
1 teaspoon paprika
1 tablespoon balsamic vinegar
Salt+ pepper
Instructions
Preheat your broiler. Wash eggplant and slice into rounds that are about ¼-inch thick. Lay slices over paper towels and sprinkle some salt over them. Let them sit for 15 minutes to draw out moisture from the eggplant, then wipe it down. Line a large baking sheet with foil and coat with non-stick oil spray. Cover with a single layer of sliced eggplant. You may need to broil eggplant in two batches. Broil each side of the eggplant for 4 to 5 minutes, or until you start seeing a bit of browning. When the eggplant is done, pile up eggplant and wrap them up with the foil. Set aside for a few minutes. Open foil packets, let them air out a bit and peel off eggplant skin. They should come off easily. Be careful though-the eggplant can still be quite hot!
Heat a large sauté pan with 1 tablespoon olive oil over low to medium-low heat. Add garlic and red pepper and cook until red pepper is softened, around 5 minutes. Raise the heat to medium and add eggplant flesh, tomato paste, paprika, salt and pepper, along with 1-2 tablespoons water. Cook for another 2 minutes and turn off the heat. Taste and adjust seasonings to taste. Blend ingredients with an immersion blender or a food processor.
Add chickpeas, pickled onions, cooked grains, and greens, to serve. This sauce is particularly awesome on top of polenta. EAT