The newest organic farmers market in Bangkok is worth a visit, both for the food and the company.
By Jessica Smith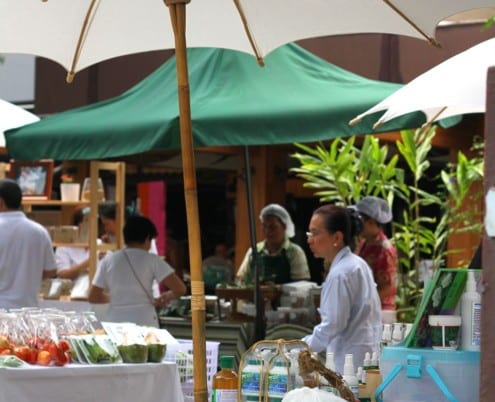 These days, in some parts of the world, organic produce has become commonplace everywhere from chain grocery stores to local farmers markets.  In the United States, warehouse food stores sell organic cherry tomatoes in bulk and 10 pound bags of organic brown rice.  Slowly but surely, Thailand is picking up the trend, with a few locations in Bangkok providing evidence that farmers are moving away from the use of pesticides and embracing organic techniques.  Perhaps the most promising sign for those of us living in Thailand's sprawling capital is the recent emergence of an organic farmers market at the popular restaurant, Bo.lan.
The market, having just opened in January, is hosted in the charming courtyard at Bo.lan (Sukhumvit 26) and is scheduled to be open on the first Saturday of every month.  The view of bright umbrellas and the buzz of friendly chatter were as inviting as the offerings on each table when I made my way to the market this weekend.  I was thrilled to find that the market not only contains the  organic produce that one would expect (tomatoes, cilantro, a variety of lettuces, cucumbers, chills) but offers a number of specialty items that compete for attention.  Soaps, flavored oils, unusual types of rice, eggs, and cheese were all naturally sourced and beautifully displayed.  Perhaps, most enjoyable of all, was the eagerness with which Bo.lan's purveyors invite customers to sample and discuss the items for sale.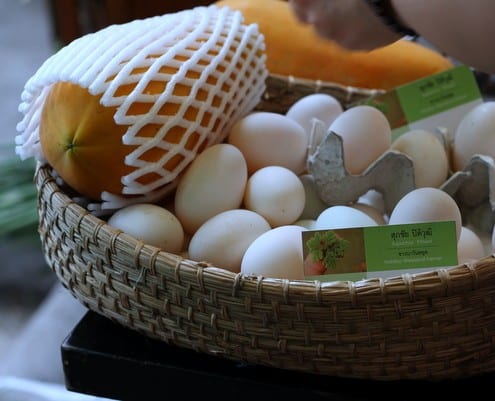 As I made my way through the market, filling my grocery bags, vendors offered samples of creamy, tart goat cheese from a small farm outside of Bangkok, or a spoon of fragrant black rice from the man who, himself, had grown it.  An enthusiastic vendor offered a taste of unusual and creative infused oils in every flavor imaginable, citing cooking tips and potential health benefits for each. Cinnamon oil – put it in a curry or rub it on sore joints!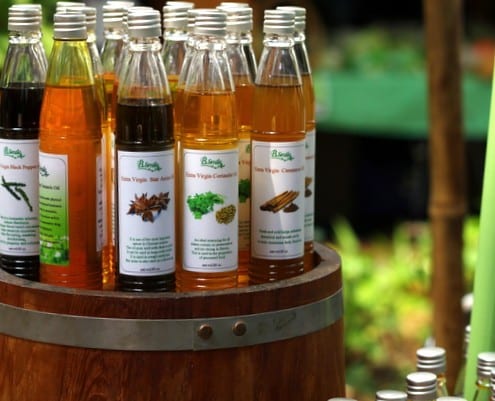 Not only is Bo.lan making it realistic for Bangkok residents to find organic goods from small local farms, but the market is helping to prove that it is possible to offer organic food at a reasonable price.  Bags of organic lettuce were available for 25 baht (less than a dollar U.S.), a bouquet of aromatic cilantro came in at 10 baht, organic chicken and duck eggs ranged between 3-5 baht each (and the friendly family selling them packaged up a couple extra for free).
The Bo.lan farmers market is worth a trip if you are in Bangkok.  The food and cause are well worth supporting and, though Bo.lan still cannot manage to discourage the use of the ubiquitous plastic bags in which every food item in Bangkok tends to be served, they certainly are trying.  If you stop by on a Saturday, bring your own reusable bag.  Actually, bring two – you'll surely find a way to fill them.
Bo.lan 
Sukhumvit Soi 26 (directions provided here)
Farmers Market – 1st Saturday of every month (9:30am – 2:30pm)
Jessica Smith
Jessica Smith is a native of the American Midwest, currently living in Thailand where she writes about food and travel throughout Southeast Asia. Jessica believes that the best way to understand a place is through its local cuisine.