This recipe is ready in just over the time it takes to boil the pasta.
By Sara Clevering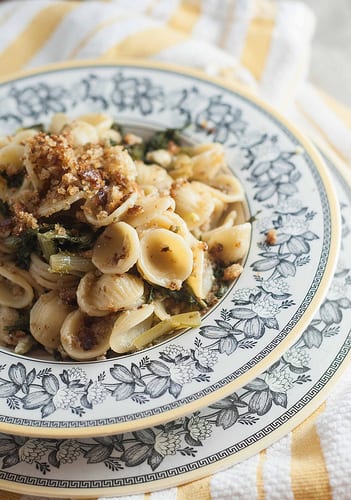 A lot of bold flavors, a satisfying meal, and an easy way to eat those leafy greens everyone is always on us about. And more good news: this recipe is ready in just over the time it takes to boil the pasta. "Just over" because you dip the greens into your boiling vat of water for a few minutes before lifting them out and sliding the pasta in. But since you re-use the water, it's an extra step that's hardly onerous.
Orecchiette with Escarole and Bread Crumbs
This recipe is ready in just over the time it takes to boil the pasta.
Author:
Sara Clevering, adapted from Bon Appetit
Ingredients
1 pound escarole (or kale or other green) about 2 large bunches), stems trimmed
Kosher salt
5 tablespoons olive oil, divided, plus more for drizzling
1 cup coarse fresh breadcrumbs
3 garlic cloves, chopped, divided
Freshly ground black pepper
2 tablespoons (1/4 stick) unsalted butter
4 anchovy fillets packed in oil, drained
¼ teaspoon crushed red pepper flakes
1 pound orecchiette (little ear-shaped pasta)
¼ cup finely grated Parmesan or Grana Padano
Instructions
Working in batches if necessary, cook the escarole or other green in a large pot of boiling salted water until just tender, about 4 minutes. Using tongs or a skimmer (don't dump the water out!) transfer to a colander over the sink. Toss frequently to accelerate cooling, and when cool enough to handle, squeeze out the excess water. Chop the leaves stems and set aside.
Heat 3 tablespoons oil in a small skillet over medium heat. Add breadcrumbs and cook, stirring often, until beginning to brown, about 4 minutes. Add one-third of chopped garlic and cook, stirring often, until breadcrumbs are golden, about 3 minutes. Season with salt and pepper and transfer to a paper towel-lined plate; let cool.
Heat the butter and remaining 2 tablespoons oil in a large heavy pot over medium-low heat. Add the anchovies, red pepper flakes, and remaining two-thirds of chopped garlic; cook, mashing anchovies with a spoon, until a paste forms, about 2 minutes. Add reserved kale and ½ cup water. Cook, stirring often, until escarole is warmed through, about 4 minutes. Season with salt and pepper.
Meanwhile, return the water you used to cook the escarole back to a boil. Add the pasta and cook, stirring occasionally, until al dente. Drain, but reserve 1 cup of the pasta cooking liquid.
Add pasta and ½ cup pasta cooking liquid to escarole mixture and stir until well mixed. Increase heat to medium and continue stirring, adding more cooking liquid as needed, until the liquid is absorbed. (The starch in the cooking water helps bind the "sauce" to the pasta). Mix in the cheese and ½ cup breadcrumbs; toss to combine. Portion the pasta and drizzle additional oil over each serving. Sprinkle with the remaining bread crumbs.
Sara Clevering
Sara sees cooking and baking as a delicious way to connect with the past and travel the world from her kitchen. She is commited to preparing homemade, unprocessed meals for her family and is always looking for tricks to fit this into a busy schedule. Sara is currently in the Boston area after several years living in London, Spain, and the Czech Republic, and travelling extensively in Eastern and Western Europe, always making sure to experience local culture through food. She also blogs with her sisters at www.threecleversisters.com