These muffins are filled with wholesome goodness of wheat germ, whole wheat, oranges and apples so they make a perfect treat for breakfast, or as that in between meal snack or for a tiny tot's lunch box.
By Nandita Nataraj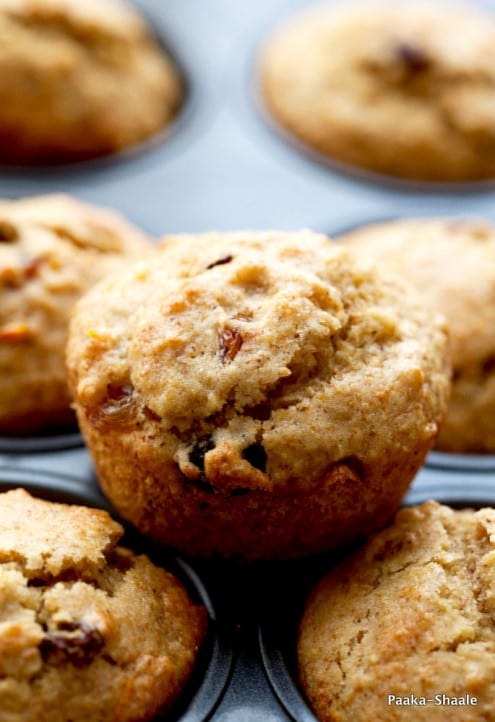 Orange Raisin Wheat Germ Muffins
These muffins are filled with wholesome goodness of wheat germ, whole wheat, oranges and apples so they make a perfect treat for breakfast, or as that in between meal snack or for a tiny tot's lunch box.
Ingredients
All pulse flour or maida- 1cup
Whole wheat pastry flour- ½ cup
Wheat germ- ½ cup, lightly toasted
Baking powder- 1 tsp
Baking soda- ½ tsp
Cinnamon powder- ½tsp
Nutmeg powder- ⅛ tsp
Salt-1/4 tsp
Brown sugar- ½ cup
Canola oil- ¼cup
Freshly squeezed Orange juice- ½ cup
Unsweetened apple sauce -1/2cup
Orange zest- 1tspn
Dark raisins- ½cup
Instructions
Combine the all purpose flour,whole wheaastry flour,baking soda, baking powder, salt, cinnamon and nutmeg. Mix well and sift twice.
In another large bowl,combine and the oil, sugar,orange juice, apple sauce and, orange zest and beat well till airy.
Combine the the wet ingredients with the dry. Stir intheorsnge zest and the raisins and stir until just combined. Do not over mix.
Spoon the batter into greased muffin pan and bakeinthepreheated oven for 20-25mins or till a skewer inserted comes out clean.
Allow the muffins to cool in the pan for 5min before transferring to a wire rack to cool completely.
Note:
The raisins can be replaced with dried cranberries
Dust the raisins with ½ tsp of flour to prevent them from sink.
The wheat germ can be replaced with oats.
the whole wheat flour can be replaced with all purpose flour to make it lighter.