Orange Brownies Drizzled with Orange Caramel
Decadent orange brownies with creamy sweet orange caramel drizzled on top.
By Rochelle Ramos
Some days I get one ofthose moments of unique creativity. You know the type. They are the kind that flow in the kitchen like you've made the dish every day for the past 3 years even if it's been 6 months. The moments where a photo takes itself. An idea that oozes from your fingertips and onto the computer without a typo to be seen. Yeah, one of those.
This was one of those. A moment where the visual was already ingrained in my minds' eye before even picking up a kitchen knife. Orange brownies with orange caramel sauce drizzled on top. I'll go ahead and say it was yummy mixed with awesome with at least a smidgen of uniqueness.
Yeah, one of those moments. I love those moments, don't you?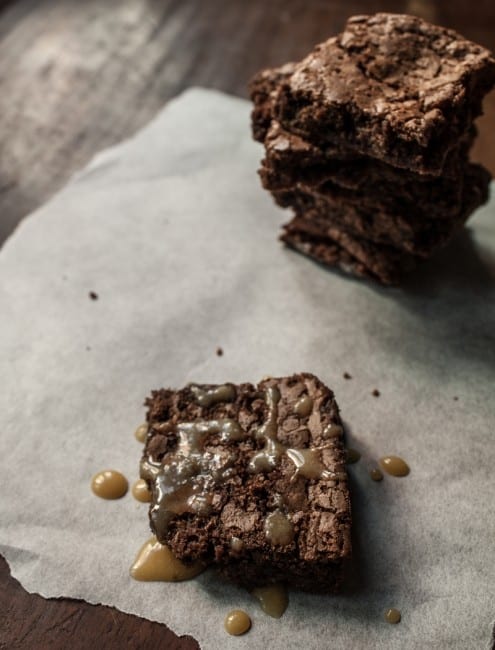 Orange Brownies Drizzled with Orange Caramel
Decadent orange brownies with creamy sweet orange caramel drizzled on top.
Ingredients
10 tablespoons (140 grams) unsalted butter
1 cup (200 grams) sugar
¾ cup ( 90 grams) unsweetened cocoa powder
large pinch course salt
½ teaspoon pure vanilla extract
2 large eggs
½ cup (65 grams) flour
2 oranges, thoroughly washed and zested
Orange caramel
½ cup (100g) sugar
2 oranges, juiced (100ml)
¾ cup (175ml) cream
Instructions
Preheat the oven to 325F (162C) with the rack in the lower 3rd of the oven.
Line a baking pan with parchment paper and grease it with butter. Be certain to leave extra paper to line the sides and hang an inch over the top on 2 of the 4 sides.
In a heat resistant bowl (I prefer a glass pyrex type of bowl), add in butter, sugar, cocoa and salt and place it over a small sauce pan half full of simmering water. Allow butter to melt, stirring every few minutes to combine all the ingredients. Remove from heat once butter has fully melted and allow to cool down to a warm temperature.
Stir vanilla into the chocolate with a spoon. Add in eggs one at a time, stirring to combine thoroughly before adding each one. The batter should look thick and shiny.
Add in flour and stir well to combine. There shouldn't be any streaks of white and be certain to scrape the bottom to incorporate everything well.
Stir in orange zest.
Pour brownie mix into the prepared baking pan, careful not to let the parchment paper slide down the sides. With a spoon, spread the mixture into the corners and then give the pan a light couple of taps by dropping it onto the counter to help things along.
Bake for 20 - 25 minutes or until a toothpick inserted in the middle comes out slightly moist. If it comes out clean, it's cooked for too long.
Allow to cool completely.
Orange caramel
Pour sugar and juice in a small sauce pan and place it over med-high heat. Bring to a boil, stirring frequently until the mix is a beautiful amber color and bubbly. Careful not to let it scorch. Remove from heat.
Carefully add cream to mixture (will bubble and possibly spatter). Return to stove top over medium heat, stirring until smooth. Raise heat to med-high and allow to boil, stirring occasionally until caramel coats the back of a spoon in a thin layer.
Caramel will thicken as it cools. Drizzle over brownies.
Notes
Brownie recipe adapted from Smitten Kitchen's Best Cocoa Brownies Which were adapted from Alice Medrich's Bittersweet
Rochelle Ramos
Rochelle is an Americana cooking, eating, photographing and writing in Portugal. She has a love for real food and learning to make it from scratch. As a new expat, she is slowly learning to speak the language and will soon be able to order more than just a café and pastel de nata from the local pastelaria.