These cakes are extremely moist and drench in an infused light syrup with cloves, star anise, pepper, coriander seed and cardamon pods.
By Ariel Rebel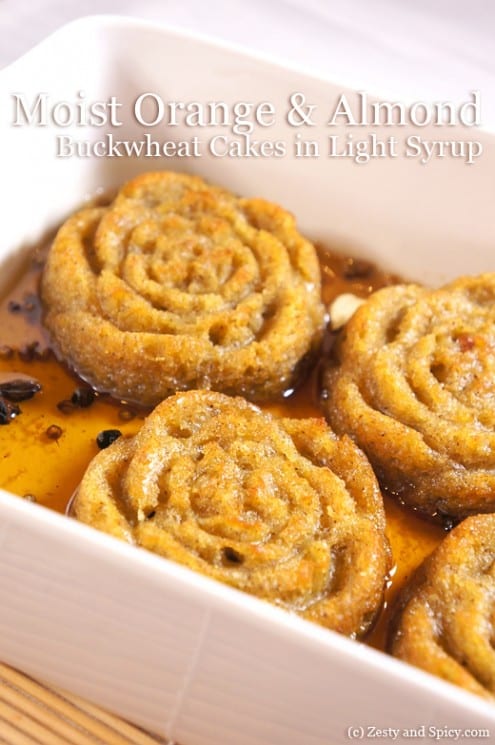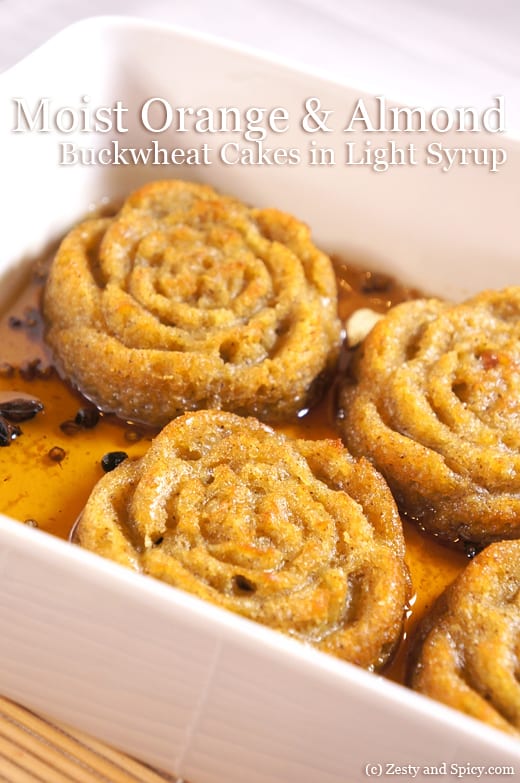 Orange and Almond Buckwheat Cakes in Light Syrup
These cakes are extremely moist and drench in an infused light syrup with cloves, star anise, pepper, coriander seed and cardamon pods.
Ingredients
½ cup of orange juice (about 2 navel oranges)
1 tablespoon of cane sugar
1 tablespoon of margarine
4 tablespoons of almond flour
1 teaspoon of baking powder
2 tablespoons of buckwheat flour
For the Light Syrup:
¼ cup of light syrup (I used this one)
½ star anise
¼ teaspoon of coriander seed, whole
4 black peppercorns
3 green cardamom pods
1 whole clove
½ cup of water
Instructions
Pre-heat your oven at 325. In a medium mixing bowl, whisk all the ingredients for the cakes. On a baking sheet, lay 4 small silicon molds and pour your batter in each of them. Bake your cakes for 35 minutes.
While the cakes are baking, prepare your syrup. On the stove top, in a small sauce pan on MEDIUM heat, mix all the ingredients for the syrup and bring it to a light gentle boil. Once the liquid start making bubbles, give it a 8 to 10 minutes till it has reduce of half. Remove from heat and let cool down.
When the 35 minutes is done, transfer your mold on a cooling rack and wait for a few minutes so your mini cakes cool down a bit before unmolding them. You dont have to wait till they are 100% cooled down but it's always better to wait about 15 to 20 minutes before you touch them. Once they are unmolded, place your cakes in a oven safe baking pot without a cover and pour the syrup at the bottom of it. With a spoon take a bit of syrup from the bottom and pour it on top of each cakes.
Crank your oven temperature to 350 and once it's ready, put your pot in the oven for an extra baking time of 15 minutes.