Crispy and flavorful, this vegan tofu and broccoli dinner satisfies a craving for takeout.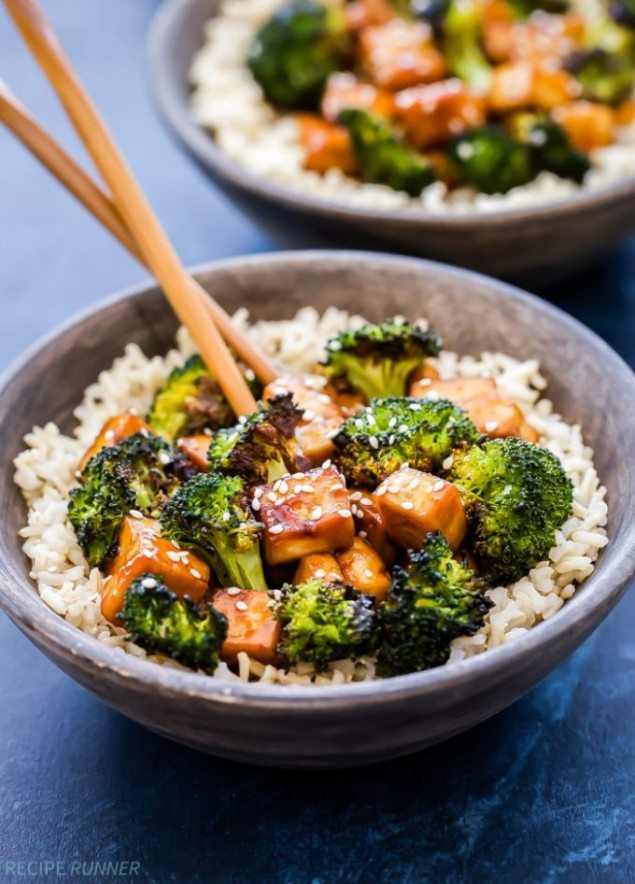 Tofu?! Yeah, tofu. I secretly love the stuff, but only if it's prepared well. You won't catch me just cutting off a slice straight from the package. My requirements for well prepared tofu are, crispy and well seasoned, otherwise you might as well take a bite of a sponge. I made this Sheet Pan Crispy Teriyaki Tofu and Broccoli last week and I couldn't be more pleased with how it turned out!
I did some research and thought this recipe from Cookie and Kate was the best place to start. I made a couple modifications to the recipe and decided to turn it into a full sheet pan meal by adding the broccoli.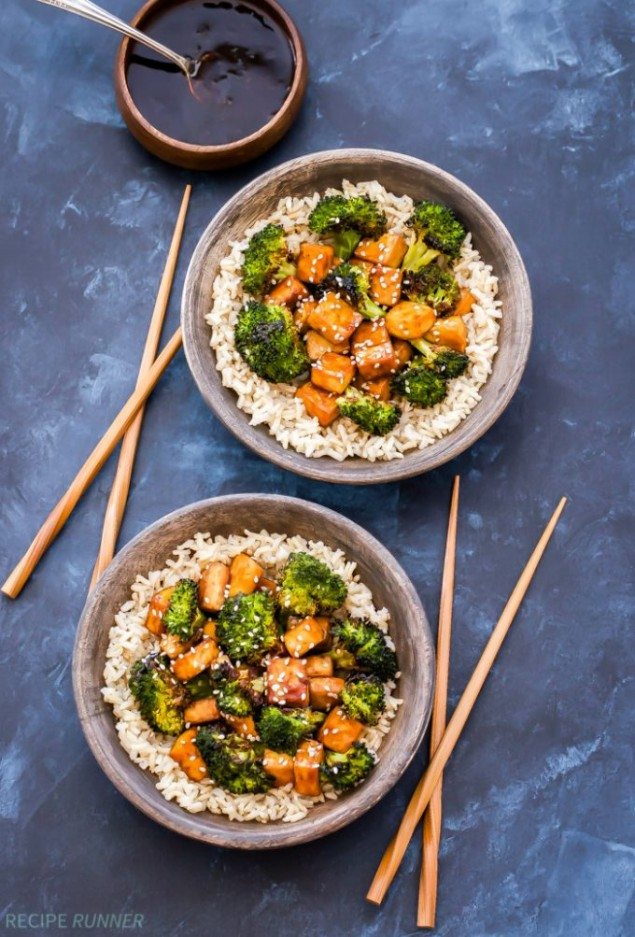 The easy homemade teriyaki sauce goes on after the broccoli and tofu have baked to prevent them from getting soggy and to prevent the sauce from burning. The sauce uses honey which has a tendency to burn quickly.
This is an easy dinner to make, but it does take a little preparation time, most of which is hands off. The key to making tofu crispy is to dry it out. I did this by cutting the tofu into cubes, putting them on a towel lined plate, covering them with the towel and topping it with my heaviest cast iron skillet. I let the weight of the skillet press out the excess liquid for 30 minutes so there would be no chance of soggy tofu.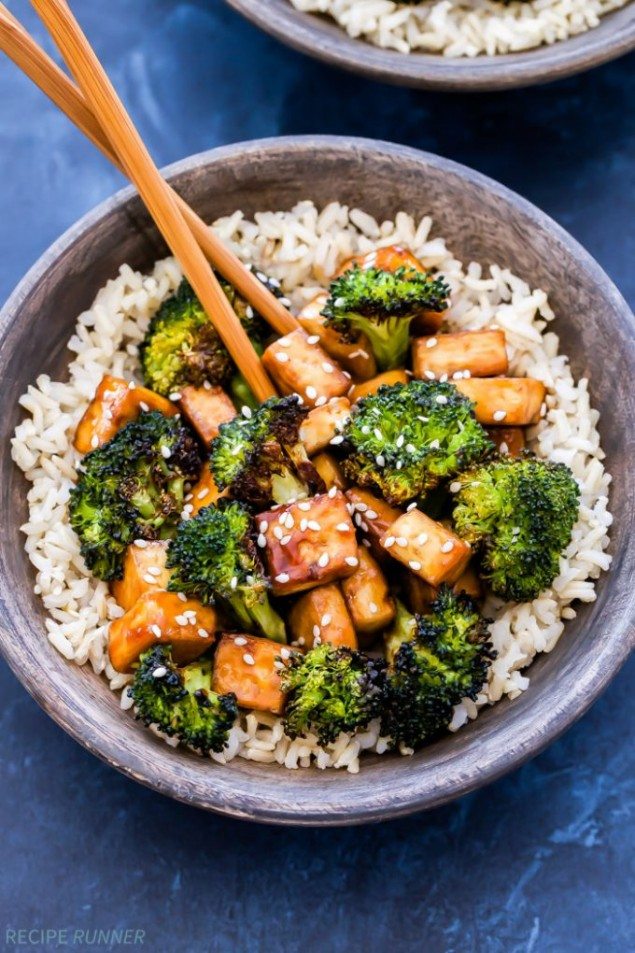 See Also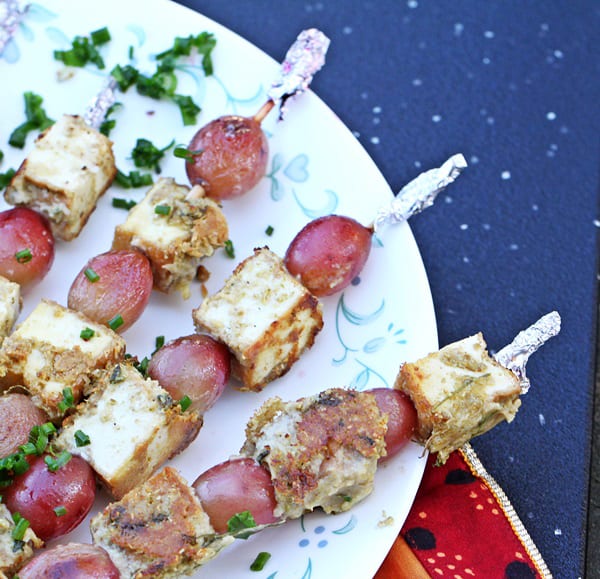 Once the tofu is prepped it's just a matter of tossing it in the olive oil, tamari and arrowroot and baking it along with the broccoli until it's golden brown and crisp. This recipe is gluten-free, vegan and perfect for meatless Monday or anytime you're craving a healthy homemade takeout food.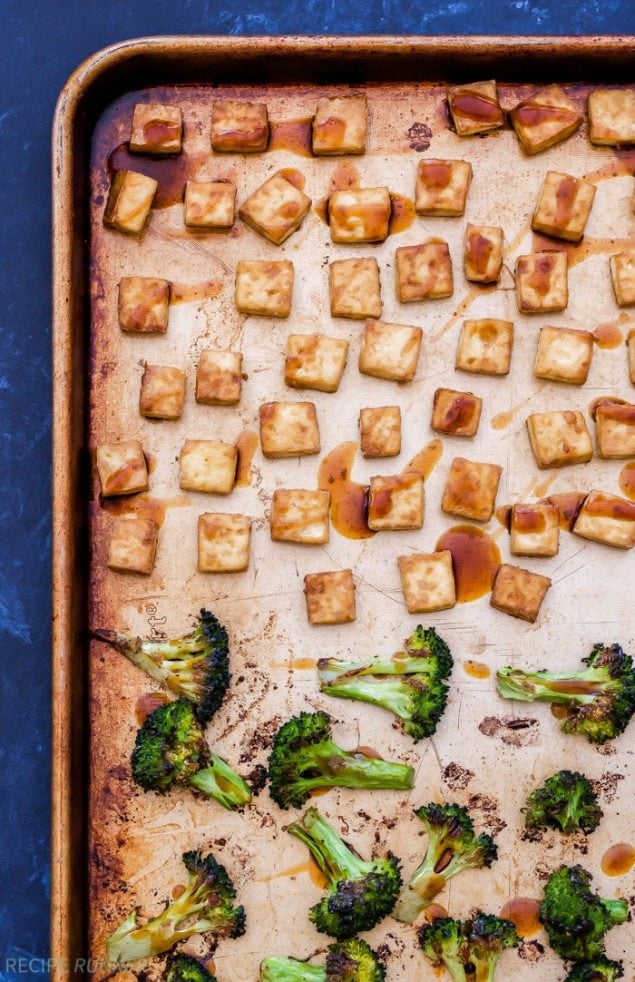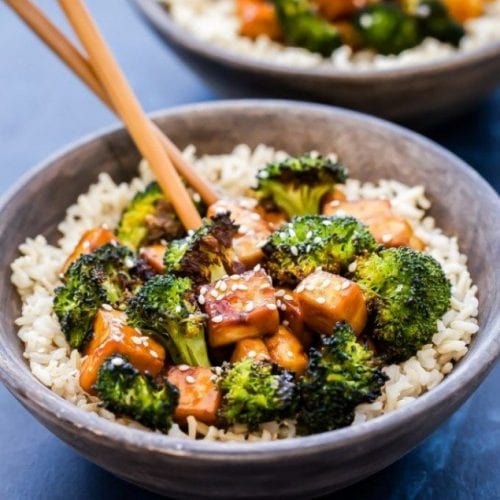 One-Pan Teriyaki Tofu and Broccoli
Danae Halliday
Crispy and flavorful, this vegan tofu and broccoli dinner satisfies a craving for takeout.
Ingredients
TOFU
1

block extra firm tofu

1.5

teaspoons

extra virgin olive oil

2

teaspoons

low sodium tamari or soy sauce

2

teaspoon

arrowroot starch or cornstarch
BROCCOLI
3

cups

broccoli florets

1.5

teaspoons

extra virgin olive oil

Kosher salt and fresh ground black pepper to taste
TERIYAKI SAUCE
1/3

cup

low sodium tamari or soy sauce

3

tablespoons

water

2

tablespoons

maple syrup

2

tablespoon

rice vinegar

1

clove

grated garlic

1/2

teaspoon

sriracha

1/4

teaspoon

ground ginger

1

teaspoon

arrowroot starch or cornstarch whisked together with 1 teaspoon of water
Instructions
Drain the tofu and pat dry with paper towels. Slice the tofu into 5 slabs, stack the slabs on top of each other and slice through them lengthwise, then slice across to make 5 even rows. You should have 50 cubes of tofu.

Line a cutting board or plate with a tea towel or paper towels, then arrange the tofu in a single layer on the towel. Fold the towel over the cubed tofu and place something heavy on top such as a cast iron skillet.

Let the tofu rest for 15-30 minutes, the longer the better.

Preheat oven to 400 degrees F. and spray a rimmed baking sheet with cooking oil.

Place the pressed tofu into a large mixing bowl and drizzle with 1 1/2 teaspoons olive oil, 2 teaspoons tamari and 2 teaspoons arrowroot starch. Toss to combine until until there are no powdery spots from the arrowroot remaining.

Dump the tofu onto one half of the prepared baking sheet and arrange into even layer.

In the same mixing bowl add the broccoli florets, another 1 1/2 teaspoons olive oil, kosher salt and black pepper. Toss together until coated.

Dump the broccoli out onto the other half of the baking sheet and spread out into an even layer.

Bake for approximately 24 minutes, tossing the tofu and broccoli halfway, until the tofu is deeply golden and crisp on the edges.

While the tofu and broccoli bake make the teriyaki sauce.

In a saucepan over medium-hight heat, whisk together all of the ingredients for the sauce except the teaspoon of arrowroot mixed with a teaspoon of water.

Bring the sauce to a boil then whisk in the arrowroot-water slurry.

Reduce the heat to medium and continue to whisk until the sauce thickens.

Once the tofu and broccoli have finished baking dump them back into the mixing bowl and toss with the desired amount of teriyaki sauce.

Serve over brown rice.
Notes
If you want a sweeter teriyaki sauce add an extra 1-2 tablespoons of maple syrup.
Danae Halliday
Hi, I'm Danae, the blogger, photographer, and recipe developer of Recipe Runner. Recipe Runner is all about my love of food, cooking, baking, and running. I hope that I can tempt you with my recipes and inspire you with my running stories! Enjoy!