This recipe, adapted from Martha Stewart, cooks up pasta and sauce in the same pan for a streamlined dinner.
By Sara Clevering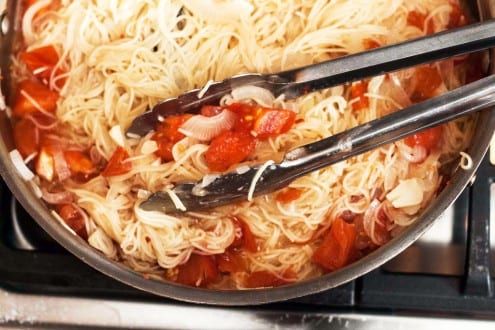 One-Pan Pasta
This recipe, adapted from Martha Stewart, cooks up pasta and sauce in the same pan for a streamlined dinner.
Author:
Sara Clevering, adapted from Martha Stewart Living
Ingredients
12 ounces linguine (or other pasta)
12 ounces chopped tomato (if using cherry or grape tomatoes, halve or quarter depending on size).
1 onion, thinly sliced (about 2 cups)
4 cloves garlic, thinly sliced
½ teaspoon red-pepper flakes
2 sprigs basil, plus torn leaves for garnish
2 tablespoons extra-virgin olive oil, plus more for serving
Coarse salt and freshly ground pepper
4½ cups water Freshly grated Parmesan cheese, for serving
Instructions
Combine pasta, tomatoes, onion, garlic, red-pepper flakes, basil, oil, 2 teaspoons salt, ¼ teaspoon pepper, and water in a large straight-sided skillet. Bring to a boil over high heat. Boil mixture, stirring and turning pasta frequently with tongs, until pasta is al dente and water has nearly evaporated, about 9 minutes.
Season to taste with salt and pepper, divide among 4 bowls, and garnish with basil. Serve with oil and Parmesan.
Sara Clevering
Sara sees cooking and baking as a delicious way to connect with the past and travel the world from her kitchen. She is commited to preparing homemade, unprocessed meals for her family and is always looking for tricks to fit this into a busy schedule. Sara is currently in the Boston area after several years living in London, Spain, and the Czech Republic, and travelling extensively in Eastern and Western Europe, always making sure to experience local culture through food. She also blogs with her sisters at www.threecleversisters.com