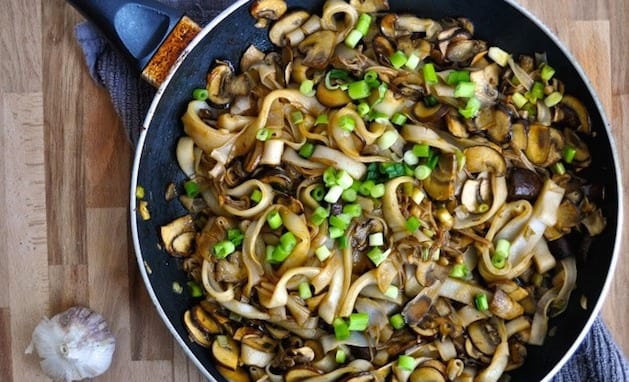 Cut down on dishes without ditching on bold flavor with this simple soy sauce, mushroom, and rice noodle dish.
By Sami Berger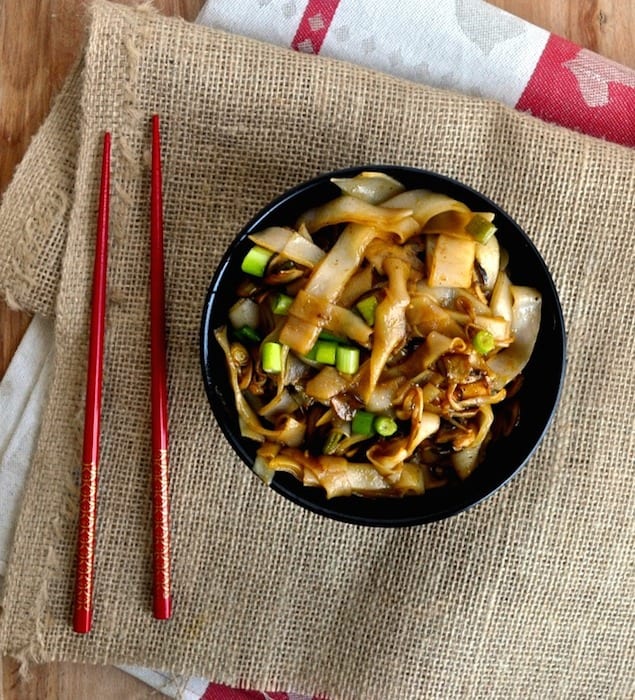 I love spending time in the kitchen, it's cathartic for me. But sometimes, like everyone else, I have to make dinner within twenty minutes. On those nights, I usually opt for noodles. They are super fast to cook and I never need to make a sauce that requires a pan to heat it up. In the past, soba was my go-to. Whip up a peanut sauce, steam some vegetables, toss, and I'm done. While this will continue to be a staple for me, I have some good news, I've managed to cut down the time and number of plates/pots/pans to clean with this mushroom, soy sauce, noodle dish.
In fact, you just need one pan. The trick is to buy fresh rice noodles that don't need to be boiled at all. They just have to be heated up in a pan for a couple of minutes, with your sauce to soften them up, so that they become slightly chewy, soaked in sauce and utterly delicious.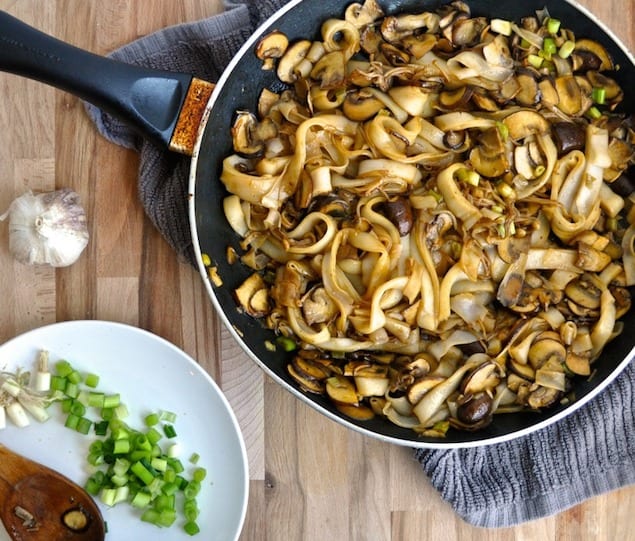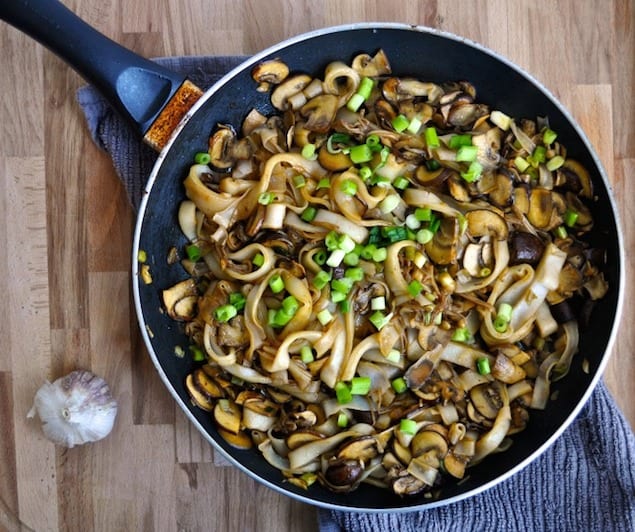 Even though I sometimes have the patience to make dinner that dirties a bunch of little bowls (I love a meal with lots of garnishes, especially if they consist of guacamole and sour cream), sometimes I just can't handle the fact that I am literally using every bowl that we own (granted, we own very few bowls) and having to wash them at the end of the night. Luckily, with this dish, you just sauté your mushrooms in the pan, make some sauce in a bowl (which you can then eat out of later, making it even more dish-efficient), add the noodles and the sauce to the pan and voila, you have a substantial, warm, flavourful meal on your table in less than 20 minutes. What are you waiting for?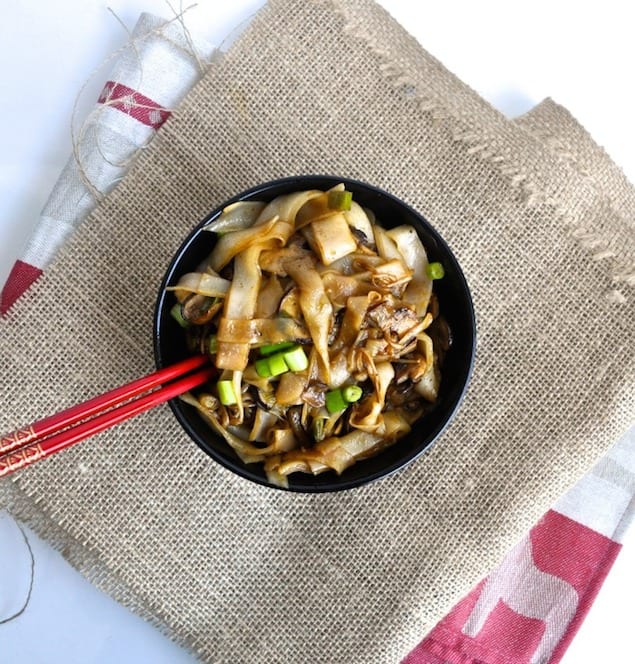 One Pan Mushroom Noodles
Cut down on dishes without ditching on bold flavor with this simple soy sauce, mushroom, and rice noodle dish.
Ingredients
Sauce
⅓ cup soya sauce
⅓ cup water
2 tablespoon honey
1 tablspoon sriracha
1 tablespoon rice vinegar
1 teaspoon sesame oil
1 small garlic clove, minced
Noodles
a few tablespoons olive oil
1 garlic clove, minced
500g mixed mushrooms, I used enokis (whole) and (thinly sliced) cremini
salt and pepper
600g fresh rice noodles
6 spring onions, roughly chopped
Instructions
Heat a large pan, with a few tablespoons of olive oil, over medium high heat.
Saute garlic until it starts to turn golden. Add mushrooms, season with salt and pepper, and sauté until golden brown.
In the meantime, mix all of the ingredients for the sauce in a small bowl.
Add noodles, sauce and half your spring onions, to browned mushrooms. Saute over medium heat and until noodles are softened and have absorbed the sauce.
Top with remaining spring onions.
Sami Berger
Sami Berger is the author of My Second Breakfast, a mostly healthy, mostly vegetarian blog. Inspired by her travels and life in a new city, My Second Breakfast is a space to tell stories and experiment with sometimes new, sometimes familiar and most importantly, always delicious, flavours.