This easy recipe for One-Pan Apricot and Honey Pork Chops is not only tasty and easy, it's a winner all year long, with fresh or canned fruit.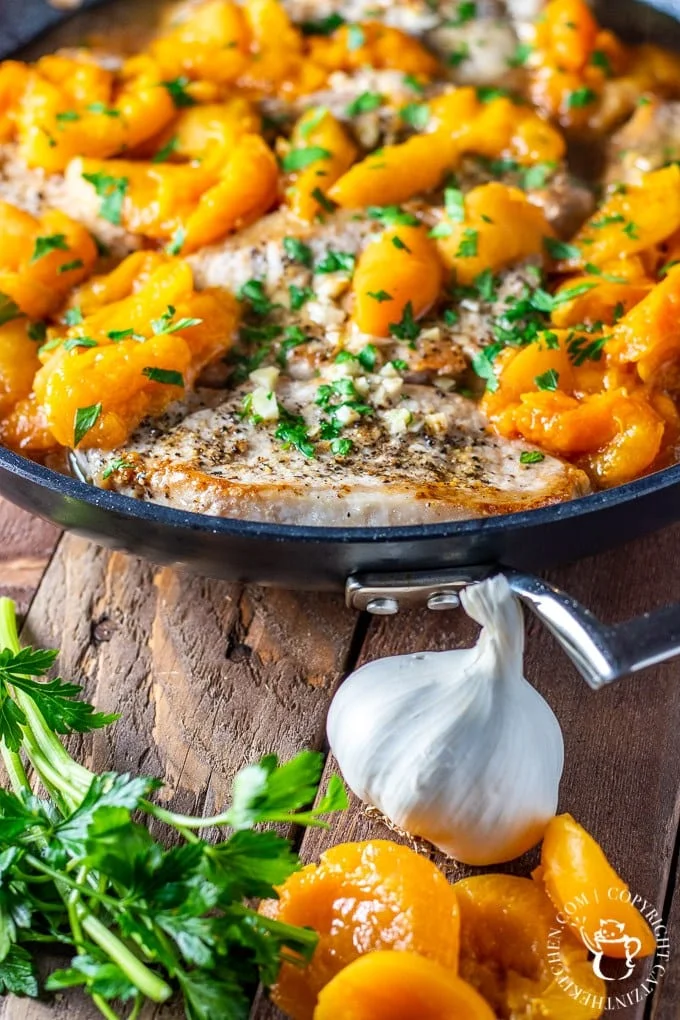 Today, I'm sharing a really quick dinner that you can make any night of the year (with the help of canned apricots)…that is also healthy! Everything in this recipe can be made in one pan, to make your dinner time hustle a little more productive. This dinner is also really helpful because, at least for me, I have most of the ingredients on hand already (pantry to the rescue!). If you don't keep canned fruit in your pantry, well, you should. I usually keep an assortment of canned mandarins, peaches, pineapples and apricots in the pantry, and I use them for salads, pizza, breakfasts, and so on. (P.S. I always rinse the fruit off in a colander to get off any of that sugary syrup because we don't need that stuff!)
(I am using a nonstick skillet in this recipe – I have this one and LOVE IT – but any large skillet with a lid will work.)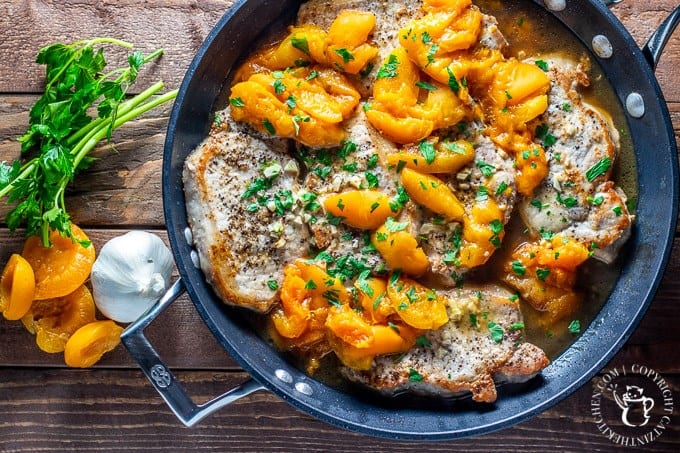 I don't cook with pork chops a lot because they are so easy to overcook and they dry out so easily. I love pork chops, though. They're a great alternative to chicken (Hey, I guess that's why they call it "the other white meat!"). I think the secret to making these chops so perfect is that they simmer in the most delicious apricot sauce, which means they are just taking in so much moisture and flavor.
I served the pork chops with mashed potatoes, but you could make some rice and serve it alongside that as well. Keep it simple, ya know!
Another great reason to love this recipe is that if you make it during the summer, you can use fresh peaches or apricots and then in the off season, canned or frozen would work well, too! Speaking of summer, if you don't have air conditioning, this recipe only uses the stove top, so you're not heating up your house!
What can I tell you, this is just one of those wonderful recipes that has your back ALL. YEAR. LONG.
Click HERE for the recipe.

Chelsia Rief
Hi, I'm Chels! You'll find me in the kitchen most days – either that or the desk around the corner from the kitchen. No doubt about it – the kitchen is the center of my little household. I believe cooking together and eating together helps keep us together!