One Burrito at a Time: How B'klyn Burro is Changing the Taqueria Scene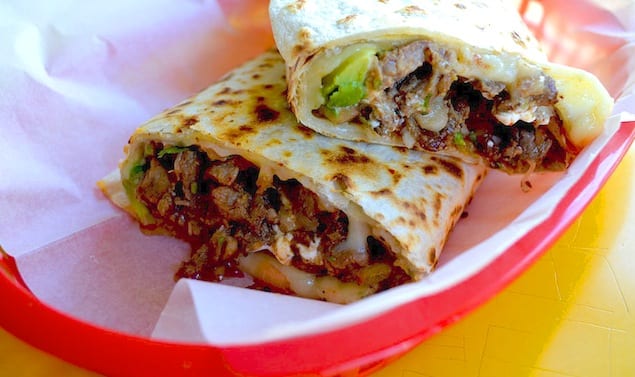 One burrito at a time. Honest Cooking explores how Brooklyn's best late night secret is quickly carving a path to rewrite east coast burrito history.
by Maya Dangerfield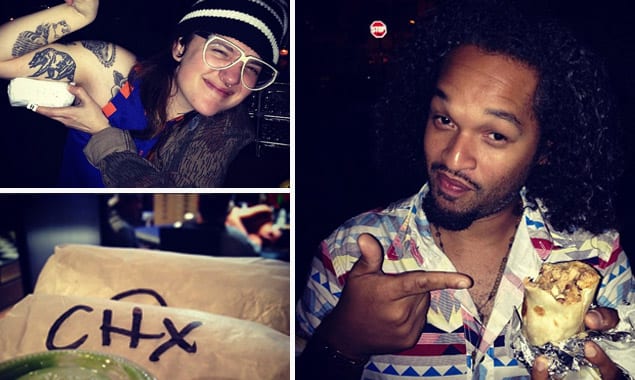 San Francisco has the tamale lady.
Patron saint of late nights and Mission District bar crawls, the tamale lady, aka Virginia Ramos, delivers homemade tamales to San Franciscan barflies for over 20 years.
Los Angeles has the elote man.
The late night spot for roasted corn topped with whipped butter, mayo, and chili pepper, Timothy's stand is a 15 year staple of Lincoln Heights District late night eats.
Brooklyn has the burrito guy.
Most people don't know the burrito guy Pepe Urquijo by anything other than his popular moniker. But for late night patrons of Brooklyn's thriving bar scene, the nickname spreads quickly as ravenous drinkers crane necks and tumble off seats to greet the owner of B'klyn Burro. He is a godsend armed with a burrito.
"Someone shoved a burrito toward me one night and all I know was that it was real good."
"Burrito man's burritos are so good. And I wasn't even drunk.
"Fucking delicious."
From Williamsburg to Clinton Hill, from watering holes in Bushwick to East Williamsburg dives, Pepe and his crew deliver nightly burritos to hungry Brooklyn bar patrons. Even though the enterprise is only approaching its first anniversary word about B'klyn Burro's flavorful food (which includes Mission-styled tacos, quesadillas suizas, quesadillas, and burritos) spread quickly via word of mouth and social media. Following the legacy of West Coast street venders like the tamale lady and the elote man, Pepe is a California transplant slowly introducing a New York audience to Mission-styled burritos. A Mission  burrito is a flaky tortilla wrapped in aluminum foil that envelops meat, beans, crema, rice, guacamole, and cheese. In cities like Los Angeles street venders are a common but contested sight ; yet unlike his California counterparts Pepe is pushing the boundaries of street food through an innovative business strategy that doesn't solely rely on delivering  to his late night patrons. Not content to be a sidewalk staple Pepe is developing a business that melds California mobile food culture with the acumen of an east coast restaurateur. B'klyn Burro's weekly pop-ups along with their delivery service are supported by their home base tucked away in Bushwick's Don Pedro Bar. The elote man doesn't have a storefront. The tamale lady doesn't use social media. The burrito guy does. Beyond Pepe's drive to establish his business as the city's go-to destination for Mission-style cuisine is his longstanding passion for the culture and cuisine of his hometown.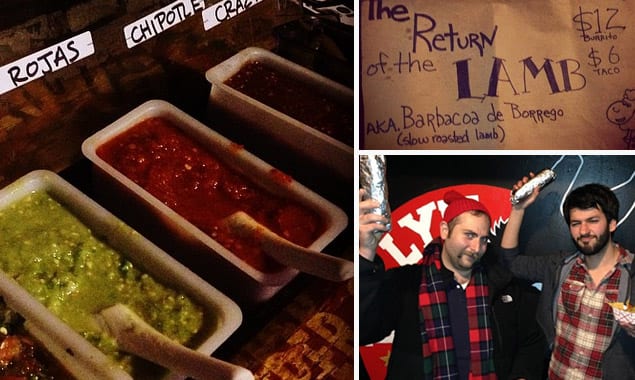 by B'klyn Burro
Which is what brought me Friday night to Glorietta Baldy's. A small bar underneath the Franklin Ave subway stairs in Bedford-Stuyvesant (Bed-Stuy) I nearly walked by the perpetually dark location. Wedged between two sets of chatty co-workers I waited patiently for my Mission Style al-pastor burrito. Pepe has done seven pop-up taquerias at Glorietta Blady's. The Bed-Stuy bar and B'klyn Burro were once the new kids on the block together—each making their late night debut a year prior. The bar isn't particularly busy when I arrive at 7:30pm. Groups of twos and threes sit scattered along the bar's edges, a duo of men straight from a Sigma Chi rush brochure are talking too loudly, two women sitting by the door are attempting to ignore them. Pepe is standing near the back chatting with a customer. Two chalkboards announce the pop-up's presence. Behind Pepe is the set-up: a mobile grill rest on top of stacked boxes; a cooler full of supplies partitions bar patrons from the taquero; chips are kept warm on top of a space heater. Four people have burritos. Two are munching on chips and salsa. Although burritos aren't the only option on B'klyn Burro's menu, it remains their most famous item and the product responsible for the company's founding.
B'klyn Burro developed in part from nostalgia. Pepe, a west coast native, moved to the city in 2009 to pursue his master's in documentary film. The yearning for authentic burritos was a common topic of conversation as he filmed and chatted with locals about the city's paltry taqueria options.
"I think that was the seeds of this—just talking to people and everyone that I would meet in casual conversation, whether at a bar or whatever, would mention that there was no good Mexican food. It just became more and more obvious to me, in the ridiculous sense of the word,[that] I had to do something about it."
The lack of quality Mexican food in New York City is much bemoaned by residents and critics alike. Some publications argue that the city's Mexican food could never rival the west coast's contribution, or that that Philadelphia (New York's grimy, perpetually overcast second cousin) is home to more authentic Mexican cuisine. Dos Toros, run by bay area explants Leo and Oliver Kremer, made a recent and successful foray into providing city dwellers a Bay area taqueria experience. Still, there aren't many Mission-styled outposts in Brooklyn—B'klyn Burro is one of the first in Williamsburg. Two years ago Pepe began to plan B'klyn Burro, though the foundations for his taqueria obsession began years prior in San Francisco.
"I was always fascinated with them [taqueros]. With their job, what they do and they were just cool guys. I would ask them questions and would meet people there. They would know me—they'd call me 'The Chicano.'"
Business planning would take roughly a year for the entrepreneur who attended a series of business classes and seminars before launching his business in April of 2013. Urquijo admits the beginning was rough. "You should see how we'd progressed. It was pretty bad. Okay, not bad but at first we would show up to place with no bike, no nothing, just show up. That's kind of how it started." There was a marketing campaign that featured temporary tattoos. Someone stole the donkey head that adorned their push cart. Familiar bars closed down. A reporter conducted an interview during a service rush.
Pepe and crew weren't the only ones confused. Bar patrons were also confused about the concept of B'klyn Burro. Pepe recounts, "They would look at me like, 'what are you doing? Why are you here?'" Common in cities like Los Angeles and San Francisco, mobile food venders often set up stands or push carts long sidewalks near areas of major pedestrian traffic and are a constant element of the food environment. It's an informal food culture that entrepreneurs like the tamale lady and the elote man have negotiated for years. But Pepe is on the east coast—an area that only recently embraced food trucks and whose mobile vender culture is significantly smaller than the west coast's. "I think people from the west coast get it quicker than people in New York,' Pepe reflects. 'So it's a common question. They say it in a good way rather than showing me the door. But that happens a lot."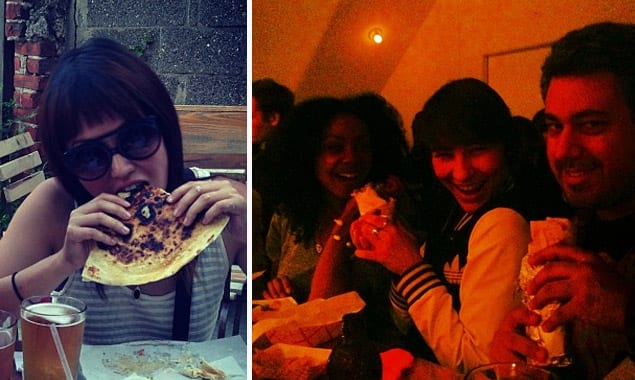 by B'klyn Burro
Tonight however, people know what to expect. I'm munching on a half of my burrito observing the comings and goings of the crowd. The frat brothers and co-workers to my right have left and are replaced by a couple, one of which is wearing a Pittsburg hat and the other in a jacket I wish I could afford. Of the five people who have walked in the door in the last ten minutes, two head directly to the pop-up taqueria. 20 minutes later there is a four person line. By 8:45 pm, everyone in the seating area is eating. It's a steady stream of customers for Pepe whose partner Parrot is out of town.
B'klyn Burro is a two man operation of Pepe and  his longtime friend Parrot (Dan Perico). The duo studied for a year under the guidance of Chano Rojas who Pepe fondly calls 'a master tacquero.' They typically work six days a week and shifts can stretch 13 hours. Tuesday and Wednesday's prep begins at 3 pm  and service lasts from 6 pm to 12 am. Sunday is a double as the guys work the brunch and dinner shift. Prep for late night deliveries usually occur around 9 pm as the crew will flatten the day's meat and begin rolling 20-30 burritos. Deliveries begin when service ends at Don Pedro's but the process is reversed Thursday, Friday, and Saturday. Those days, according to Pepe, are the "hustle first days" which entirely consist of delivery runs and responding to customer's requests. In the businesses first day's they did what Pepe fondly dubs "enhanced delivery" where Pepe and Parrot would enter bars under the guise of delivery and sell their products to curious bar patrons who in fact had never seen or heard of the duo before.
Now, delivery routes depend on the day and requests from Pepe's network of bartenders and regular customers. Wednesday's deliveries are dedicated to Clinton Hill and Bed-Stuy, while the reminder of the week is split between the neighborhoods of Bushwick and Williamsburg. The specific bars where they sell their late night burritos depend upon requests from bartenders or customers. Pepe explains. "So you get these codes for people. Patty's going to be at Pearls on Wednesday and she's closing up Ontario on Friday. The people who own Lady Jay's are the same business owners who own a bar in Greenpoint." The natural socialness of bartenders lends itself to Pepe's business strategy. His network of no-cost marketing executives helps publicize the business while bartenders use the business to satisfy their cravings during their late-night shifts. Regular patrons can also request deliveries for special occasions or group gatherings.
In addition to the delivery system which doubles as a marketing campaign, Pepe also employs weekly pop-up taquerias in Brooklyn area bars and stores. The pop-ups, like the one I attended at Glorietta's Baldy's, are part of the company's history. Their first pop-up occurred at One Last Shag in February of 2013 and since then they've kept a regular schedule of pop-up taquerias in Brooklyn. Bed-vyne Wine and Brew co-owner Michael Brooks has hosted six in his space since meeting Pepe in October 2013. "He (Pepe) was doing another pop-up at another bar in the neighborhood, and I ate the food there and I was like 'hey, this is pretty good.' I'm Mexican so I was like 'why don't you come over to my spot?'"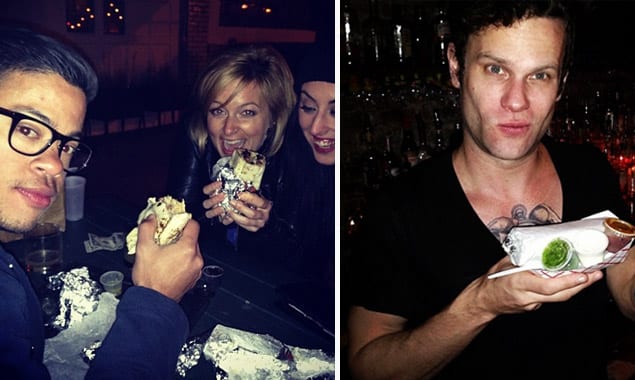 by B'klyn Burro
The events, like the one at Glorietta Baldy's draw in a steady flow of customers. The late night deliveries and the pop-ups are only one aspect of Pepe's mission to "re-write east coast burrito history." Ultimately the business strategies are a tool to attract customers to their home base at Don Pedro's bar. Every delivery or pop-up is an opportunity to meet with new clientele or follow-up with regulars. The couple next to me at Glorietta Baldy's regularly attends B'klyn Burro pop-ups. Anton, a local barfly buys the vegan burrito every Tuesday, Thursday, and Friday. Pepe notes that although deliveries are increasingly popular the business "couldn't survive just off that, we need a place."
The tamale lady recently acquired her own storefront after 20 years of selling burritos to hungry bar customers. The elote man still sets up his roadside stand after 15 years in business. What distinguishes B'klyn Burro from the legacy of it's west coast counterparts is how quickly the business is establishing itself as the source for authentic Mission cuisine. Yes, he's fondly known as the burrito man, but Pepe has bigger plans. In addition to giving city-dwellers their first taste of Mission-styled burritos, Pepe wants to challenge the popular conception that Mexican food can't be done in the city. The idea that the cuisine of his hometown isn't replicable on the east coast is unacceptable to Pepe.
"An all these theories start coming up about doing Mexican food in the city, which really have no basis. You can't get this and you can't get that—it isn't true. You just have to know what you're doing. And when you hear people say that they gave up on Mexican food out here it breaks your heart. It's kind of like that ad 'leave the driving to us.' That's what we do. Leave the driving to us; we'll transform your mind."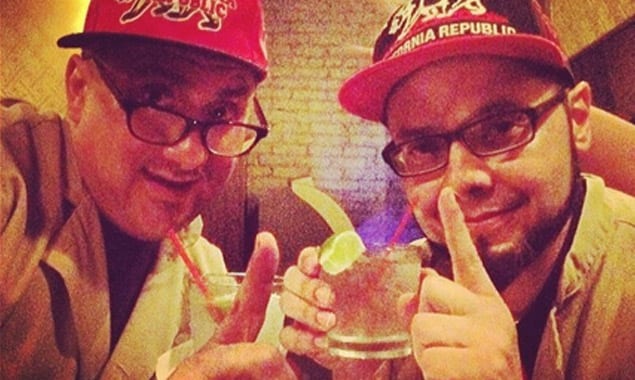 The men behind B'klyn Burro
Maya Dangerfield
A recovering teacher and editorial intern for Honest Cooking, Maya began her journalism career at Greatist.com. A food lover who never misses dessert, she is also a passionate sports enthusiast. Currently Maya freelances for FoodmakerMedia and copywrites for Techturized. Her writing has been published for Greatist.com, Shape.com, and The Washington Post.