Spicy shrimp, smoky bacon, and creamy goat cheese, all smashed together in one heavenly sandwich.
By Jennifer Abbott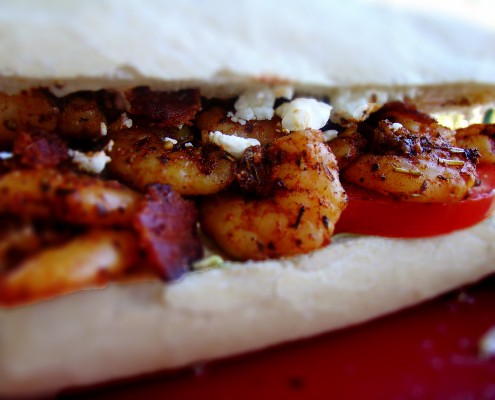 I guess you could say I'm a bit obsessed with po-boys lately. In the weeks leading up to the po-boy festival here in New Orleans, I visited a couple of my favorite po-boy spots to reminisce, to remember how good the basics can be. I had fried shrimp at Parkway Bakery and Tavern, and shrimp and oyster at Crabby Jack's, and then those wonderful little odd po-boys at the fest. I thought I'd had my fill for a while, until Paul told me he'd overhead someone talking about a blackened shrimp po-boy. My interest was piqued. Then, he said, "It'd be good with a little bacon sprinkled on it." Yes, it would. Then, "And maybe some goat cheese?" I almost fainted. Yes, blackened shrimp with bacon and goat cheese would be good – very, very good.  If it sounds bizarre or even blasphemous to load a seafood po-boy down with extras like bacon and cheese, consider the Peacemaker, that ultra-delicious po-boy of fried oysters, bacon, and American cheese. Sounds crazy, but it's fantastic. If yellow, processed American cheese can't hurt a po-boy, then surely goat cheese couldn't.
We thought for a minute about making a fancy mayonnaise to go with this, but ended up sticking with plain mayo. And you know, that was a good move, because the spicy blackening mix rubs off the shrimp as you scrunch it together for eating purposes, forming a little mayo-blackening mixture sauce. And the goat cheese will melt a little bit of itself into that sauce too, and then you get something that the po-boy gods would be proud of. About the cabbage: it's hardier and more assertive than lettuce or soft greens, with a flavor that can stand up to and support all of this spicy-salty goodness; plus its crunch actually holds up to all the smooshing and chomping that happens in the process of eating a po-boy like this. I love it.
"Blackening" is a spice-and-sear technique made popular in the early 1980s by New Orleans chef Paul Prudhomme, who blackened so many redfish fillets that they nearly became extinct.  These days, you can find all sorts of blackened proteins on New Orleans menus, from seafood to steaks.  It's essential to use a cast-iron skillet to get anything blackened–the burned-on bits are where the "black" comes from, after all. If you don't have one, use a skillet without a nonstick coating, so you can get some brownish burned bits that will hopefully stick on your shrimp. This blackening mixture comes from the marvelous website, chilicheesefries.net.
Blackened Shrimp and Bacon Po-Boy
Spicy shrimp, smoky bacon, and creamy goat cheese, all smashed together in one heavenly sandwich.
Ingredients
4 slices bacon (preferably uncured)
1 pound medium shrimp, peeled and deveined
blackening mix (recipe follows)
3 thick slices of ripe tomato, cut in half
1 cup thinly shredded green cabbage
2 Tablespoons mayonnaise
3 6"-long pieces of baguette or soft-style French bread, split in half
½ cup crumbled goat cheese
blackening mix
1 teaspoon dried oregano
1 teaspoon dried thyme
1 teaspoon dried rosemary
1 teaspoon dried basil
1 teaspoon garlic powder
1 teaspoon onion powder
1 teaspoon ground black pepper
1 teaspoon salt
4 teaspoons paprika
½ teaspoon ground white pepper
½ teaspoon ground cayenne (red) pepper
Instructions
Heat a medium (9") cast-iron skillet over medium heat and add the bacon slices. Cook bacon, turning occasionally, until dark and crisp, about 8 to 10; drain on a plate lined with paper towels.
While the bacon cooks, combine all ingredients for the blackening mix in a medium bowl, mixing very well. Rinse the shrimp and pat dry with paper towels, then add to the bowl with the blackening mix, tossing well to coat evenly. Let shrimp come to room temperature while the bacon finishes.
You might want to open a window and turn on the vent, because the blackening event causes a lot of smoke. Spoon out all but 1 Tablespoon of bacon grease from the skillet (if you have a little less than that, that's fine), and heat skillet over high heat, until the grease just starts to smoke. Add the shrimp and stir-fry, scraping up any burned bits in the skillet, until just done, about 6 minutes. Remove to a bowl to keep warm while you assemble the sandwiches.
Chop the cooled bacon slices into little pieces. For each sandwich, spread a thin layer of mayonnaise on both cut sides of bread. On the bottom half, place a small handful of cabbage, then two tomato half-slices, then salt and pepper to taste, then a pile of shrimp, then bacon crumbles, then goat cheese. Smash the top bread piece down a little to get the cheese to start melting.
Jennifer Abbott
Jennifer Abbott is a writer, music teacher, Southern food enthusiast, and soup aficionado. She lives in New Orleans and blogs about cooking and dining at Food Orleans.