This simple, yet flavorful, cake highlights the richness of the olive oil, while the polenta adds a unique texture that is quite satisfying.
This Olive Oil Polenta Cake came to being after I was asked by Olive Central to develop a recipe using South African Olive Oil. A request I gladly accepted. My immediate idea was to take the oil into a sweet realm. Either ice cream or a gluten free bake.
This simple cake is surprisingly delicious. The olive oil adds a definite richness, making the cake moist, rich and definitely moreish. The polenta adds texture to the cake which I think adds interest to the usual almond meal bakes. Some people might find it the polenta too gritty but I like it . Remember the polenta is raw when it goes into the cake so it is worthwhile pulsing it in a food processor to a finer texture.
It definitely requires the sharpness of the berries when serving to cut the richness of the cake and add a splash of colour.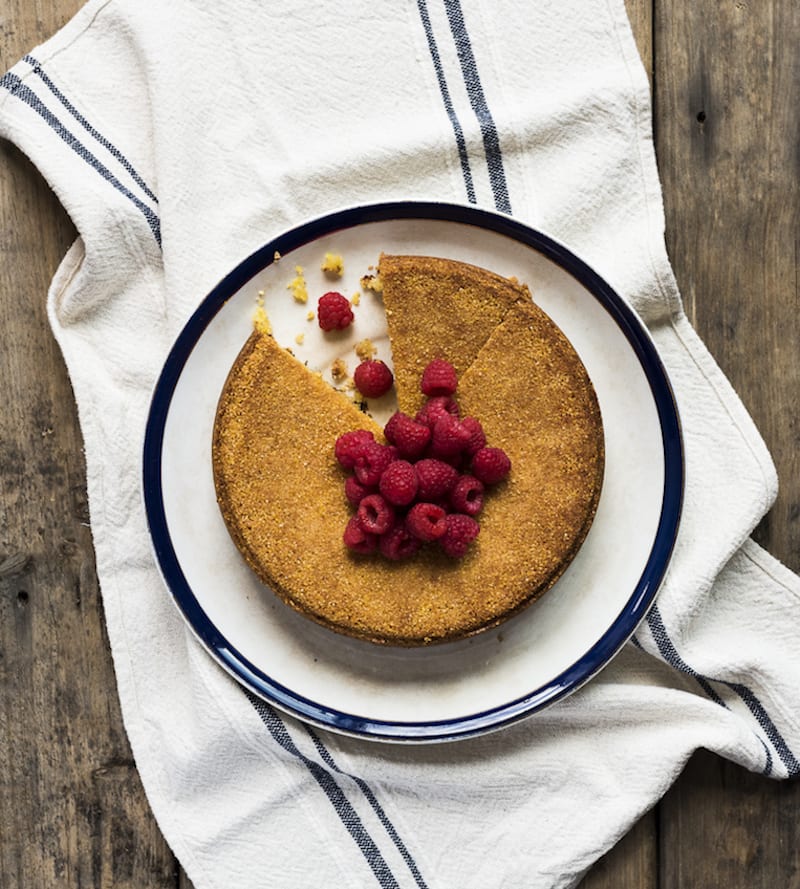 Olive Oil Polenta Cake
This simple, yet flavorful, cake highlights the richness of the olive oil, while the polenta adds a unique texture that is quite pleasing. Berries offer the perfect accompaniment in both taste and color. Adapted from http://www.telegraph.co.uk/
Ingredients
300g (11 ounces) caster sugar (extra fine sugar or superfine sugar)
250g (9 ounces) polenta (pulse for a few minutes in your food processor to get a finer grain)
200g (7 ounces) ground almonds
zest of two lemons
1½ tsp baking powder
¼ tsp of salt
4 eggs, beaten
225ml (8 ounces) extra virgin olive oil
double cream for serving
raspberries for serving
Instructions
Preheat the oven to 180C (356 F)
Grease and line a 20cm (8 inch) loose-bottomed cake tin.
Combine the dry ingredients and zest in a large mixing bowl.
Add the eggs and beat well.
Pour in the olive oil and mix well to ensure a smooth batter.
Bake for 75 minutes until a skewer comes out clean. (If the top browns too quickly, cover loosely with some tin foil.
Allow to cool in the tin before removing.
Serve with a dollop of double cream or whipped cream and a few raspberries