Shatteringly crisp, paper thin, fabulously delicious. Make your own gourmet sea salt crackers for next to nothing.
By Chris Scheuer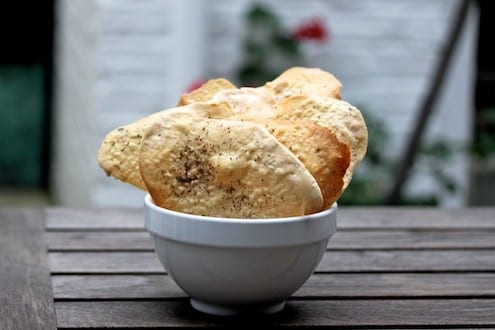 London is a fast-paced, vibrant metropolis with a myriad of fun things to do. My husband and I are thrilled to be able to visit this unique city several times a year to spend time with our daughter and her family.We love meandering along the lazy flowing Thames, walking the quaint, narrow streets full of row houses and small shops, experiencing the busy, bustling downtown and all along the way, checking out interesting boutiques, restaurants, lovely parks and a plethora of inspiring historic sites.
Before arriving in London this past fall, I'd read about an incredible deli/café called Ottolenghi. The first day of our visit, we decided check it out and pick up lunch. Entering the shop, we stood in awe and shock as we beheld the array of salads, quiches, breads and sweets artfully displayed before us.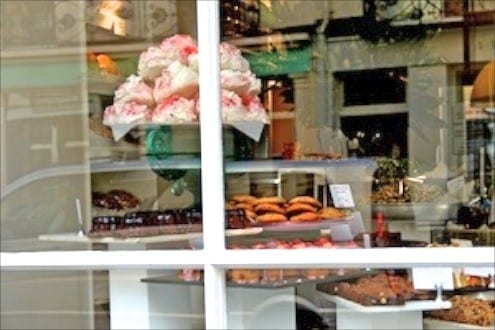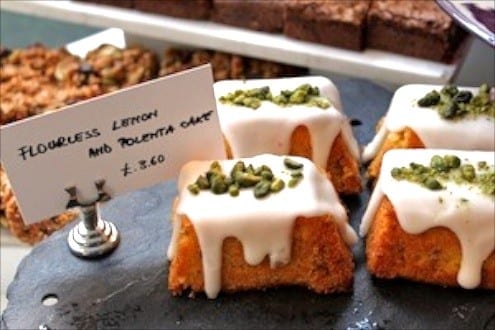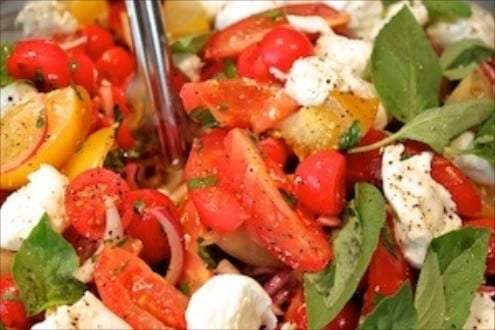 After much deliberation, we chose a variety of fresh, vibrant looking salads and complimented them with a a crusty golden baguette. A few lovely, raspberry meringues made a fabulous sweet ending. It was the perfect autumn day and our picnic fare, enjoyed at nearby St. James Park, was beyond amazing! Each selection was unique and delicious and any eavesdropper would have laughed at all the oohs and aahs that emanated  from our little corner of the park.
You can imagine how delighted I was, later that week, when my daughter and son-in-law came home after a date night with a gift for me; a cookbook, from none other than……………… yes, Ottolenghi!
I've been reading this lovely book as if it were a novel these past months and have already tried out many of the yummy recipes. One of my favorites is the paper thin, shatteringly crisp, Olive Oil Crackers. I topped them with a variety of different herbs and spices; fresh thyme, Herbes de Provence and za'atar, and everyone loved them. They are uniquely delicious and would be fabulous as an appetizer with salsa or hummus, accompanying a salad and/or soup or just to nibble on for a delicious, light snack.
Although these crackers cost literally pennies to make, they are almost always considered "gourmet", causing the price of a small prepackaged container to be astronomical. So I was delighted to discover that we can enjoy these delightful crackers for almost nothing! You can too, since the only tools you really need to prepare them are a rolling pin and an oven. Next time you have a craving for a crisp, salty, fabulous snack, give these Olive Oil Crackers with Sea Salt & Herbs a try – you won't be disappointed!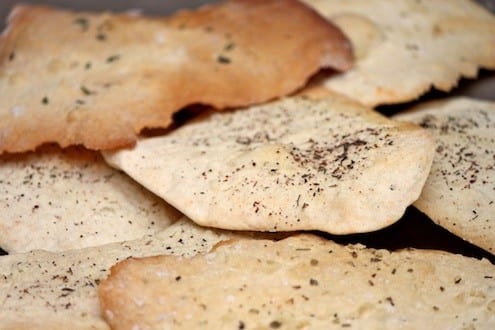 Olive Oil Crackers with Sea Salt and Herbs - From a Legendary London Café
Shatteringly crisp, paper thin, fabulously delicious! Make your own gourmet sea salt crackers for next to nothing!
Author:
Adapted from Ottolenghi, The Cookbook
Recipe Type:
Appetizer, Snack
Ingredients
2 cups (200g) all purpose flour, plus extra for dusting
1 teaspoon baking powder
1 cup (115ml) water
2 ½ tablespoons (25ml) extra virgin olive oil, plus extra for brushing
teaspoon fine sea salt
1 teaspoon paprika
1 teaspoon black pepper
flaky salt, I use Maldon
fresh herbs, dried herbs, poppy seeds sesame seeds, dried spices, za'atar are some of the endless possibilities for toppings
Instructions
In a large bowl, or the bowl of a stand mixer, mix the flour baking powder, water, olive oil, salt and pepper. Using the dough hook, mix (or mix by hand) the dough for 5-6 minutes until it all comes together. Wrap in plastic wrap and leave it to rest for an hour in the fridge.
Line 2-3 trays with baking parchment. Preheat the oven to 425ºF.
Make walnut-sized balls and roll them out as thinly as you can into long, oval shapes.
Place the rolled out crackers on a baking sheet lined with parchment paper, brush generously with olive oil and sprinkle generously with flaky sea salt (I love Maldon) or fresh herbs, dried herbs, poppy seeds, sesame seeds, za'atar, etc.
Bake for 5-6 minutes, or until the crackers are golden brown in color. Allow to cool, then store in an airtight container. (It's important to keep them tightly sealed, but if it's very humid and the crackers get a bit stale tasting, just pop them back in the oven for about 10 minutes at 225ºF and they'll be good as new!)