Oil Free Healthy Chickpea Crackers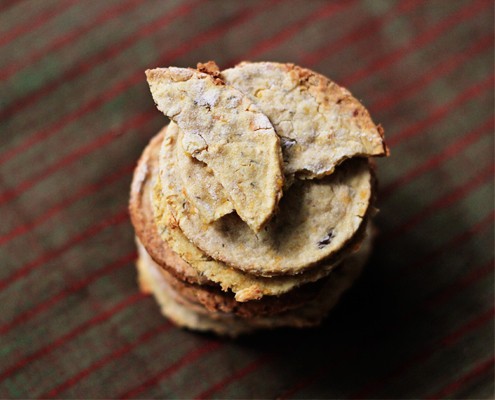 These hard and dense crackers have a beautiful deep chickpea flavor as they are made from whole chickpeas. Serve them with a spicy dip, cream cheese or sweet jam.
By Chinmayie Bhat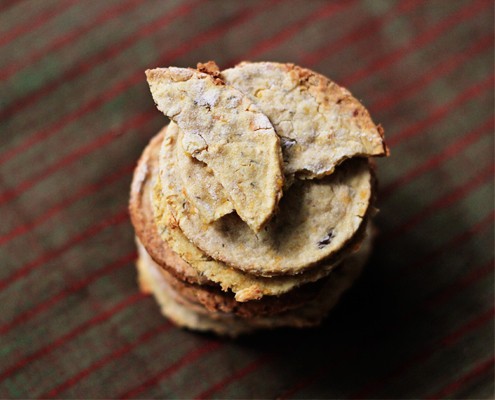 Chickpeas or Garbanzo Bean are a great source of protein, folate, zinc, dietary fiber and are low in fat. I use them regularly in my kitchen. I had never attempted making cracker out of them but I didn't see a reason for it to not work. I was right. Chickpeas made awesome crackers.
I used whole wheat flour to bind it together and added a little bit of thyme for flavor. These crackers are completely oil free. They are hard, dense and have a beautiful deep chickpea flavor which I loved the most about it. Roll them as thin as possible for the best results. You can get creative with different herbs and spices and I am sure chickpea can be great base for most flavors.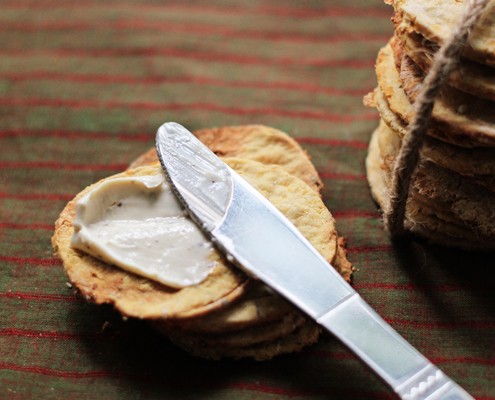 Serve these amazing healthy crackers with any spicy dip, creamy cheese for a great appetizer or sweet jams/jellies for a great sweet snack.
Oil Free Healthy Chickpea Crackers
These hard and dense crackers have a beautiful deep chickpea flavor as they are made from whole chickpeas. Serve them with a spicy dip, cream cheese or sweet jam/jelly!
Ingredients
250 grams of dry chickpeas
1 cup whole wheat flour
1 tsp salt
1 tsp dried thyme
Instructions
Soak dry chickpeas in water for 5-6 hours or overnight. Cook them with a pinch of salt till soft.
Drain all the water and mash the chickpeas well by hand or in a food processor.
Add the thyme and salt and mix well.
Now add the whole wheat flour little by little, enough to make hard dough. I used almost a cup.
Roll the dough between two cling films as thin as possible and cut into desired shapes.
Bake in a preheated oven at 160 degree C for 25 to 30 minutes till golden and crisp.
Chinmayie Bhat
Chinmayie is a food blogger and a graphic designer who lives in Bangalore, India. Her food blog www.lovefoodeat has simple, fast and easy vegetarian recipes which are healthy and tasty. Her food is fresh and local food which is cooked with a lot of love.