Whether you're making dinner rolls for Thanksgiving or a typical Sunday dinner, homemade bread is always a welcomed addition to the table. Without being intimidated, get the breakdown to the perfect bread.
By Tessa Arias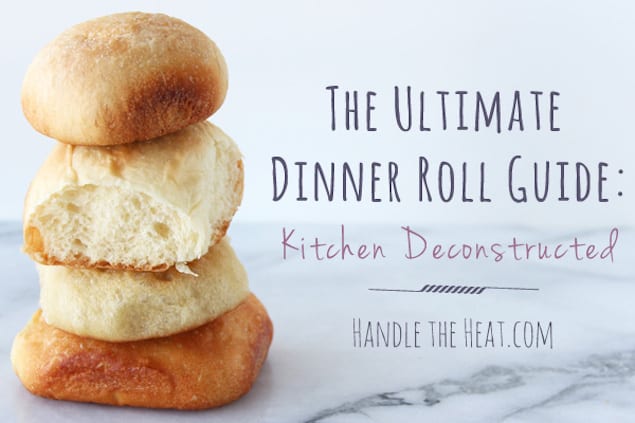 The following Kitchen Deconstructed experiment was put together by Tessa Arias, the multi-talented blogger behind Handle the Heat and cookbook author of Cookies and Cream: Hundreds of Ways to Make the Perfect Ice Cream Sandwich. Be sure to check out her blog, Brownie Recipe Guide, Cupcake Recipe Guide and Pie Crust Recipe Guide and stay tuned for more Kitchen Deconstructed features from Tessa on Relish.com.
This article by Tess Arias has been posted with permission and originally appeared as The Ultimate Dinner Roll Guide on Relish
Whether you're making dinner rolls for Thanksgiving or a typical Sunday dinner, homemade bread is always a welcomed addition to the table. And the bread-making process doesn't have to be intimidating or even very time consuming. It can actually be surprisingly relaxing—and thankfully so, because for this installment of Kitchen Deconstructed I made six batches of dinner rolls. I was on a quest to break down what makes a dinner roll crusty, chewy, soft, fluffy, buttery, or dense—all in hopes of helping you find the ultimate dinner roll to pair with your preferences.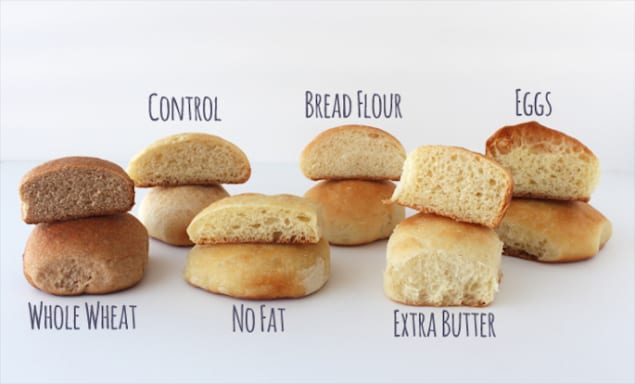 The control recipe I started with for my first batch is basic and straightforward, taking just a few hours at most. This is because the dough relies on the "straight dough" method, which means there are no starters or pre-fermentation periods. All you need to do is mix the ingredients, knead the dough, and let it rise.
Even with a basic method like this, small ingredient changes can make big differences in the final baked rolls. For consistency's sake, I maintained the same ingredients, kneading times, rising times, and oven temperatures (when applicable) to keep the results for each variation fair. By the end of the experiment I had found how bread flour, eggs, whole-wheat flour, no fat, and extra butter can significantly change the dough and the final texture and flavor of the rolls.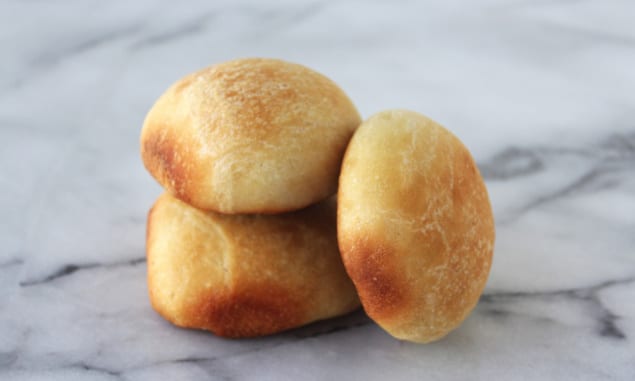 Print

Control Recipe: Basic Dinner Rolls
---
Author:

Tessa Arias

Yield:

1

5

1

x
Description
Whether making dinner rolls for Thanksgiving or Sunday dinner, homemade bread is always a welcomed. Without being intimidated, learn how to get best rolls.
---
1/4 cup

lukewarm water

1 cup

warm milk (100-110F)

2 tablespoons

unsalted butter, at room temperature, divided

2 tablespoons

granulated sugar

1 1/2 teaspoons

fine salt

2 1/4 teaspoons

(

1

packet) instant yeast

3 1/2 cups

(

15.43 ounces

) unbleached all purpose flour
---
Instructions
Combine water, milk, 1 tablespoon of the butter, sugar, salt and yeast in the bowl of a stand mixer.
Add 2 cups of flour and stir with a wooden spoon until the dough forms a rough, shaggy mass. Attach the dough hook to the mixer, turn to low speed, and gradually add the remaining flour, kneading until a mass of dough begins to forms. Continue kneading on medium-high speed for 4 to 5 minutes until a soft, smooth ball of dough is formed. The dough should feel elastic and slightly tacky to the touch.
Lightly spray a large clean bowl with cooking spray and place the dough in the bowl. Cover the bowl lightly with plastic wrap. Let rise for about 45 minutes to 1 hour at room temperature or until the dough is big, puffy, and about doubled in size.
Spray a 13×9-inch baking pan with cooking spray. Gently deflate the dough. Use a bench scraper, knife, or pizza wheel to divide the dough into 15 equal pieces. Shape each piece into a ball and place in the prepared pan. Melt the remaining 1 tablespoon of butter. Brush the dough with the melted butter. Lightly cover the dough with plastic wrap and let the rolls rise for 30 minutes, or until about doubled in size.
Preheat the oven to 375°F.
Bake the rolls for 15 to 20 minutes, or until golden brown. Serve warm. Store leftovers in a plastic bag for up to 3 days.
Bread Flour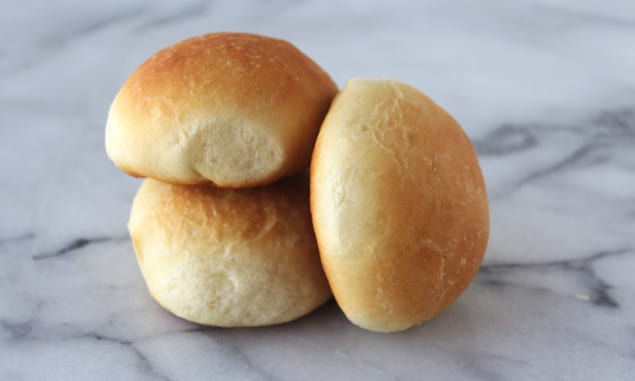 For this basic experimental batch, I substituted all 3 1/2 cups (15.43 ounces) of all-purpose flour in the control recipe with 3 1/2 cups (15.68 ounces) of bread flour, keeping everything else the same.
The dough turned out smooth and soft and was very easy to work with. This is likely because bread flour is higher in gluten-forming proteins than all-purpose flour, making for ideal dough. The unbaked rolls raised a significant amount to perfect round balls and looked beautifully golden brown when baked. The final baked rolls were somewhat soft—yet also chewy—making them one of my favorite batches.
Eggs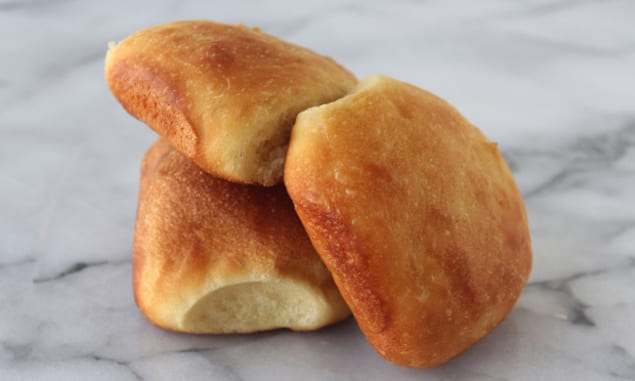 Knowing that eggs can lend flavor, richness, and a soft texture to baked goods, I added 2 whole eggs to the control recipe to see how they would affect the final outcome. Since the eggs also added additional moisture to the dough, I compensated by adding an additional 1/2 cup all-purpose flour, for a total of 4 cups.
Even after adding more flour, the dough was still pretty sticky. Like the bread flour batch, this batch rose significantly—this time due to the extra protein added by the eggs. In fact, these were the largest rolls I bakes. The rolls themselves were soft, rich, and fluffy with a bit of a crusty bite. They had a light and open crumb but were nice, sturdy and enjoyable.
No Fat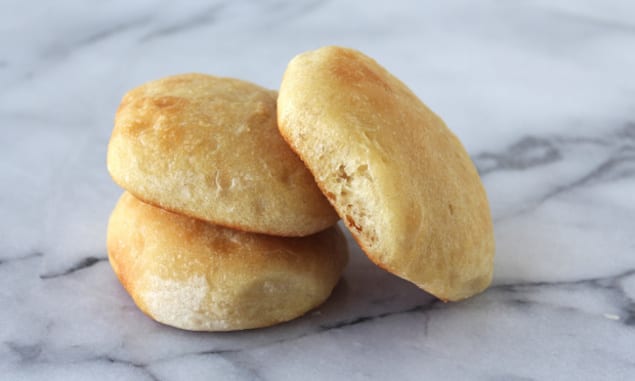 The control recipe calls for fat in the form of 1 cup of milk and 1 tablespoon of butter inside the dough and another tablespoon brushed on the rolls before baking. Since fat is a tenderizer, I wanted to see if I could produce a crusty bread roll by removing the milk and replacing it with additional water, for a total of 1 1/4 cups warm water. I then omitted the butter entirely from this batch.
As expected, the dough was very wet and sticky—this wasn't particularly worrisome since most crusty bread recipes are on the wet side. The dough raised the least of the bunch and because of the lack of protein, the resulting rolls were quite flat. These rolls also didn't brown much while baking, which was concerned my initially, however when it was all said and done, I was happily surprised. The baked rolls turned out crusty and chewy with a light, airy interior texture reminiscent of a baguette.
Extra Butter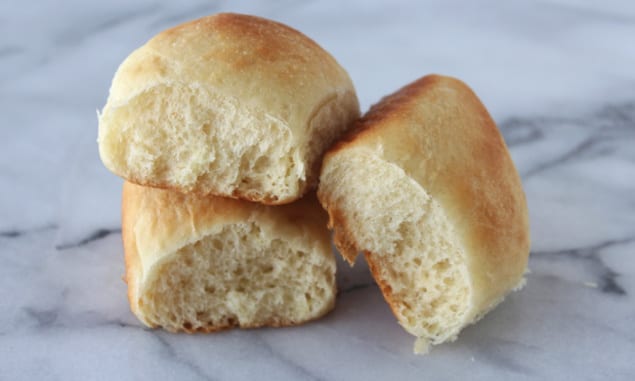 In this test I set out to see if adding more butter would make a big difference on the texture of the rolls. I added 3 tablespoons of butter to this dough, up from the original 1 tablespoon called for in the control recipe. I also maintained the 1 tablespoon of melted butter to brush on the rolls prior to baking, for a grand total of 4 tablespoons of butter.
The dough was slightly tackier than the control but the formed dough balls rose nicely. In fact, they rose so much that they ended up touching each other in the pan when baked. The final rolls were ultra soft and fluffy, reminding me of the soft butter dinner rolls available at the grocery store bakery.
Whole Wheat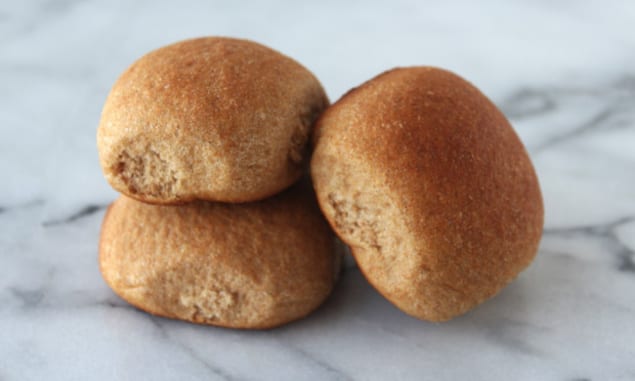 In an effort to make the control recipe a bit healthier, I set out to see if using 100% whole-wheat flour could still produce tasty rolls. I substituted all 3 1/2 cups (15.43 ounces) all-purpose flour with 3 1/2 cups (14.82 ounces) whole-wheat flour.
The dough turned out really firm and not remotely sticky due to the high protein content. The formed rolls stayed nice and round but didn't rise as much as some of the other batches. Once baked, they had a nice crusty exterior but an interior that was fairly dense and slightly dry. If you want to incorporate whole wheat flour into your bread rolls, I suggest starting with a 50/50 whole wheat to all-purpose flour ratio to make the rolls lighter and fluffier.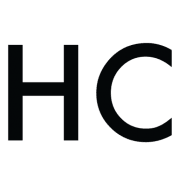 Relish
Offering more than 14,000 recipes plus features and DIYs on cooking, dining and entertaining, Relish celebrates America's love of food. Relish is about honoring cooking traditions while exploring new trends and ideas, which is why millions of people turn to both Relish.com and Relish Magazine for special occasion recipes, quick and easy weeknight suppers and culinary adventures.