Oatmeal, an often under appreciated breakfast food, finally takes center stage on October 29th. Celebrate National Oatmeal Day by cooking up some oats.
By Laura Rothman
For four years at school I ate oatmeal nearly every morning with a cup of coffee and a bowl of fruit. Often topped with brown sugar, raisins, milk, and a banana, oatmeal seemed the ultimate cure-all for college mornings.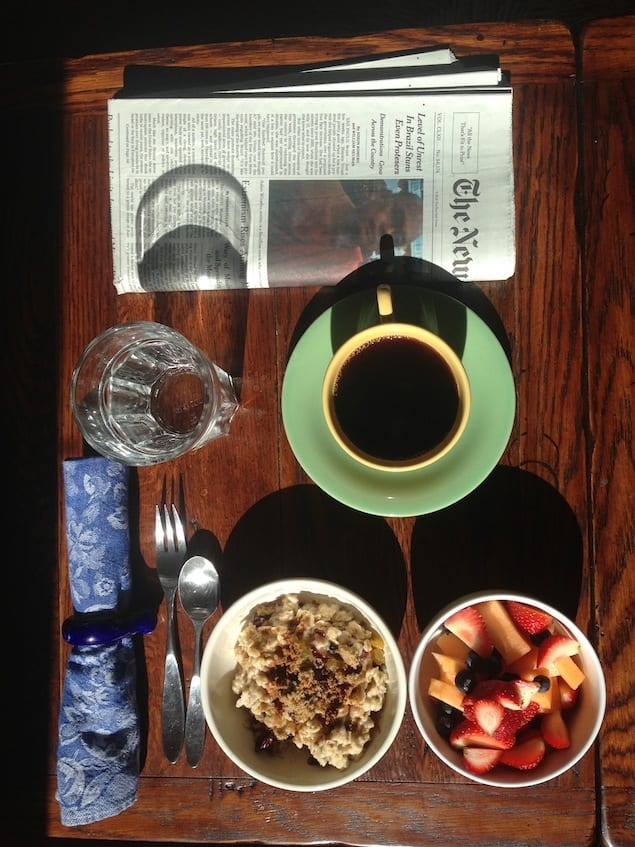 Oatmeal is not a glamorous food. Its representations in literature are limited to Dickensian workhouses, or sad scenes of Ebenezer Scrooge tending to his pot of gruel. There seems to be only one poem about oatmeal, aptly titled "Oatmeal" by Galway Kinnell, and I feel pretty confident claiming that there are no notable representations of oatmeal in paint, clay, or charcoal.
Although underrepresented in the arts, oatmeal unsurprisingly plays a main role at many breakfast tables. Highly regarded for its health benefits—oatmeal is a whole grain food, commended for its ability to lower both cholesterol and risk of heart disease—it is a wholesome way to start the day.
A multipurpose food (think: soothing oatmeal baths), oatmeal finds a home in many cultures. That being said, there is one country that elevates oatmeal to unimaginable heights. In Scotland, oatmeal (lovingly referred to as porridge) is a national food, alongside Haggis. The Golden Spurtle, celebrated in the highland village of Carrbridge, names a World Porridge Making Champion yearly, and celebrates the beauty and versatility of oat grains in their many forms.
So on October 29th, National Oatmeal Day, let us all share in the beauty of oats. Whether eaten savory or sweet, as porridge, cookies, or flapjacks, take a moment to celebrate whole grains and food with a history!
Here are three collected oatmeal recipes: savory, sweet, and a flapjack.
Martha Stewart's Savory Oatmeal
"Martha's oats" call for scallions, cheddar, and a soft-boiled egg. Don't like scallions? Try sauteed greens like chard or kale. Rather have Pecorino instead of cheddar? Go for it! Treat the oats like you would a bowl of rice or any other grain.
Flapjacks…not to be confused with pancakes.
"British Flapjacks" are essentially a glorified oat bar. Made with rolled oats, they absorb the butter and golden syrup creating a wonderfully chewy accompaniment to tea or coffee. Don't have golden syrup? Do not fear! Substitute honey, dark corn syrup, or reduced cane syrup!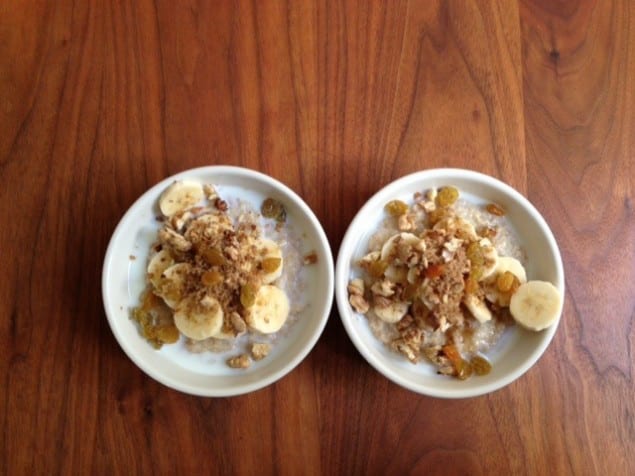 Print
Banana Walnut Oatmeal
---
Author:

Laura Rothman

Yield:

2

1

x
Description
Beat morning blues with Banana Walnut Oatmeal.
---
1/2 cup

Scottish Porridge Oats

1

–

2

cups water (less for thicker oats)
Pinch of salt

1

Banana

1/4 cup

walnuts

2 tablespoons

brown sugar (more or less to taste)

1 tablespoon

golden raisins

1/4 cup

milk
---
Instructions
Preheat oven to 350F.
Bring water and salt to a rolling boil. Add oats and stir well. Reduce heat to a simmer, and stir occasionally for 10 minutes.
Coarsely chop walnuts and roast in oven until golden and fragrant.
Remove oats from heat and divide among two bowls.
Slice half a banana into eat bowl, sprinkle with walnuts, brown sugar, raisins, and finish with the milk.
Enjoy!
Category:

Breakfast, Oatmeal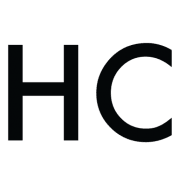 Laura Rothman
Laura Rothman is a San Francisco native with an appetite that rivals that of the Ancient Romans. She has cooked in restaurants, sampled copious amounts of coffee, and has traveled far and wide across the continents. Along with a zeal for food and travel, Laura has a love of the written word. She majored in English at Kenyon College in Ohio and is rarely found without a book or magazine nearby.