These Oats and almond slices are neither dry as granola bars nor moist as cakes.
By Sanjeeta Kk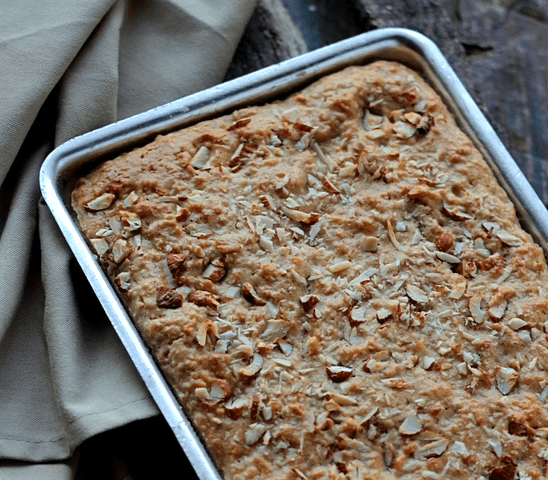 Oatmeal and Almond Slices
These Oats and almond slices are neither dry as granola bars nor moist as cakes.
Ingredients
1 cup quick cooking Oats
¼ th cup all purpose flour
¼ cup crushed Almonds
½ cup powder sugar
¼ th cup vegetable oil
¼ th cup yogurt/curd
1 tsp. cinnamon powder
½ tsp. baking powder
Instructions
Combine quick cooking Oats, all purpose flour, crushed almonds, cinnamon powder, baking powder in a large bowl. Whisk yogurt, powdered sugar and vegetable oil with a fork in another vessel. Grease a rectangular baking tray or line it with a parchment paper. Add all the dry ingredients in the wet ingredients and fold lightly to combine well.
Pour the batter in the greased baking tray and bake at 180°C for 20-25 minutes till done. Cool the baked Oats completely on a wire rack before slicing it.
Notes
The Oats and Almonds slices should be baked in a shallow baking tray, the one used to bake brownies. The batter should not be spread more than 1 or 11/2 inch in the tray. For healthier options replace all purpose flour with whole wheat flour. Skip the sugar and add one tablespoon of Honey in the batter. Drizzle extra honey or dust each slices with powdered sugar before serving.
Sanjeeta Kk
Sanjeeta kk is the author of food blog 'Lite Bite' which features vegetarian recipes. Her quest for egg free baking and healthy cooking is extensively shared though all her recipes. She likes to share stories behind the origin of her recipes which are easy and accessible. Homemade, unprocessed and healthy food is what she strives for each day. She defines food as nostalgic, comforting & an important factor to connect with people and make community