NYC's First Great GoogaMooga Festival
Elspeth Velten checked out the first installment of the Great GoogaMooga festival in Brooklyn.
By Elspeth Velten
This past weekend marked the first (annual?) installment of the Great GoogaMooga festival in Brooklyn's Prospect Park. Food was the main attraction here and the grounds were lined with vendors, most from the New York City area but some from around the country, serving up the best of what they each had to offer. Servings ran from about $5 to $15, while drinks were higher at like $7 to $12 and hour or more online for a beer. There were times during the day when I thought I might die of dehydration or heat stroke, but the festival provided great food and music with a beautiful green backdrop and free entry.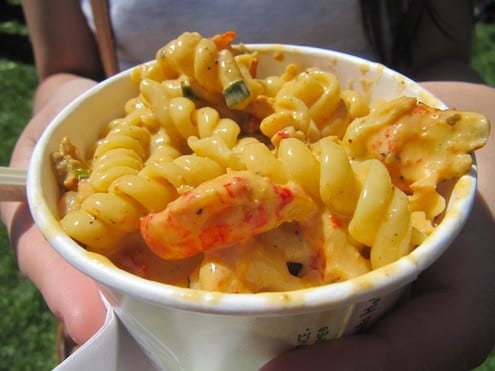 My cohort and I hit Crawfish Monica first, and to our delight there was not much of a line (long lines were a theme of the day.) Crawfish Monica is a New Orleans favorite, serving up their signature pasta dish to devoted fans at Jazz Fest every year. They made a special trip up to NY for this weekend and I wasn't about to miss out. The two of us shared one serving. It was decently sized and about $9. It was so good. The tender meat was abundant and the creamy pasta was light. More now please.
When we found Baohaus perpetually out of food (wahh), we tried the pastrami on rye from next-door Kutsher's Tribeca. The fatty pastrami was melt-in-mouth and the rye seemed fresh. New dill pickles made a perfect addition. They're my favorite pickles. There was NO line at Kutsher's.
We did wait in line, however, at Arancini Bros. Known for offering delicious rice balls in Brooklyn, the Bros. offered a ragu ball and a basil pesto ball. I'd say we waited 30 minutes for these balls. Maybe a little less. I don't spend much time in Brooklyn and don't know when I would ever make it to the shop, so I think it was worth the wait to get these here. That's the thing — people were waiting on line for like 1.5 hours for a Luke's Lobster Roll or Colicchio tacos. You can get these things any day people!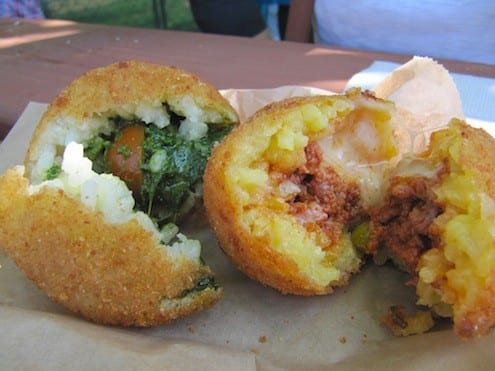 These rice balls were perfectly golden and piping hot. They were crusty on the outside and soft inside. Saffron rice complimented the cheese, meat and pea ragu, and whole tomatoes joined the fresh and green basil pesto. Excellent execution here.
We waited a long time for Roberta's too. A friend of mine recently raved about their Bee Sting pizza, and now I can myself. Tomato, mozzarella, soppressata, chili oil and honey are a winning combination on top of thin, slightly charred, marginally soft crust.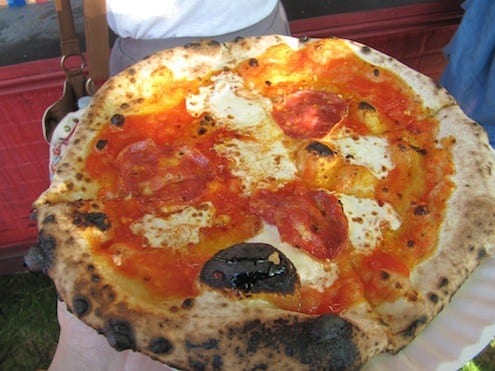 There is definitely room for improvement at GoogaMooga, and I'm sure that even by day two things had probably been changed. The drinks system was fatally flawed and there was no easy way to get even just a water without waiting on line for a very long time. Other festivals I've been to have free water jugs where you can fill your own bottle, or even water trucks parked and ready. It was a hot day; we need to fix this. I don't even want to talk about the ridiculous and unorganized ticketing system for the beer tasting hall. And "sold out" signs made me sad at quite a few food stands. Also, there was NO cell phone service. It was a pit of disconnection, which was kind of OK but simultaneously really annoying. Finally, the word googamooga bothers me, a lot. I'd be happy to never say it again.
These problems seemed overshadowing at times, but in the end, all that mattered was that I was in a gorgeous park with a full stomach and a glass of Woodchuck listening to live music as the sun got lower in the sky. Happiness was hard to avoid.
Elspeth Velten
Elspeth is a contributing writer at Honest Cooking. She is based in New York, but her love for food and travel continues to lead to adventures all around the globe. Elspeth regularly shares her experiences on her food blog, To Stay or to Go? Her happy place is among green curries and fruit smoothies in Thailand.