Mitch Weinstein details New York's Nordic Food Festival, NORTH, from an insider's perspective.
By Mitch Weinstein
The first week of October, sponsors Honest Cooking, Restaurant Aquavit, The International Culinary Center (nee The French Culinary Institute) and the Norwegian Seafood Council, along with a number of outstanding NYC Scandinavian restaurants, hosted the first ever North, a Nordic Food Festival. North brought together outstanding chefs and purveyors from NYC, Iceland, Denmark, Sweden, Finland and Norway. There were lunches, dinners, classes and more. Good times were had by all.
And me? Well, I simply volunteered, through Honest Cooking, both to work with the chefs preparing and serving the opening Press Gala Dinner for 80 people at ICC, and a few days later helping out at a number of classes.
It only took a week for me to get the feeling back in my hands, back and feet, from the day that started at Restaurant Aquavit on the morning of the Gala. Marcus Jernmark is the Executive Chef of Aquavit; he ran the show for the Gala Dinner – and man, is he ever good. Also at Aquavit that morning were Gustav Tr?gårdh, head chef at Sjömagasinet in Göteborg, Sweden, and Frode Selvaag, head chef at Landahuset, in the Ryfylke region of Norway. Frode happens to be a spokesperson for the Norwegian seafood industry, and that group brought along some great salmon and white halibut to showcase at various lunches, dinners and classes.
After getting the grand tour of Aquavit, Frode, Gustav and I ended up together in the fish kitchen. Watching real pros butcher fish is a treat. My job was a little more pedestrian – I got to shuck a few Maine diver scallops…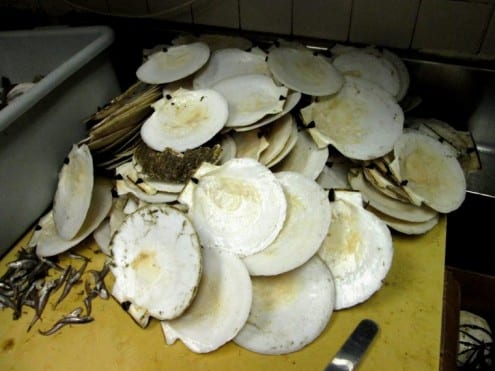 Okay, 250 diver scallops, and now you know what I meant by getting the feeling back in my hands. Check out the little anchovy-like fish in the bottom left of that picture – that's what the scallops were having for dinner, so you just know they're going to taste good. We worked at Aquavit for about 4 hours, and then packed up and headed down to the ICC for dinner prep. Dinner was a collaborative affair, some chefs working together on a course, others alone to a tune of eight total courses. As I mentioned above, the chef for this event, the big Kahuna, was Marcus Jernmark, who ran the kitchen like clockwork. As the former executive chef for the Swedish Consulate here in NYC, his experience at feeding large groups of people multi-course menus runs deep. Here's Marcus, letting everyone know what's up…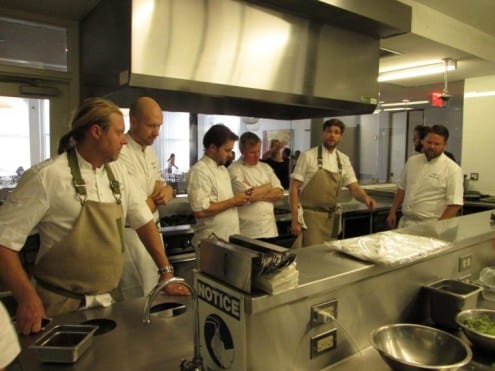 Snacks, to go along with cocktail hour, were Preserved Summer Vegetables, prepared by Frederik Berselius, who had literally just earned his first Michelin star at Williamsburg's Aska, and Esben Holmboe Bang, of Oslo, Norway's Restaurant Maeemo, which has 2 Michelin stars. There were a lot of Michelin stars floating around in the kitchen that night, and it was a privilege to be in their company.
The first seated course of the evening was Gravlax, Cured Salmon with Dill, Seaweed, Cucumber and Micro Fennel, and what a winner. Prepared by Gunnar Karl Gíslason, of Reykjavik, Iceland's DILL Restaurant. Here's the start of plating for 80…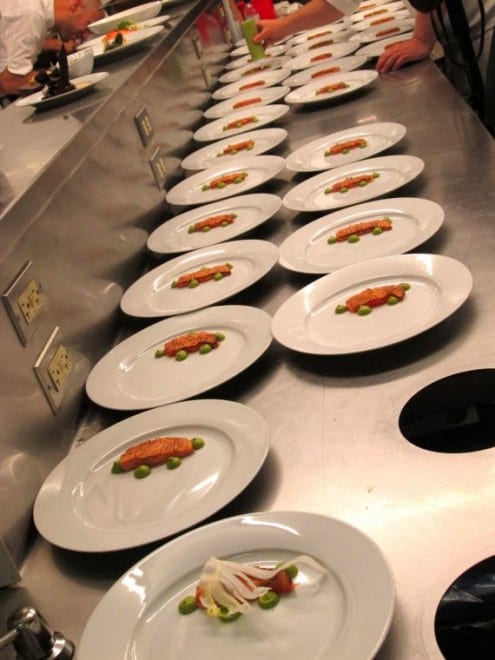 The finished dish looks pretty scrumptious…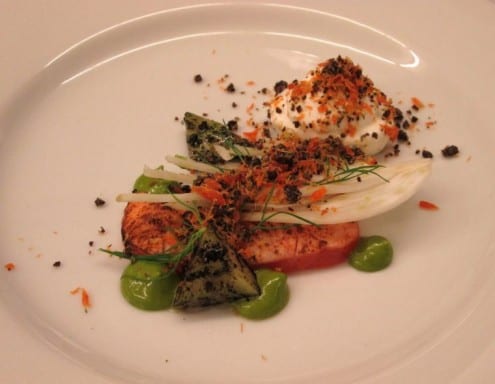 My mistake was in not asking Gunnar for some of that "soil" strewn across the top of the dish (or maybe the recipe for the whole dish, Gunnar?). This course was followed by Acme Chef Mads Refslund's Fermented Fall, Seasonal Fruits and Vegetables, a melange of, well, fermented and raw seasonal fruits and vegetables. (Hey – I sliced the chestnuts for this dish)…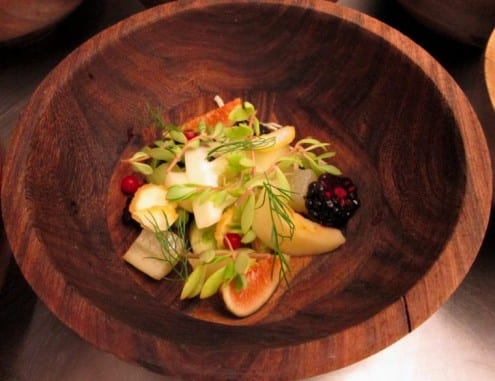 Marcus and Gustav collaborated on the next dish, which looked like this before being plated…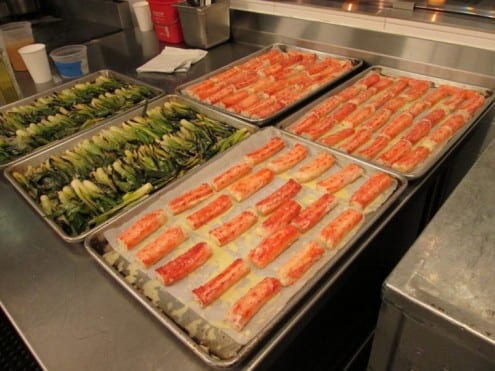 Norwegian King Crab with Parsnips and Dill Flower. Plated…
The tapioca pearls and charred leek brought a nice, earthy dimension to the sweet crab meat. Frode was up next, serving…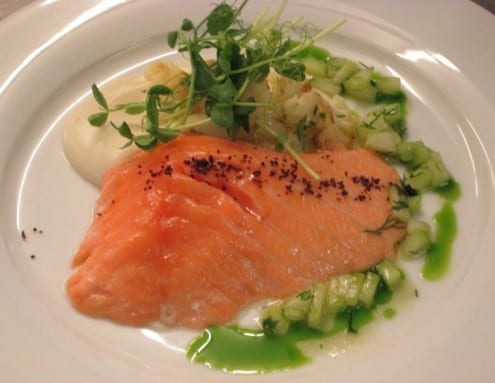 Lightly Smoked Norwegian Salmon, with Cauliflower, Dill and Cucumber. This was the dish that Frode was prepping while I worked alongside him shucking those scallops. First, beautiful, whole salmon were butchered into filets and brined for a short period of time and then cold-smoked. Finally, before service, the salmon is briefly roasted till barely cooked. Basically, it's still quivering. There's cauliflower puree. Roasted cauliflower florets. There's cucumber and dill oil. There's soil. There's raw stuff. There are about 10 components to the dish and 10 steps to finishing it; suffice to say: it was super.
Carl Kristian Frederiksen, of NYC's Aamanns-Copenhagen, showcased the Castello produced Unika cheeses from Denmark. Carl paired an awesome dill flavored cheese, called Troldhede Krondild, with Honey, Pickled Elderberries and Rye, for one of the best cheese plates I've ever had.
Spelt Licorice, Licorice Ice Cream with Sourdough Chips was the first of the 2 sweet courses, and the brainchild of Sasu Laukkonen, of Restaurant Chef et Sommelier in Helsinki, Finland.
The final dessert course was from NYC's Mast Brothers Chocolate; Chef Vesa Parviaine's Chocolate Petite Four, Chocolate, Rye and Pickled Blueberries was just sweet and tart and earthy enough to let you know that you had just experienced a unique meal…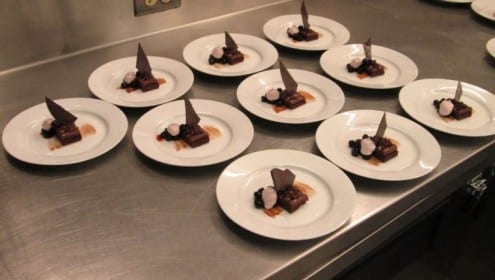 I'll admit that I'm a little biased about all this food and its deliciousness – that'll happen when you have the pleasure of working with some really nice people and some great chefs – but also it was that good. And I learned a ton.
Kalle Bergman, the founder of Honest Cooking and Marcus Jernmark, partner and Executive Chef at Aquavit, were the driving forces behind this NYC first: a week-long food festival dedicated to Nordic cuisine. They, along with their staff and every other chef, teacher, partner and volunteer who gave their time to make this event a success, should be proud.
Me – well, Significant Eater and I are looking forward to some upcoming meals at the restaurants here in NY that I mentioned above. And we've always wanted to vacation in Scandinavia; after tasting these chefs' dishes, I don't know where I'd want to go first.
And as for next year's North festival – I've already ordered the oyster gloves. You know – just in case I get the scallops again.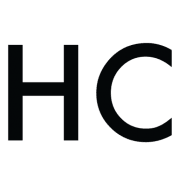 Mitch Weinstein
Mitch Weinstein is an avid seeker of good food, culinary school grad and writer of the blog Tasty Travails. When not cooking at home, he is on the hunt for that next delicious restaurant meal, great market or maybe even a cocktail. He regularly contributes to the food and drink forums on mouthfulsfood.com, eGullet.org, Chowhound.com and others.