Finding herself hungry in Harlem on a Tuesday night, Emily Holbrook discovers a ramen gem in Jin Ramen.
By Emily Holbrook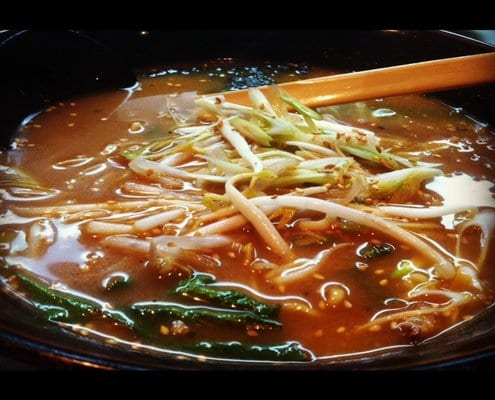 I found myself hungry in Harlem on a Tuesday night. Out of my element, I asked a friend where to venture to for anything remotely edible. What followed was an epicurean enlightenment at a tiny, unassuming spot known as Jin Ramen. Remember the name.
This hidden, closet-sized gem is, believably so, a true, authentic ramen spot. Located immediately off the 1 train on Broadway, it's ease-of-access attracts ramen seekers from afar. The interior is dim and the scent of rich, steamy cauldrons of broths slaps you in the face as soon as the door swings open. The place is compact, in true Asian ramen restaurant form. There are five* small tables and a handful* of stools line the counter that overlooks the open kitchen. (*There will be a line.)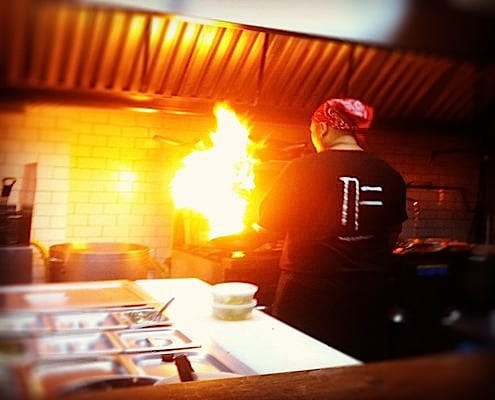 I grabbed a stool overlooking the chaos of fire, metal, steam and sweat and promptly ordered steamed pork buns as an appetizer. I once put in writing that the Brooklyn-based Sunburnt Calf's pork buns were the best in the city (yes, better than Momofuku), but Jin Ramen had me second guessing this. I still stick by my decision, but these Harlem buns were everything they should have been; tender chashu (braised pork belly) resting on clouds of soft Gua Bao buns and topped with crisp strips of lettuce and homemade spicy mayo. They're soft, sweet, salty and inviting. They're also emotion-invoking.
For the main course, I ordered the spicy tonkotsu ramen — the richest of the ramens offered. The broth is made by boiling pork bones on high heat for several hours, "suffusing the broth with a hearty pork flavor and a creamy consistency that rivals milk or melted butter gravy," according to Jin Ramen's website. The broth is topped with chashu, soft-boiled egg, bamboo shoots, nori and fresh scallion. It's a cure-your-cold type of broth; one that would warm you on the coldest New York night. The pork is tender and salty while the bamboo shoots and scallion add texture. Oddly enough, the meal can remind everyone — no matter the nationality — of home. It is soothing, warming and clearly made with love.
Jin Ramen. Remember the name.
Jin Ramen
3183 Broadway New York, NY 10027
(646) 559-2862
Emily Holbrook
Emily Holbrook is a business publication editor by day and caterer, private chef and food writer by night, weekend and lunch breaks. She dreams of ginger, pork shoulder, raw salmon and rhubarb, in no particular order. She is the creator of the food blog Brooklyn Eats and contributor to Brooklyn Exposed.