Try this fun dessert with a bubble waffle maker! Add some bananas and a drizzle of chocolate, and these Nutella bubble waffles are complete.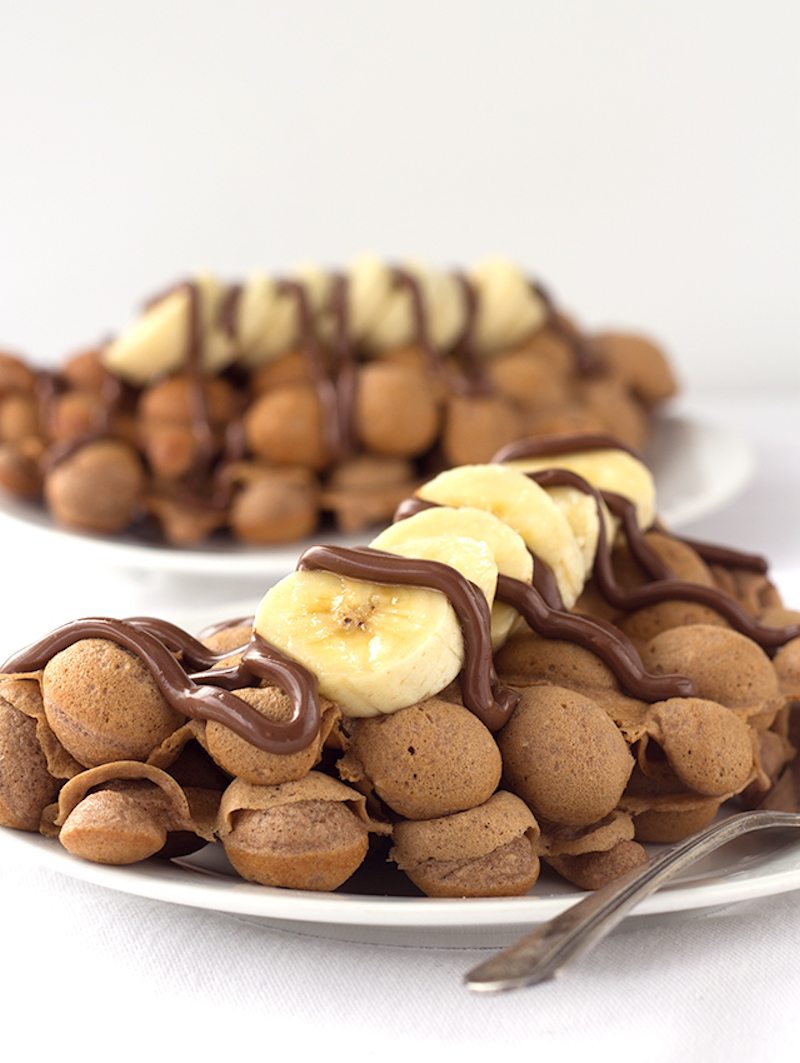 Chocolate and bananas have always tasted way more amazing to me than peanut butter and bananas. So when I have the opportunity to include both into my breakfast, I'm doing it. No regrets either. The Nutella bubble waffles have the chocolate hazelnut flavor, but it's not nearly as strong as I want it to be. I'm a more is more kind of lady. That doesn't always work out for me, by the way. This time, however, is amazing.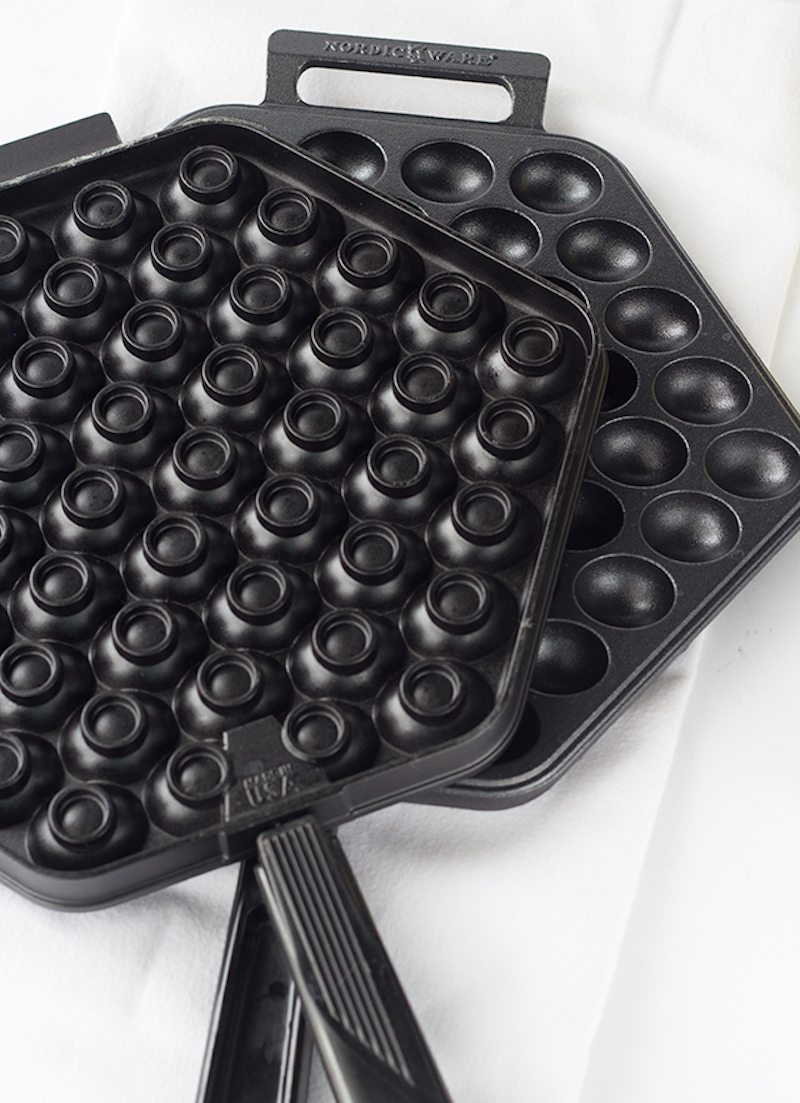 I'm going to be honest though. At first, I was pretty intimidated by the waffle puff pan. I thought it was going to spill out the sides and get all over my stove when I flipped it. I was scared. I lined my burners with tin foil just in case. This recipe is thick enough that I had absolutely no issues with that. Thank goodness! I did not want to have to spend an hour scrubbing burnt on crud off from the stove top. If you overfill the pan, I guess it could still run out. I stuck with adding about 1 cup of batter into the center of the preheated pan.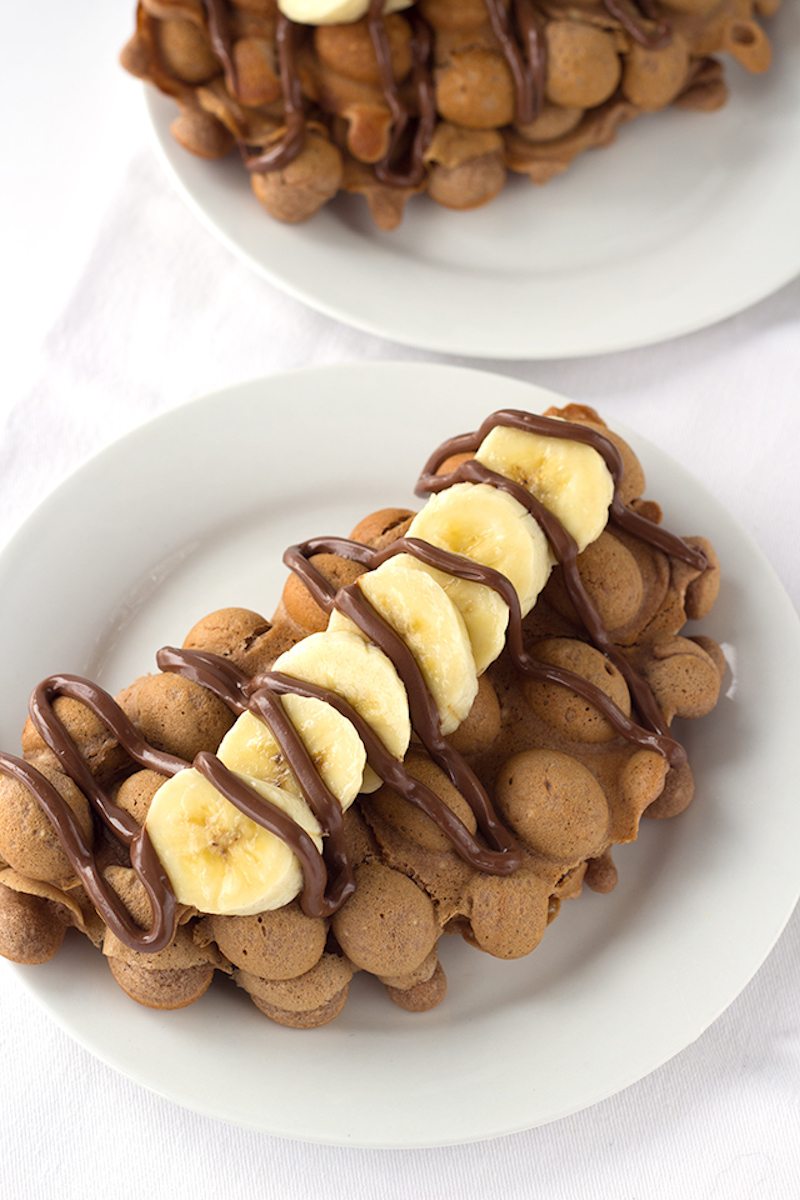 Nutella Bubble Waffles with Bananas
Recipe Type:
Dessert, Breakfast
Ingredients
1 + ¼ cups all-purpose flour
1 T. cornstarch
½ T. baking powder
½ tsp. salt
⅓ cup granulated sugar
¾ cup evaporated milk
3 eggs, divided
¼ cup butter, melted
½ T. vanilla bean paste or vanilla extract
1 cup nutella, divided
4 bananas, sliced
Instructions
In a mixing bowl, add in the flour, cornstarch, baking powder, salt, and sugar. Stir to combine.
Separate the egg yolks and whites.
Beat the egg whites on high until stiff peaks form. Set aside.
Add the evaporated milk, egg yolks, melted butter, vanilla bean paste and ½ cup of nutella into the dry ingredients. Mix with the hand mixer until incorporated.
Fold in the stiff egg whites. The mixture will be slighly lumpy.
Separate the pan and heat both sides of the pan over medium heat until hot.
Latch the waffle maker and lightly brush each side of the pan with vegetable oil.
Scoop about ¾ - 1 cup of the batter into the center of the egg waffle maker.
Immediately flip the pan so the bottom that was on the heat is now on the top.
Let cook for about 1 minute 30 seconds to 2 minutes and flip. Let the other side cook for about 1 minute and 30 seconds.
Open the waffle maker and flip bubble waffles out onto a place.
Immediately fold the waffles in half while they're still hot. Once they cool, they'll get crispy and break if you try to fold them.
Add a sliced banana to each of the folded waffles.
Add the remaining ½ cup of nutella to a sandwich bag. Cut a small corner out of the bag and pipe the nutella on top of the bananas.