As New York City's immunity builds and it finds its bustle again, locals and tourists alike are rediscovering the unique and tasty bars and eateries that make the city so gastronomically fascinating.  For those visiting or living in the Upper East Side of Manhattan, NR (a contemporary Japanese cocktail bar and restaurant), is one of these eclectic must-visit destinations.
With the success of NR's slightly older sister, ROKC (Ramen, Oysters, Kitchen, Cocktails), celebrated bar director Shigefumi (Shige) Kabashima sought to birth a second Meiji Era inspired restaurant across town. As ROKC's sequel, NR continues the turn of the 19th century ambiance of port towns in Japan. Vintage décor and fixtures add warmth and character to the dark-stained wood interiors. The vibe is altogether old meets new and East meets West meets the Upper East Side that downtowners would travel for. I wouldn't have been surprised if Blade Runner characters walked in as regulars and blended right in with the staff and crowd.
COCKTAILS
What adds more to the relaxed swag of NR is what many folks come for – Shige Kabashima's impressive craft cocktails. After months and months of New Yorkers and tourists staying in and imbibing on whatever they had at home, perhaps right out of the bottle (don't judge), patrons at NR are thirsty for well-crafted drinks made from high-quality spirits, bitters and syrups served in elaborate and gorgeous vessels. The first cocktail I tried, Grapefruit, incorporated all my senses. Initially, I saw this striking skull of a vessel filled with crushed ice that chilled a mini carafe which held the actual drink. The crushed ice was embellished with a mini bouquet of mint leaves, dotted with dried flower buds and held a piece of palo santo wood that would be lit up with a mini torch, then snuffed out. While lit I heard the crackling of the wood which was soon followed by a smoky scent that any Anthropologie store would be jealous of. Lifting the drink to my face I felt the contours of the vessel and couldn't help but feel a little bit like Hamlet holding Yorick's skull. Finally, the taste of the mezcal cocktail, informed by all the other senses, was balanced, citrusy and nicely boozy. Every now and then you could smell the lemony pine scent of burning palo santo wood as other guests enjoyed the cocktail and added to the warm ambiance of the restaurant.
If you like spicy drinks, order Cucumber (you can choose the level of heat you desire). This tequila and cucumber cocktail is flavored by a syrup infused with 8 different spices and served in a frozen pepper atop crushed ice in a mini vase-like goblet. It made me think of a jalapeno margarita that lit up spring break then finally got its inheritance and completed finishing school — but be careful, she didn't forget how to throw a punch if she's mishandled!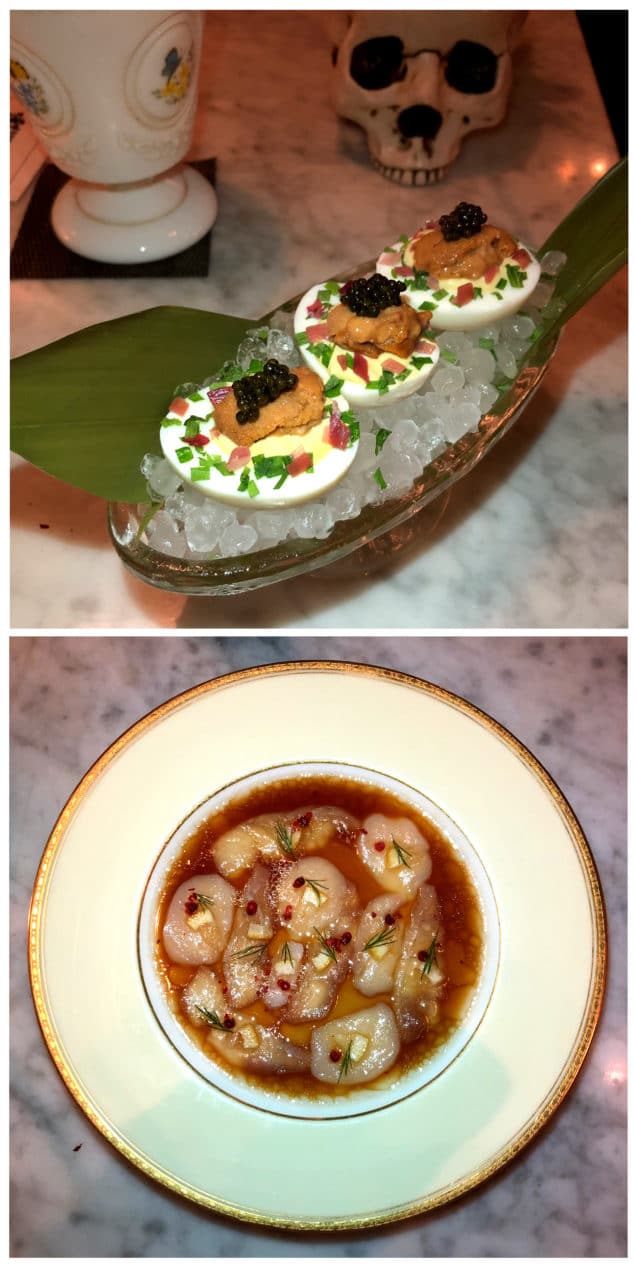 My favorite cocktail of the evening came in the simplest stemware with no bells and whistles. It was, however, accompanied by the best kind of garnish…the aged dairy variety. Truffle is an herby and earthy vodka cocktail balanced by citrus and paired with aged parmigiano that's drizzled with truffle honey. Each sip practically demanded a nibble of aged cheese and vice-versa. It was a bright cocktail which hit all my umami needs. In fact, I could see that drink live on the appetizer side of the menu one day; perhaps, with additional charcuterie items.
APPETIZERS
Though the cocktails may be a main draw, Chef Takashi Igarashi is making sure the food selections are equally as coveted. Chef Takashi, who has worked in Michelin-starred kitchens in NYC has curated  focused menu items that will compliment any beverage that it shares the menu with. Appetizers like the Deviled Egg + Egg + Egg shows the chef's aplomb with balancing rich flavors and textures. Of course, creamy yolk mixed with Japanese flavors, topped with uni and caviar are gonna be a crowd-pleaser, but you won't realize just how much until you're wishing that you ordered more.  Other must order apps are the Mussel + Beer + Cotton Candy and the Carpaccio. Both allow the sweetness of the seafood to shine. The Mussels do so in a broth flavored with butter, beer, soy sauce, yuzu, garlic and red pepper; sweetened ever so slightly with cotton candy that melts away when the broth is poured over it tableside. The Carpaccio is thinly sliced Scallop and Fluke dressed with dill, lemon, house dashi, vinegar and truffle oil. It's a delicate, well-composed dish i couldn't keep my chopsticks off of.
RAMEN + SOUP CURRY
More substantial dishes fall under the Ramen and Soup Curry categories; and are practically essential if you're trying various cocktails. What better to absorb sipped spirits than perfectly chewy and slippery noodles. The soupless Sea Urchin + Salmon Caviar Ramen mixed with shiso and nori did just that. Kabosu, a yuzu like fruit, brightens the dish and helps the palate make the affirmative decision to order another drink. For an even more flavorful dish, order the Seafood Soup Curry. Certainly the shellfish and whitefish carry the complex broth well, but don't miss the veggies in the dish. They are arguably a better vehicle for the rich ocean-y and tomato-y soup…especially, the eggplant.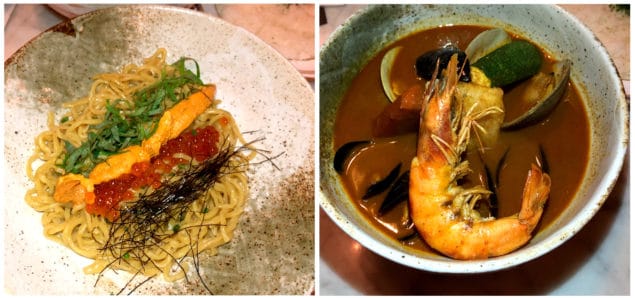 Aside from the food and beverages, what will also keep folks coming back for more is NR's attentive and knowledgeable staff. It's the dedicated people who love the culinary and hospitality industry that have kept the city going and strengthened the resurgence of NY's food scene. We're all hopeful and excited about NYC's bars/restaurants being back on top; and with establishments like NR, there's no reason why it shouldn't be.
NR can be found at 339 East 75th Street (between 1st and 2nd ave) | Monday – Friday 5:00 – 10:30 p.m. and Saturday – Sunday 12:00 – 10:45 p.m. | Happy Hour ($1.50 Oysters) served everyday until 7:00 p.m. Reservations are available through Resy for indoor, outdoor and bar seating, and walk-ins are accepted.