Savor all the fall produce with these healthy and nourishing Autumn Bowls with a Maple Almond Dressing!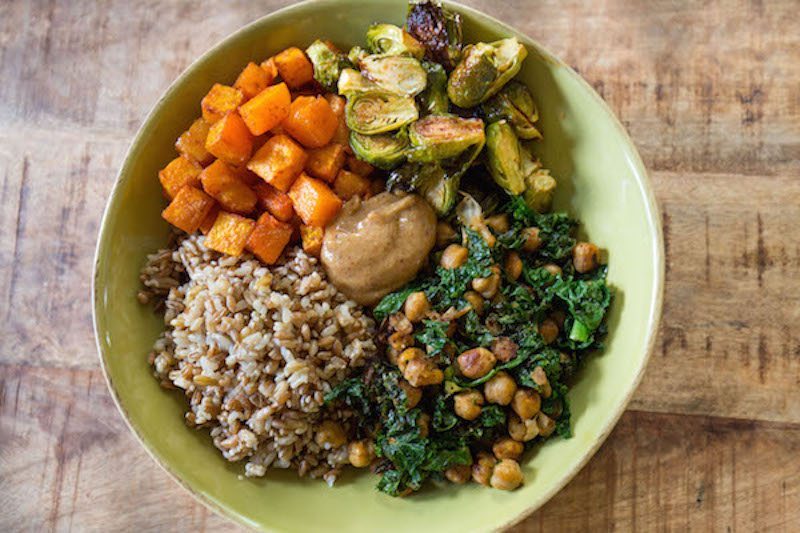 We started the week with a super indulgent (but so so so worth it) treat with my Caramel Pumpkin Magic Bars, and now we're onto something a little more nutrient packed: Autumn Nourish Bowls with Maple Almond Dressing.  Moderation, y'know?
I'm kind of on a roll with the bowls.  I seriously can't get enough of them.  First the Thai Peanut Turkey Rice Bowls and now these super delicious and healthy Autumn Nourish Bowls with Maple Almond Dressing.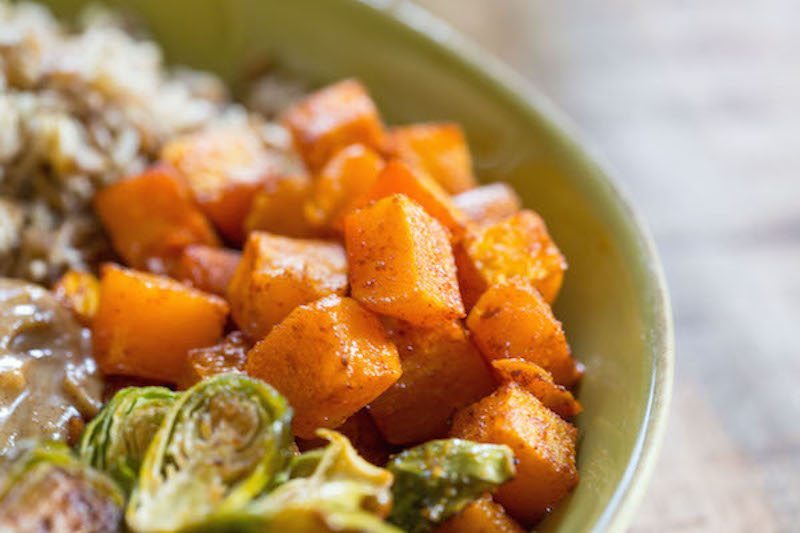 I love stocking up on winter squash because if you keep them in a relatively cool spot, they'll stay good for months.  Just don't keep them on top of your refrigerator.  I learned that lesson the hard way.
I'm also super excited that brussels sprouts are back in season at the farmers market!  I love buying them that way, as much of a pain in the butt they are to carry in a bag.  Like, there's no good way to put it in?  It's just, awkward.  But worth it to be all like, heyyyy I'm buying a whole freaking stalk of brussels sprouts!  Just me?
Anyways, these bowls have quite a few components going on, but all delicious things.
First, perfectly roasted, paprika spiced butternut squash.  It makes my heart go pitter patter.
Then, maple and balsamic roasted brussels sprouts.  Gahhhh so delicious.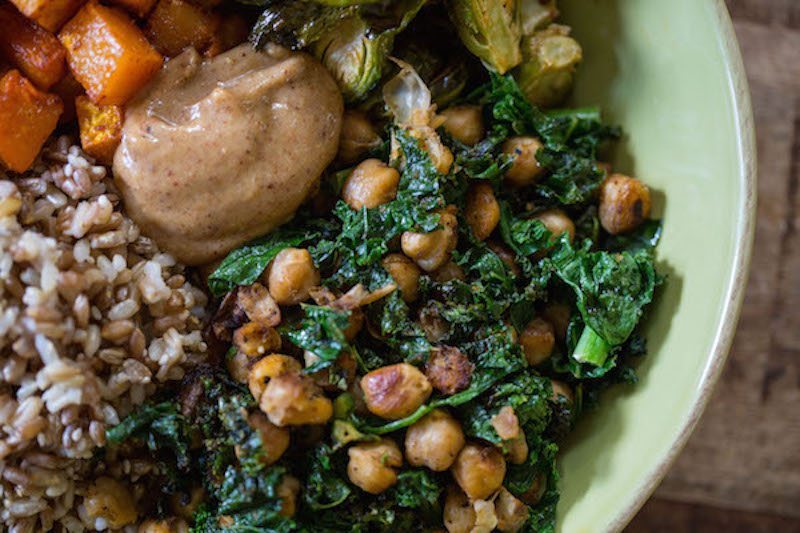 See Also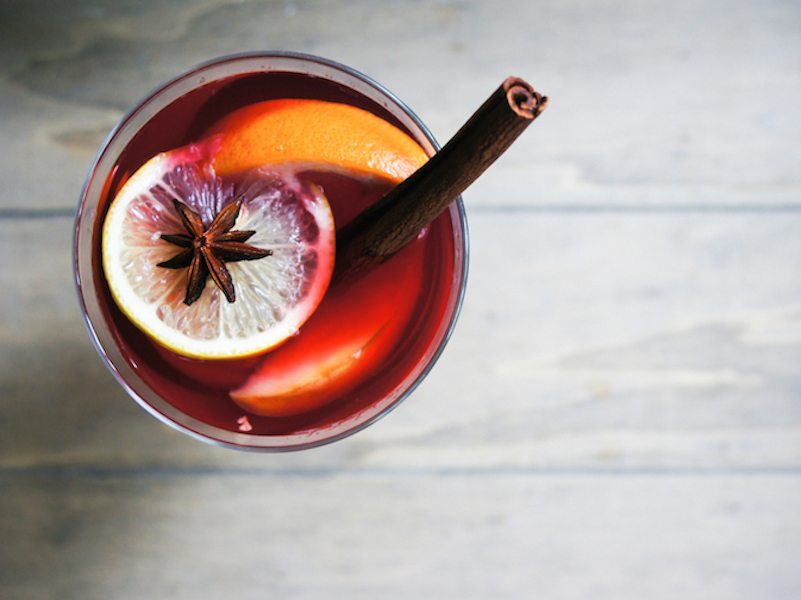 Next up, crispy sautéed chickpeas and kale.  Both stellar.
You top a bed of your favorite whole grain (I used Bob's Red Mill – not sponsored – Whole Grain Medley because it's delicious and healthy) with all of these goodies and then drizzle it with a super simple Maple Almond sauce.  To die for.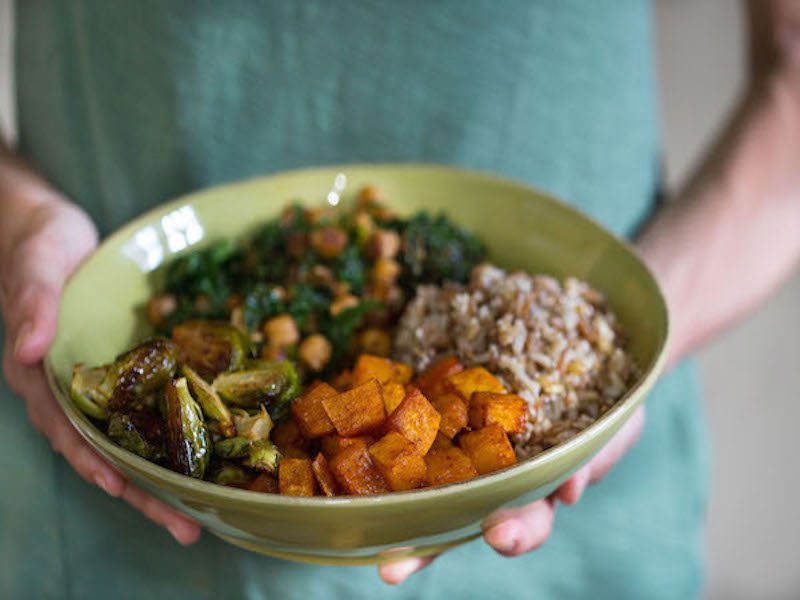 Aaaaand since we're being all virtuous by eating all the veggies for dinner, we can have a pumpkin bar or two to balance it all out, right?!
Print
---
3 cups

cooked whole grains (such as millet, brown rice, quinoa, wheat berries, freekah, farro, etc. I used Bob's Red Mill's Whole Grain Medley)
For the squash:
1

medium butternut squash (peeled, de-seeded and cut into bite-sized pieces)

2 tablespoons

olive oil

1 teaspoon

smoked paprika

1/2 teaspoon

salt
For the brussels sprouts:
1

lb brussels sprouts (halved)

1 tablespoon

coconut oil (melted)

1 tablespoon

maple syrup

1 tablespoon

balsamic vinegar

3

cloves garlic

1/2 teaspoon

salt
For the chickpeas and kale:
1

15 ounce can chickpeas, drained and rinsed

1 tablespoon

olive oil

1/2 teaspoon

cumin

1/2 teaspoon

chili powder

1/2 teaspoon

salt

3 cups

kale (roughly chopped)
For the Maple Almond Dressing:
1/2 cup

almond butter

2 tablespoons

olive oil

1 tablespoon

maple syrup

2 teaspoons

soy sauce
juice of

1

lemon
dash of salt
---
Instructions
Cook your grains according to package directions.
Meanwhile, make the rest of the bowl.
Preheat oven to 400 degrees. Line baking sheet with foil and spray with cooking spray.
Toss butternut squash with olive oil, paprika, and salt.
Place on baking sheet and bake for 40-45 minutes.
For the brussels sprouts:
Cut each brussels sprout in half.
Toss with coconut oil, maple syrup, balsamic vinegar, garlic, and salt.
Place on second baking sheet and place in oven when there are 25 minutes left for the squash, and roast for 25 minutes.
For the chickpeas:
In a medium-large skillet, heat 1 tablespoon of olive oil over medium heat.
Add chickpeas, cumin, chili powder, and salt, and toss to combine.
Saute for 10-12 minutes, stirring occasionally.
Add chopped up kale and cook another 4-6 minutes, stirring often so kale gets mixed around, until kale is bright green and cooked.
To make the dressing:
Add all ingredients to food processor and puree until smooth.
Assemble bowls by adding your desired amount to each bowl and drizzling with maple almond dressing.
Enjoy!
Taylor Kadlec
Taylor Kadlec is a lover of all things food including baking, cooking, and of course, eating. She is a self-taught baker and cook, and she shares her kitchen adventures on her blog Greens & Chocolate, where healthy cooking meets sinful indulgence.