Danish "Tebirkes" is to Denmark, what the croissant is to France – a trademark and an old and beloved tradition.
By Mia Irene Kristensen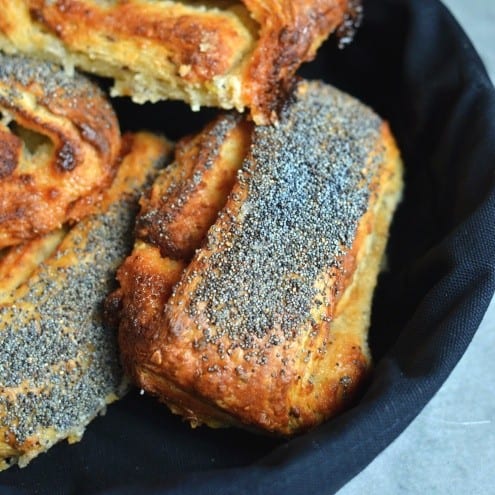 Danish "Tebirkes" is to Denmark, what the croissant is to France – a trademark and an old and beloved tradition. I don't know what my morning bike ride would be like, if I didn't just once passed a bakery, filling my nose with the most amazing scent of freshly baked Danishes – .  They're traditionally served for breakfast and are best freshly baked, so don't try to save these goodies – eat up instead!
"Danish" with Austrian origin
Even though the name refers to Denmark, the origin of these puff pastry goods are actually Austrian and dates back to the 18th and 19th century. Austrian bakers brought the tradition of the buttery bread to Denmark during a bakers strike and the fluffy new style of baked goods was adapted by the Danish bakers, adding more butter, sugar and filling and refining the method of rolling and folding, making the pastry even more rich, sweet (almost caramelized) and flaky.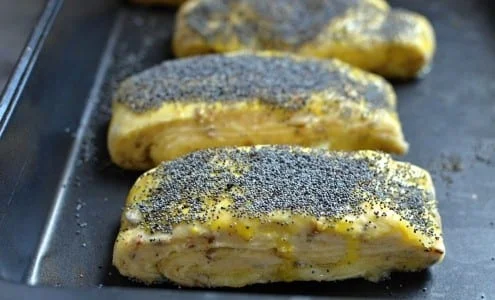 Simple recipe – worldwide concept
The ingredients are simple, originally butter, flour, water, salt, milk and yeast, so it's extremely important to use fresh ingredients of a high quality. Apparently a big part of the world has taking "co-ownership" of the Danishes, so they're now being served in everything from 7-eleven to cafeterias. Unfortunately the quality is often left behind in favor of industrialized products and bake-off, leaving the Danish with a spotted reputation. There's only one thing to state from that – save your hunger for Danishes for the good bakeries or bake them yourself!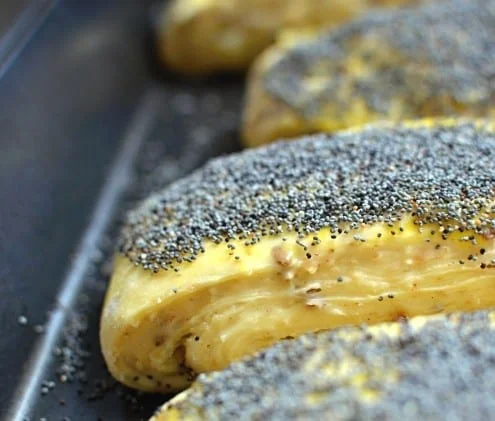 Boosting the flavor of traditional pastry
I like the traditional refined version of Danish pastry, but to me it's possible to improve the texture and enhance the natural flavor of the flour by adding sourdough and mild seeds and flakes, e.g. rolled oats, flax seeds. I also use stone grinded flour, since it has more flavor from the germ (even though it's not whole wheat flour).  Organic butter is bright yellow and has deep, sometimes nutty flavor that is spot on in a puff pastry. Go for that, if you have the opportunity.
See Also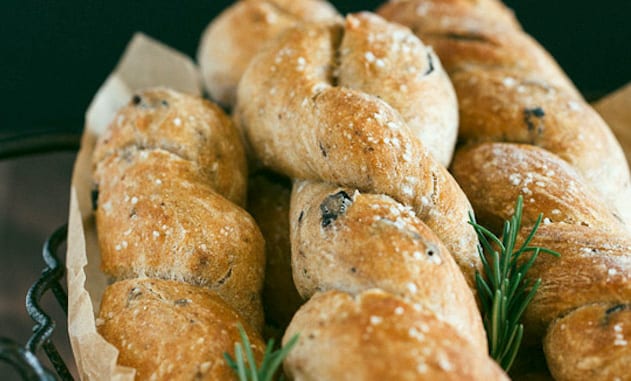 I'm not sure whether it was the Austrian or the Danish baker, who decided to roll up the dough for these "Tebirkes", filling it with remonce (butter, sugar and marcipan) and sprinkling with poppy seeds, but to me this is the most "Danish" of all the Danishes.
BONUS INFO: If you stretch and twist them before letting them rise, you get what's called a "Frøsnapper"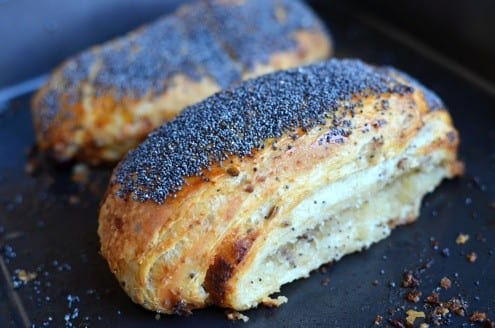 Print
Tebirkes – Danish Poppy Seed Rolls
Fluffy, flaky and irresistible on a Sunday morning
Author:

Mia I. Kristensen

Prep Time:

2 hours 30 mins

Cook Time:

20 mins

Total Time:

2 hours 50 minutes

Yield:

1

5

1

x
Dough:

250

ml cold milk

100

ml sourdough or sour cream/live yoghurt

1 tbsp

. honey

1

egg

15 g

fresh yeast

3

tbsps flaxseeds

3

tbsps sunflower seeds

35 g

barley-, wheat or oat flakes

425 g

bread flour (preferable cooled in the fridge or freezer for 30mins beforehand)

8 g

sea salt

250g

unsalted butter
Remonce:

80g

sugar

100g

soft unsalted butter

100g

marzipan (or almond paste)

½ tsp

sea salt
Sprinkling:

1

egg
a pinch of salt

20g

poppy seeds
Instructions
Mix the all the ingredients for the dough, exept the salt and butter, in a bowl.
Knead the dough for 3 minutes by hand, until combined (the texture should be quite firm, like gum).
Let the dough rest for 5 minutes in the fridge before adding the salt and kneading for 3 more minutes.
Let it rest for 10 minutes in the fridge before rolling it into a rectangle (1½cm thick)
Place a thin layer of butter (use a potato peeler to cut the cold butter) in the center third of the rectangle and fold in the sides.
Roll out again and continue as before until all the butter is rolled into the dough.
(Cool the dough in the fridge for 5-10 minutes if it becomes difficult to handle).
Grate the marzipan and mix it with the soft butter and sea salt.
Roll the dough out one last time and spread the remonce in the center (lenght ways).
Roll the dough into a roulade and press it flat.
Cut the the dough-roulade into 15 pieces and place then on a lined baking sheet. Cover them lightly and leave them to rise in warm spot, for 2 hours (or in a cold place over night and then 1½ hour in a warm place the next day).
Whisk the egg together with a pinch of salt. Carefully brush the Tebirkes with the the egg and sprinkle with poppy seeds.
Bake the Tebirkes for 20 minutes at 220C degrees/200C fan, until golden and crisp.
Notes
If you dont want to get up early to bake Danishes for the sunday breakfast, you can make them ahead. Without rising and baking them, freeze them in sealed box or bag.
Take them out of the freezer the night before serving and let them thaw and rise at room temperature for 8 hours. Brush with whisked egg and sprinkle with poppy seeds. Then continue with step 13.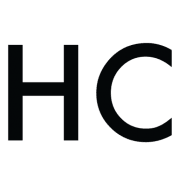 Mia Irene Kristensen
Mia Irene Kristensen is a passionate food blogger, creative recipe developer and Master Student in Food Science and Technology. When not braising and baking, she runs the companies CPH Good Food and TASTE CPH. This keeps her in touch with her creative side and passion for cooking, as she is constantly working on new projects, developing recipes, hosting cooking classes and food walks, and lastly trying to teach the public a tiny bit of the science that goes on in their pot and pans.