Pakoras are a very popular Indian fried snack, unbelievably addictive and highly caloric, considering they are always deep fried.
By Priya Mahadevan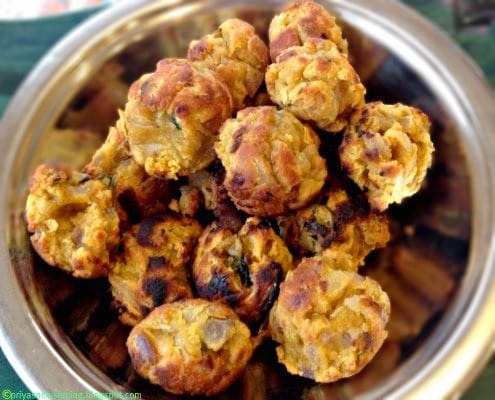 Most Indian restaurants have this lovely snack featured in the appetizer section of their menus – A South Indian pakora differs from the North Indian pakora. Usually called pakodas, this mostly consists of thick chickpea flour based batter and onions. What the South Indians call "bajjis" are referred to as pakoras or pakodey in northern India. These are veggies dipped in a slightly more liquidy chickpea batter. Confused yet?
But all of us are getting more health conscious and I have now reduced my frying to about once in 10 days or sometimes two weeks. I don't believe in complete abstinence since that leads to binging. So, sometime ago, I decided I would try a baked version of them and the result was amazingly satisfying – But even that requires more oil than is required to say, saute a vegetable. A new variation popped in my head – Many of my healthier recipes of no-so healthy- dishes I owe to the pans and utensils I have switched to recently. One of my current favorite pans is my Paniyaram pan  – Paniyarams are little donut like preparations made in a pan with six or 7 dips where the batter is poured. Paniyarams can get terribly oily if one were to like it that way – but I have adapted it to be a healthier and guilt-free treat. I would not have pursued with this modified version of this popular Indian snack, had it not tasted every bit as good as it does when deep fried – So I say, have your pakodas and eat them to
The equivalent to a Paniyaram pan is the dutch poffertje pan
Ingredients
1 cup of besan or chickpea flour
1 cup of Rice flour
2-4 green chilies – this depends on how spicy the variety you're using are and how spicy you want them to be
1tbsp grated ginger
1 red onion chopped fine
2 tbsp of oil for sauteing onion + kneading
A pinch of asafetida
1/4 cup of finely chopped cilantro (optional)
Salt per taste
Olive oil Spray
Method
1)Heat 1 tbsp of oil and saute the onions in it until they are fairly soft
2)Add the onions the other ingredients and the second tbsp of oil together in a wide mouthed utensil and knead into a thick but pinch-able consistency
2)Spray the pan and put it on the lowest flame in your cooking range
3)Add small balls of batter to the dips and spray gently over them and cover with lid
4)Allow it to cook for 2 – 3 minutes or until you start seeing the bottom side turning golden brown.
5)Turn them over to let the top side be at the bottom of the pan and cook for another 2-3 minutes.
6)Spray the second side, if required.
Once the pakodas are evenly browned, remove from the pan-
Note: make sure to cool the pan between batched or the outside of the pakodas can get cooked too fast without cooking on the inside.
Serve by itself or with a spicy chutney or ketchup!
Priya Mahadevan
Priya Mahadevan is a writer and food blogger with a background in journalism & communication. Priya's mission with her food blog is to blow the myth that healthy cannot be tasty. She was a political and feature correspondent for a prominent Indian newspaper in the 90s before moving to the US. She lives in Virginia with her husband and 3 beautiful children. You can find her world of vegetarian recipes at http://priyasnowserving.blogspot.com.