Made without eggs, this cool chocolate ice cream is still so rich and creamy.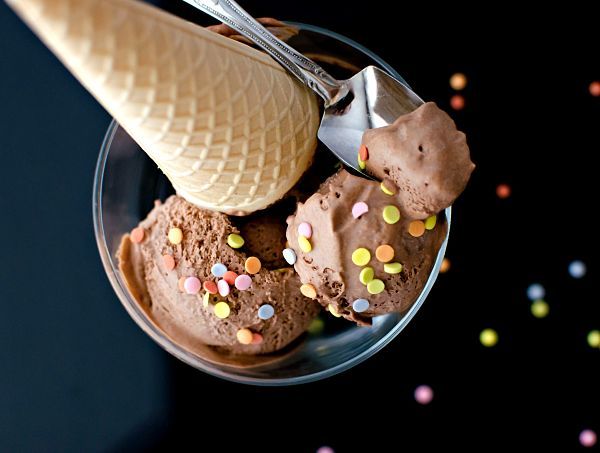 Summer hit us hard! We went straight to often showers, salads for breakfast, lunch and dinner, tomatoes, cheese, watermelon, plenty of lemonade and a lot of … yes, you guessed it, ice cream! But not the store bought kind! I vowed to myself to make my own ice cream this year. And I took the first step one week ago by buying a proper ice cream machine. Needless to say that my son was the happiest little man in the world! His long waited ice cream machine to make his favorite summer dessert – chocolate ice cream! Now that's a great way to start the summer! Happy, joyful, ice cream full!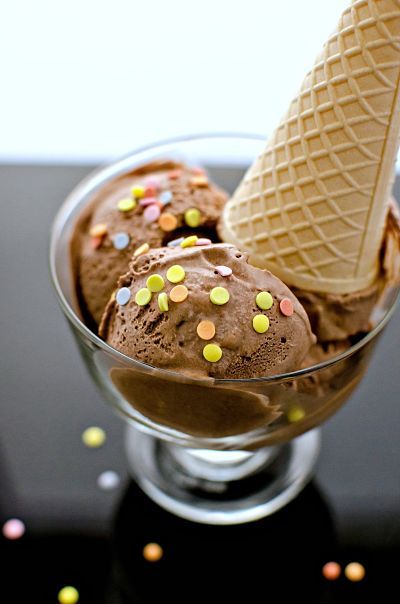 This eggless chocolate ice cream has surprised me. I've never liked chocolate ice cream. I would eat chocolate as it is or in cakes or cupcakes or other desserts, but never ice cream. And yet, I found myself scooping out one more serving of this particular one. I didn't have high hopes from a recipe that has 3 main ingredients and no eggs, but I was wrong as the ice cream proved to be soft, without any ice crystals, incredibly creamy and with a balanced chocolate taste. So the recipe passed the test from this super picky ice cream girl!
For amazing pastry and dessert recipes like this one, click here.

Eggless Chocolate Ice Cream
Ingredients
300ml sweetened condensed milk
150ml heavy cream A
200g dark chocolate (50-60%)
200ml heavy cream B
10ml dark rhum
Instructions
Combine the sweetened condensed milk with the heavy cream A and heat it up until hot.
Remove from heat and pour over the chocolate.
Mix until smooth.
Place in the frigde for 3-4 hours or until chilled.
Remove from the fridge and stir in the heavy cream B and rhum.
Pour into your ice cream machine and churn according to your manufacturer's user manual. Mine took 60 minutes of churning.
Scoop into a casserole and place in the freezer to store.
Notes
You can easily customize the recipe by adding a wide range of extras to it: caramelized bananas, walnuts, peanuts, chocolate drops, berries etc. Or you can serve it with your favorite sauce: chocolate, berries, caramel, vanilla and the list can go on.